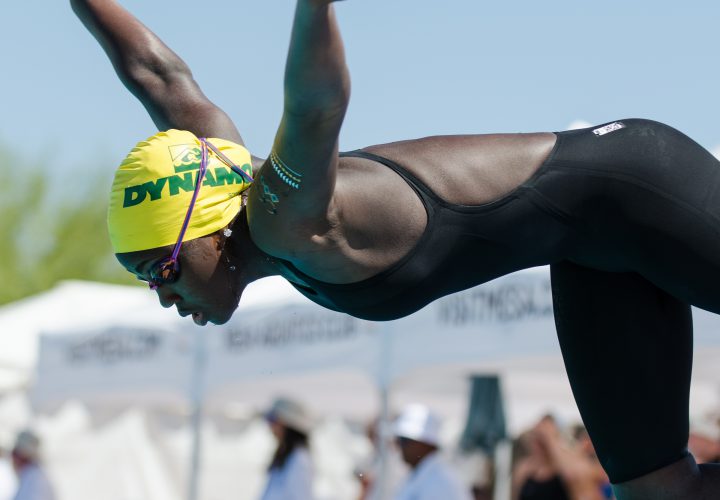 Photo Courtesy: Brooke Wright
By Bryan Gu, Swimming World Intern
The women's 200 fly was a testament to the growing talent in US swimming. Not only did the three girls all finish within 0.2 seconds of one another, but they were also all under 17. 15 year old Tristen Ulett of Dynamo Swim Club, better known in SCY for being the first 13-14 girl to break 53 seconds, took first in 2:15.21. Fellow Dynamo teammate Jade Foelske, also 15, came within 0.02 seconds of Ulett to take second in 2:15.21. 16 year old Rachel Klinker of the Lexington Dolphins took third in 2:15.34.
Similar to the women's race, the men's 200 fly came down to a touch. William Brooks of SwimAtlanta managed to squeeze out a victory over David Dingess of Kentucky Aquatics in a time of 2:01.62 as Brooks came home in a blazing 30.88. Dingess who had been leading by almost 2 seconds at 150m just came second with a 2:01.63.
Standout Georgia swimmer Meaghan Raab dominated the 200 IM to take first in 2:13.60, coming within 0.25 seconds of her personal best. Raab remained untouched throughout the entirety of the race, which showed in the 5 second margin between her and Caroline Hauder of SwimMac who touched second in 2:18.61.
The races on the men's side were a little more close as Glen Brown of Kentucky Aquatics swam 2:02.83 for gold. Raunak Khosla of Dynamo placed second in 2:04.41 and University of North Carolina junior Noah Cairns placed third in 2:04.55. Although the reasons were not specified, Mick Litherland was DQ'd after having qualified fifth in prelims in 2:05
Brooke Bauer of North Carolina showed a commanding victory as she ended up winning the women's 50 free by almost half a second, being the only one under the 26 second barrier in 25.99. Julie Woody of Savannah Swim Team took second, while seventeen year olds Sophie Lindner of SwimMac and Sarah Srensen of Stingrays tied for third in 26.47.
Harvard Freshman standout Dean Farris won the 50 free in 22.78, breaking 23 seconds for the first time. Also breaking the barrier was Matheus Santana, a Brazilian Olympian who swam for Brazil's 4×100 freestyle relay at Rio, who placed second in 22.95. Recent University of Michigan commit William Chan took third in 23.21.
Full results can be found on Meet Mobile – Speedo Long Course Sectionals 2017 (ESSZ)