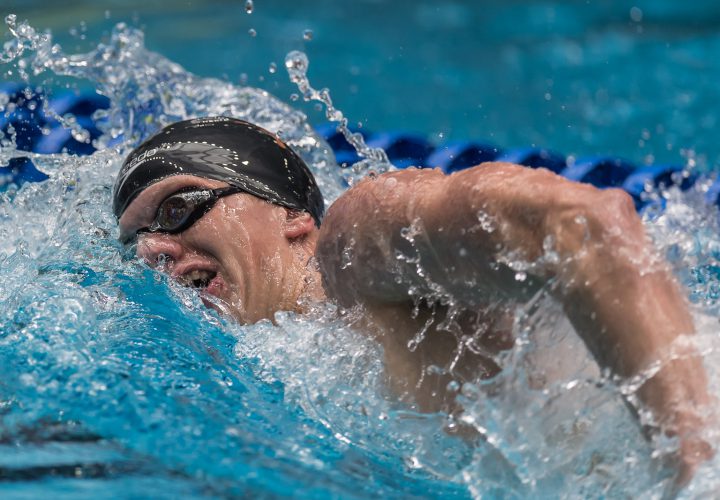 Photo Courtesy: Peter Bick
NCAA DI editorial coverage is proudly sponsored by Adidas. Visit adidasswimming.com for more information on our sponsor. For all the latest coverage, check out our event coverage page.

CLICK HERE FOR LIVE RESULTS
There was a lot of hype over the 200 free final tonight. There had been talk since Wednesday night if a sub-1:30 200 free was possible from a flat start. A sub 1:30 did not come through tonight, but it was Townley Haas of Texas who repeated his title in the event, swimming a 1:30.65 for his second win in the event. Haas held off USC's Dylan Carter and Indiana's Blake Pieroni, who tied for second at 1:31.16. Haas got pressure early on from Carter, who used his superb underwaters to stay with Haas, but ultimately Townley held him off to be the first person to repeat since Louisville's Joao de Lucca won in 2013 and 2014.
Harvard's Dean Farris, Arizona State's Cameron Craig and Florida's Maxime Rooney were all freshman in the race, and will have huge expectations moving forward as they progress into their careers as they finished all in a row. NC State's Soren Dahl and Wisconsin's Brett Pinfold also swam in the A-final.
Texas now has seven NCAA titles in the event. Haas joins himself (2016), Dax Hill (2012), Dave Walters (2008), Josh Davis (1993) and Doug Gjertsen (1988, 1990) as winners for the Longhorns.
 Event 10  Men 200 Yard Freestyle
=========================================================================
         NCAA: N 1:30.46  3/25/2016 Townley Haas, Texas
 Championship: C 1:30.46  3/25/2016 Townley Haas, Texas
     American: A 1:30.46  3/25/2016 Townley Haas, Texas
   U. S. Open: O 1:30.46  3/25/2016 Townley Haas, Texas
         Pool: P 1:31.51            Joao DeLucca, Louisville
    Name                 Year School            Prelims     Finals Points 
=========================================================================
                       === Championship Final ===                        
 
  1 Haas, Townley          SO Texas             1:31.97    1:30.65P  20  
    r:+0.74  21.03        43.74 (22.71)
        1:07.09 (23.35)     1:30.65 (23.56)
  2 Pieroni, Blake         JR Indiana           1:32.42    1:31.16P  16.5
    r:+0.64  21.11        44.11 (23.00)
        1:07.40 (23.29)     1:31.16 (23.76)
  2 Carter, Dylan          JR Southern Cali     1:32.17    1:31.16P  16.5
    r:+0.58  20.99        44.00 (23.01)
        1:07.50 (23.50)     1:31.16 (23.66)
  4 Farris, Dean           FR Harvard           1:33.05    1:32.25   15  
    r:+0.71  21.33        44.61 (23.28)
        1:08.13 (23.52)     1:32.25 (24.12)
  5 Craig, Cameron         FR ASU               1:32.84    1:32.46   14  
    r:+0.65  21.74        45.11 (23.37)
        1:08.91 (23.80)     1:32.46 (23.55)
  6 Rooney, Maxime         FR Florida           1:32.88    1:32.79   13  
    r:+0.61  21.47        44.76 (23.29)
        1:08.61 (23.85)     1:32.79 (24.18)
  7 Dahl, Soeren           SR NC State          1:32.55    1:32.98   12  
    r:+0.73  21.60        45.09 (23.49)
        1:08.85 (23.76)     1:32.98 (24.13)
  8 Pinfold, Brett         SR Wisconsin         1:33.21    1:33.57   11  
    r:+0.70  22.02        45.51 (23.49)
        1:09.59 (24.08)     1:33.57 (23.98)
Men - Team Rankings - Through Event 10                  
 
  1. Texas                           303.5   2. Florida                         196.5
  3. California                        186   4. NC State                          156
  5. Indiana                         154.5   6. Stanford                          133
  7. Univ of Georgia                   124   8. Southern Cali                    91.5
  9. Missouri                         83.5  10. Auburn                           81.5
 11. Louisville                       64.5  12. Arizona State                      54
 13. South Carolina                     49  14. Michigan                           46
 15. Wisconsin                          33  15. Purdue                             33
 17. Alabama                            32  18. Texas A&M                          23
 19. Tennessee                          22  20. Harvard                            21
 21. Ohio St                            17  22. Virginia Tech                      15
 23. University of Miami                14  24. Arizona                          12.5
 25. Notre Dame                         12  25. Lsu                                12
 27. Florida State                       7  28. UNC                                 6
 29. Kentucky                            4  29. Northwestern                        4
 31. Penn                                2  31. Penn St                             2
 31. Hawaii                              2  34. Pittsburgh                          1