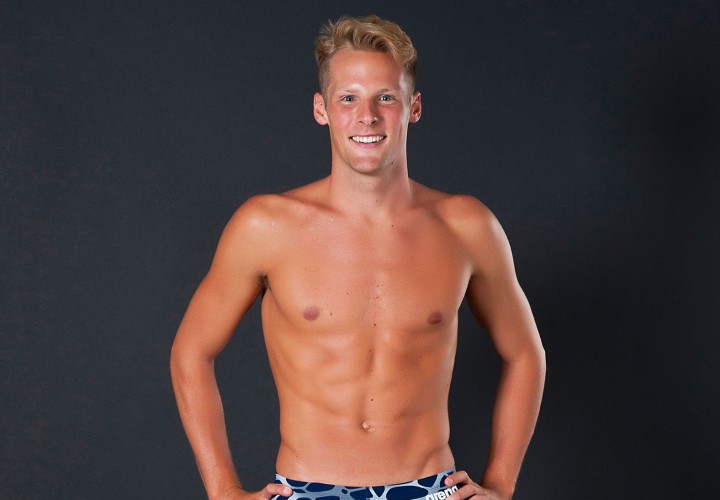 By Makenzie Miller, Swimming World College Intern
Happy to be home for the summer, after surviving my first year of college swimming, I found myself following my old coach to a new club, Nation's Capital Swim Club (NCAP).
That's where I became fast friends with a fun, quirky guy in my lane, only to later discover he was the 2013 national champion in the 200 fly.
Tom Luchsinger joined NCAP this past April to train alongside Katie Ledecky and Andrew Gemmell, under the expert guidance of coaching team Bruce Gemmell and Sue Chen.
After two years of swimming for Bob Bowman at North Baltimore Aquatic Club, Luchsinger, who has been sponsored by Arena since 2013, decided it was time for a change.
"I love swimming at NCAP," Luchsinger said. "It hit me the first day…Bruce has known me for the majority of my swimming career, just as long as my club coach." Gemmell and Luchsinger's club coach, Barry Roffer, were close friends and colleagues.
Gemmell's son, Andrew, and Luchsinger grew up racing each other. They were on the same junior teams and went on a lot of trips together when they were younger. From ages 10 to 18, Luchsinger swam for Three Village Swim Club in New York. 
On his first day of practice at NCAP, Luchsinger even recalls Gemmell yelling out his splits and calling him "Tommy," a childhood nickname. 
That's when Luchsinger knew he was right where he's supposed to be. 
A Renewed Perspective
Since Luchsinger came out to the public in December of 2014, he has a new outlook on swimming. Before he came to terms with his sexuality, he was very uncomfortable with himself.
Luchsinger worked out his pain through swimming. He was unsure if he actually enjoyed swimming or if he was doing it to hide being gay.
"I got to the point where I was blacking out during workouts because of the feelings I had before I came out. I realized I was using my career as a coping mechanism. I almost walked away from the sport a couple of times," Luchsinger said.
Luchsinger was fortunate enough to have a very supportive family. His mother, a YMCA national champion swimmer and his father, an All-American football and lacrosse player, helped him find his love for the sport again.
Now, Luchsinger feels better than ever.  He realizes that swimming is something that he wants to do, not something he needs to do.  
"You have to learn to channel your energy into different things, whether it's swimming or school to recognize this is what you want to do," Luchsinger said.
That was a powerful realization for Luchsinger.
Now, he wants to perform at Nationals. He wants to take his swimming further. He wants to get his title back.
Heart in the Right Place
One of Luchsinger's biggest concerns about coming out was being pegged as a gay swimmer. Still, Luchsinger wants to use his story to help others that are struggling with their sexuality.
"If I could save that one person and make them feel better about themselves, I want to do that.  That's a big part of who I am, but it's not the only part," Luchsinger said. "I'm a lot of things. I'm a student. I'm an athlete. I'm a son. I'm a brother. Being gay doesn't change that."
Luchsinger loves to fool around and make people laugh.
"I find that people pay attention more when you make them laugh. I'm a goofball."
When Luchsinger finds himself taking things too seriously, he turns on some music and dances.
"When you're in such an intense sport like swimming, sometimes you've got to lighten it up a bit."
Each morning, Luchsinger makes the hour-long commute to Connecticut Belair in Bethesda, from Baltimore, where he currently lives and works for a foundation called Pathfinders for Autism.
The foundation was founded and is run by William and Polly Winde Surhoff, parents of Luchsinger's former training partner and friend, Austin Surhoff.
To Luchsinger, his work is not just a job, it's his passion. Luchsinger is dedicated to this cause because of his 21-year-old brother, Sean, who has autism.  
"It's very rewarding to work with the special needs population," Luchsinger said. "They're so thankful for everything they get, whether it's a free outing to a baseball game or anything we organize. It's an amazing thing to be a part of." 
Eventually, Luchsinger plans to get his masters degree in social work and continue to work with people who have special needs and their families.
"My days are busy and crazy, but I love them. I smile and I laugh and I wake up every day excited for what will come next."