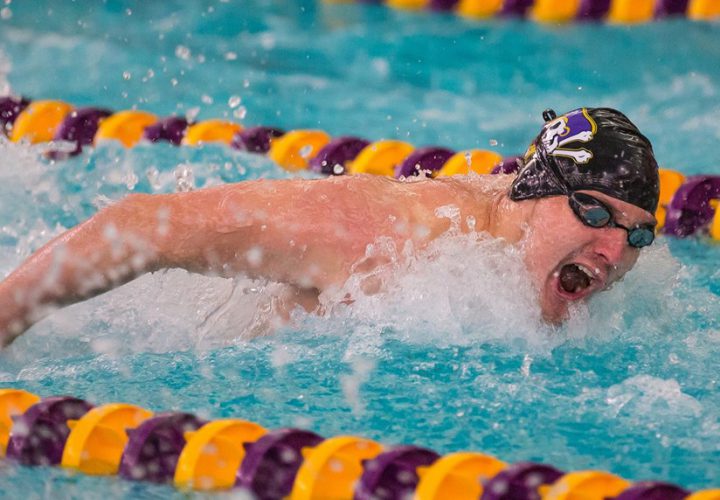 Photo Courtesy: East Carolina Athletics
Three meet records fell on night three of the 2017 American Athletic Conference Men's and Women's Swimming and Diving Championships.
2017 American Athletic Championships Day 3 Finals – Results
Southern Methodist's Matea Samardzic dominated the women's 400 IM, winning by over seven seconds. The junior dropped eight seconds from her morning swim to win in a final time of 4:05.52. Tulane's Olivia Johnson finished second in 4:12.79 and East Carolina's Julie Lajoie took third in 4:16.10.
Southern Methodist's Jonathan Gomez cruised to a win in the men's 400 IM, finishing nine seconds ahead of the field. The junior stopped the clock in 3:43.97, breaking the meet record from 2014. East Carolina's Boleck De Pawlikowski took second in 3:52.32 while his teammate Esteban Araya took third in 3:53.67.
Southern Methodist swept the podium in the women's 100 fly, led by senior Marne Erasmus. She sopped the clock in 51.42, breaking her own meet record from 2014. Erin Trahan took second in 52.91 and Anna Cheesebrough finished third in 54.29.
East Carolina's Gustavo Santos won the men's 100 fly, only .02 off the meet record. The freshman stopped the clock in 47.07. Southern Methodist's Szymon Golczyk swam to second in 47.28 and East Carolina's Victor Martins finished third in 47.82.
To follow up her 50 free meet record last night, Cincinnati's Jacqueline Keire won the women's 200 free in 1:43.48. The senior broke her own meet record in the event from last year. Houston's Ksenia Yuskova took silver in 1:45.82 and Southern Methodist's Vicky Cunningham took bronze in 1:46.45.
East Carolina's John Myhre, who won the 50 last night, took gold again in the men's 200 free. He finished with a time of 1:35.98. Connecticut's James Donlevy finished second in 1:37.15 and East Carolina's Blaz Demsar took a close third in 1:37.20.
Two Houston freshman took the top two spots in the women's 100 breast. Peyton Kondis took gold in 1:00.73 while teammate Victoria Roubique grabbed silver in 1:00.97. Southern Methodist's Tara Nicholas finished third in 1:01.16.
East Carolina's Will Hicks finished first in the men's 100 breast, posting a time of 53.06. Cincinnati's Zachary Hostoff took second in 53.61 and East Carolina's Erle Craven finished third in 53.94.
Not too long after dominating the 400 IM, Samardzic was back in the pool again, this time winning the women's 100 back. She stopped the clock in 53.08. Houston's Laura Laderoute took second in 53.81 and her teammate Eleanna Koutsouveli finished third in 54.07.
Connecticut's Will Kearsey won a close men's 100 back battle, out-touching the runner-up by .04. The freshman won in 48.00. Southern Methodist's Bartosz Krzyzaniak took second in 48.04 and East Carolina's Fran Krznaric took third in 48.27.
Houston's Micaela Bouter dove to first in the women's 3m diving event, posting a score of 328.70. Her teammate Katelyn Abernathy took second with 295.25 points while Connecticut's Monica Marcello took third with a score of 292.50.
Southern Methodist's Samardzic (53.00), Nicholas (1:01.71), Erasmus (51.68), and Cunningham (48.28) won the women's 400 medley relay by four seconds with a final time of 3:34.67.
The Southern Methodist men also won the 400 medley relay to conclude day three. The team of Kryszaniak (47.93), Ziga Cerkovnik (53.23), Szymon Golczyk (46.48), and Ralph Koo (44.31) finished in 3:11.95.
Women's Team Scores:
1. Houston-507
2. Southern Methodist-438
3. Cincinnati-408
4. East Carolina-327
5. Connecticut-325
6. Tulane-292
Men's Team Scores:
1. East Carolina-630
2. Southern Methodist-502.5
3. Cincinnati-494
4. Connecticut-421.5