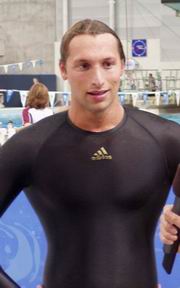 MELBOURNE, Australia, November 15. WITH Australian distance king Grant Hackett on the shelf after undergoing surgery to repair what is believed to be a tendon tear in his right shoulder, National Head Coach Alan Thompson will appeal to Ian Thorpe to swim the 400 freestyle at the Commonwealth Games in Melbourne in March. Thorpe, of course, is the world-record holder in the event and just now returning to competition after a lengthy hiatus. This scenario was reported by Nicole Jeffery in The Australian.
Thorpe was expected to focus on the 100 and 200 freestyle events at the Commonwealth Games, but Thompson will discuss with Thorpe the possibility of adding the 400 free, now that Australia has lost Hackett's commitment to the event. That conversation is expected to occur this weekend during the FINA World Cup stop in Sydney. There, Thorpe will be making his competitive return following a break that started after the Athens Olympics.
Hackett's surgery is expected to keep him out of the water for two months, thus forcing him to miss the Commonwealth Games Trials. The two-time defending Olympic champion in the 1,500 freestyle, Hackett won the 400, 800 and 1,500 freestyles at last summer's World Championships in Montreal. He set a world record en route to victory in the 800.