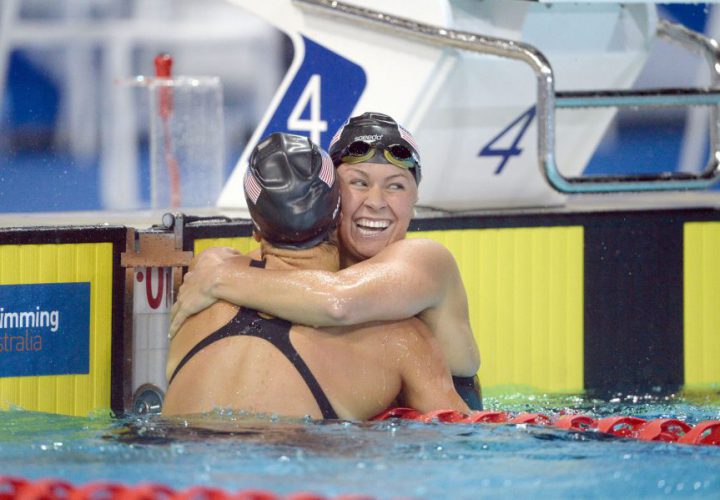 Photo Courtesy: Delly Carr
By Nicole Farina, Swimming World College Intern. 
What a year 2016 has been. Some flourished, while others failed. Some hit their peak this year, while others hit their pit, and hit it hard. Some people found themselves in 2016, while others realized that they really don't know their self at all.
The past twelve months brought us a controversial election, too many violent tragedies, deaths of our favorite influential figures, and how could we even begin to forget the whole clown thing.
But in a world of consistent and seemingly constant chaos and change, how lucky are we to have something that we know will always stay the same?
Amidst all that goes on, whether it be the world around us or your own personal life, we have somehow weaved ourselves into a little community, that we always have the power to turn to, no matter what. How lucky are we?
We all have begun our swimming journey differently. And we all have experienced life outside of swimming differently. But one thing runs true no matter your circumstance: swimming has become a part of us, and it's not going anywhere.
We have all experienced unexpected changes in our lives, or changes that we are just not happy about. But, we have chosen a sport that doesn't change even as the world just never seems to stop.
Swimming is a sport that we won't ever quite be done with. Even when we think we are. Swimmers, swammers, and coaches alike can turn to a pool, a place called home to so many, and instantly feel at peace. We can do it when we're a year out of college, and we can do it when we're 80 years old. The chlorinated air is familiar, and the rush we feel when we dive in is habitual.
You may claim that you'll never look at a pool again, or even think about the sport once you've officially "retired." But we all know once you're in this sport, there's just no getting out. You know you'll be the first to pull up a chair to the TV during the Olympics because watching these races brings back every memory, every smile, every ounce of hard work that you threw into your time in the sport. And of course, you love a good race.
Swimming is your safe haven, your protection that you can run to. When nothing else in your world seems to be going your way, remember that you are apart of a special group of people who do a really special thing. The swimming world is like no other. And we are lucky to be members.
No matter the ups and downs, the roller coasters, and the obstacles, swimming is here. It will always be here for you.
If 2016 didn't go your way, still be grateful. You have brought swimming into your life, and it's stable. It's not going anywhere in 2017. Even if you haven't swam a lap of butterfly in a decade, or done a flip turn since you were 22, be grateful for the sport that's here to stay. And don't forget about it next year.
All commentaries are the opinion of the author and do not necessarily reflect the views of Swimming World Magazine nor its staff