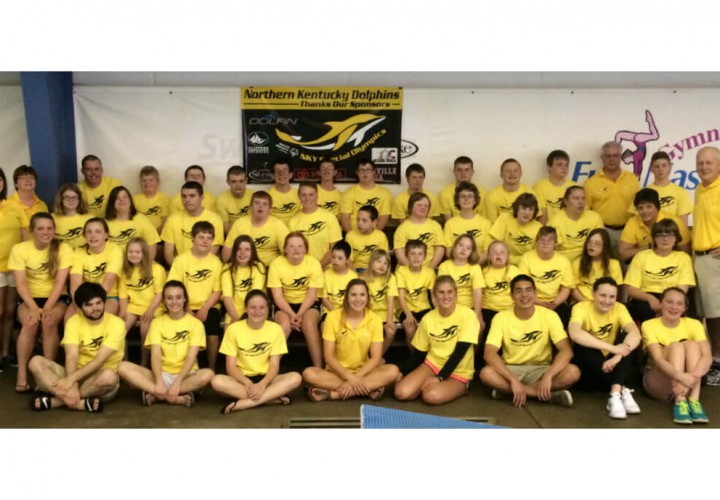 Photo Courtesy: The Northern Kentucky Dolphins
Dolfin is proud to partner with the Northern Kentucky Dolphins, a Special Olympics Swim Team with a story and mission that defines the true spirit of competition and the sport of swimming.
The Dolphins were started over 20 years ago by a professor at Northern Kentucky, but Head Coach Debbie Ogden didn't begin coaching until 2005–the same year her special needs son, Robbie passed away. At first, Debbie didn't think she could do it without Robbie. Having swum on the team since he was 8 years old, it had been his true love and she worried that being on deck would cause too much heartache. Still, the team really needed a coach, so she decided to give it a try anyway. Debbie recalls, "It was one of the hardest things I ever did. The first year, I cried every time I left practice because Robbie wasn't there."
Focusing on the team and dedicating herself to its success has become an unexpected source of comfort. "Every one of those kids has woven a place in my heart," says Debbie.
The Special Olympics provides the athletes a chance to compete with others and build their self-confidence. Debbie explains, "It gives them exercise and interaction. They have to learn to listen. A lot of them have a hard time with discipline, but they learn from routines. Sometimes it takes a few years, but they will get it."
The Northern Kentucky Dolphins have become the largest developmental team in the state. In the past eleven years, they've grown from just ten to over sixty swimmers, with a variety of age ranges. Although the athletes have to be at least eight to compete at Special Olympics, there is no upper age cut off.
Since many swimmers require one-on-one, Debbie needs at least 20 volunteers to run a practice. Right now, the team practices once a week for two hours. There's a lot of high school and college swimmers who volunteer and they end up enjoying it just as much as the Special Olympics athletes. Debbie said, "Originally, they do it for the service, but they find that it is so much fun to teach. They feel a sense of accomplishment in teaching something and saying 'look, he's done it!'"
The swimmers can work at their own level both at practice and at meets. The developmental group gets more assistance, swims shorter races and can use a flotation device. Swimmers can progress and improve all the way up to the short course group that races a regular meet program with USA Swimming officials on deck.
The Special Olympians on this team get the opportunity to learn about swimming and competition, but really, it's about setting goals and working through challenges. Athletes push themselves and discover that they are capable of more than they ever thought possible. For Debbie, the most fulfillment comes from the life skills that each participant learns: "It's about the joy I see on their faces at having accomplished something they couldn't do before. It's amazing to see that progression and their ability to adjust to the change."
Although the swimmers learn new skills and overcome obstacles at every practice, there's no doubt that their dedication and personal triumphs teach us all something about the beauty of sport and living with passion. Debbie is proud of her swimmers' positive attitudes and the hope that they unknowingly convey to everyone around them: "They swim with a smile on their faces. They're all so happy. What you can learn from each one of these athletes is so much about life."
This story was submitted by Dolfin. To learn more about Dolfin, visit their site at http://dolfinswimwear.com/.