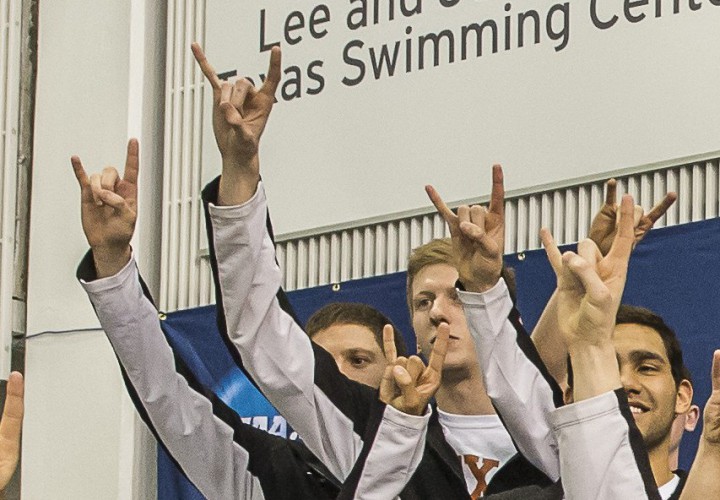 Photo Courtesy: Peter H. Bick
CSCAA NCAA Division I Men's Swimming and Diving Team Rankings Supported by TYR

TUCSON – A knock-down, drag-out dual meet between Texas and Georgia two weeks ago produced some of the most exciting races so far this college season. By winning the meet, the Texas Longhorns were able to keep their No. 1 spot in the College Swimming Coaches Association of America's coaches poll, while Georgia moved up to the second spot. The poll is produced in conjunction with Swimming World Magazine.
The goal of the CSCAA rankings committee is to produce an in-season poll of the 25 best-performing teams in rank order at the time of each poll. The poll is not designed to predict the results of the NCAA Championship, but rather which teams would win head-to-head against other teams in the country.
Specifically, the poll committee does not differentiate between the types of meets, or the status of a specific team in terms of rested versus unrested, when considering votes. Further, rankings are only based on performances that have taken place up to that point in the season, with an emphasis on action from the previous poll.
Swimming World has been invited as a media member to participate in the polling process, and has a vote in each poll. Jeff Commings serves as Swimming World's representative on these weekly conference calls.
1. Texas (5-1, 0-0 Big 12)
Last poll rank: 1
Results
W vs. Texas A&M (10/17), 153-113
L at Michigan (10/24-25), 183-170
W vs. Indiana (at Michigan) (10/24-25), 222-131
W vs. Louisville (at Michigan) (10/24-25), 217-136
Texas Invitational (12/4-6)
Since last poll:
W at Auburn (1/8), 156-135
W at Georgia (1/10), 158-142
Arena Pro Swim Series (1/15-17)
Next competition: January 30-31 vs. Arizona, SMU
2. Georgia (6-2, 3-0 SEC)
Last poll rank: 3
Results
W at Alabama (10/10), 164-128
W at North Carolina (10/17), 155-145
L at NC State (10/18), 155-143
W at Florida (10/31), 174.5-122.5
W at Georgia Tech (11/7), 182-116
W vs. Savannah College of Art and Design (at Georgia Tech) (11/7), 237-55
Since last poll:
Georgia Invitational (12/5-7)
Since last poll:
W at South Carolina (1/3), 150-103
L vs. Texas (1/10), 158-142
Next competition: Saturday at Tennessee
3. California (3-0, 0-0 Pac 12)
Last poll rank: 2
Results
W at Pacific (10/8), 173-81
W vs. Hawaii (10/17), 159-117
W vs. Wisconsin (11/7), 169-116
Georgia Invitational (12/5-7)
Since last poll:
Idle
Next competition: Friday at Arizona State
4. Louisville (6-3, 2-0 ACC)
Last poll rank: 5
Results
W vs. Xavier (10/10), 205-64
L vs. Michigan (10/24-25), 247-116
L vs. Indiana (at Michigan) (10/24-25), 185.5-166.5
L vs. Texas (at Michigan) (10/24-25), 217-136
W vs. Cincinnati (11/1), 210-87
W vs. North Carolina (11/7-8), 220-133
W vs. Tennessee (11/14), 167.5-130.5
W vs. Auburn (at Tennessee) (11/14), 171-129
Louisville Invitational (11/21-23), first place
USA Swimming nationals (12/3-6)
Since last poll:
W vs. Florida State (1/9-10), 239.5-111.5
Next competition: Saturday at Kentucky
5. Michigan (8-0, 4-0 Big Ten)
Last poll rank: 6
Results
W at Iowa (10/4), 173-119
W vs. Indiana (10/24-25), 242.5-110.5
W vs. Louisville (10/24-25), 247-116
W vs. Texas (10/24-25), 183-170
W at Penn State (11/7-8), 212.5-140.5
W vs. Virginia (at Penn State) (11/7-8), 247-102
USA Swimming nationals (12/3-6)
Since last poll:
W vs. Northwestern (1/10), 178-114
W vs. Notre Dame (1/10), 177-117
Next competition: Saturday vs. Ohio State
6. Auburn (3-3, 2-0 SEC)
Last poll rank: 10
Results
L at Indiana (10/10), 149-91
W at Alabama (11/1), 167-133
W vs. LSU (at Alabama) (11/1), 225-75
W at Tennessee (11/14), 157-143
L vs. Louisville (at Tennessee) (11/14), 171-129
Georgia Invitational (12/5-7)
Since last poll:
L vs. Texas (1/8), 176-124
Next competition: Saturday vs. Florida
7. Florida (4-1, 2-1 SEC)
Last poll rank: 4
Results
Pinch A Penny Invitational (10/3-5), first place
W vs. LSU (10/10), 162.5-122.5
W at Kentucky (10/16), 164-128
L vs. Georgia (10/31), 174.5-122.5
W vs. Minnesota (11/8), 167-125
Georgia Tech Invitational (11/20-22), first place
Since last poll:
W at Florida State (1/3), 173-126
Next competition: Saturday at Auburn
8. NC State (6-0, 2-0 ACC)
Last poll rank: 17
Results
All-North Carolina Invitational (10/3-4), first place
W vs. Georgia (10/18), 155-143
W at Georgia Tech (10/25), 161-122
W vs. Florida State (at Georgia Tech) (10/25), 173-115
W at Virginia (11/15), 181-112
Nike Cup (11/20-22), first place
USA Swimming nationals (12/3-6)
Since last poll:
W at Princeton (1/9), 180-113
W at Villanova (1/10), 170-85
Next competition: Friday vs. Minnesota
9. Indiana (6-2, 1-1 Big Ten)
Last poll rank: 13
Results
W vs. Auburn (10/10), 149-91
L at Michigan (10/24-25), 242.5-110.5
L vs. Texas (at Michigan) (10/24-25), 222-131
W vs. Louisville (at Michigan) (10/24-25), 185.5-166.5
W at Tennessee (10/31), 157-143
W vs. Kentucky (at Tennessee) (10/31), 240-58
USA Swimming nationals (12/3-6)
Since last poll:
W at Wisconsin (1/16-17), 202-151
W vs. Notre Dame (at Wisconsin) (1/16-17), 271-82
Next competition: Saturday at Purdue
10. Stanford (3-0, 0-0 Pac 12)
Last poll rank: 7
Results
W vs. Hawaii (10/18), 179-106
W vs. Wisconsin (11/8), 148-90
Art Adamson Invitational (11/20-22), first place
Since last poll:
W vs. Pacific (1/10), 171-83
Next competition: Friday vs. Arizona
11. Tennessee (6-4, 3-1 SEC)
Last poll rank: 15
Results
W at UNC-Wilmington (9/26), 174-117
W at Queens (10/9), 139-65
L at North Carolina (10/10), 170-130
W vs. Kentucky (10/31), 234-64
L vs. Indiana (10/31), 157-143
L vs. Auburn (11/14), 157-143
L vs. Louisville (11/14), 167.5-130.5
Nike Cup (11/20-22), first place
USA Swimming nationals (12/3-6)
Since last poll:
W at Texas A&M (1/8), 184-115
W vs. Missouri State (at Texas A&M) (1/8), 210-89
W at LSU (1/10), 184.5-106.5
Next competition: Saturday vs. Georgia
12. Ohio State (6-0, 0-0 Big Ten)
Last poll rank: 9
Results
W vs. Cincinnati (10/24), 160-119
W vs. Cleveland State (10/30), 137-88
W vs. Kenyon (10/31), 163.5-115.5
W vs. Princeton (11/7-8), 209-136
W vs. Denison (11/7-8), 249-96
Ohio State Invitational (11/21-23), first place
USA Swimming nationals (12/3-6)
Since last poll:
W at Denison (1/16), 189-11
Next competition: Friday at Michigan State
13. Missouri (4-0, 1-0 SEC)
Last poll rank: 8
Results
Show-Me-Showdown (10/3), first place
W vs. Missouri State (10/31), 178-65
W at Kentucky (11/7-8), 228-120
W vs. Northwestern (at Kentucky) (11/7-8), 221-127
W vs. Southern Illinois (at Kentucky) (11/7-8), 253-95
Missouri Invitational (11/20-22), first place
Since last poll:
L at Arizona (1/2), 160.5-101.5
W at South Carolina (1/16), 181-119
Next competition: Friday vs. Drury
14. Arizona (2-3, 1-2 Pac 12)
Last poll rank: 11
Results
L vs Wisconsin (10/4), 167.5-112.5
W vs. UNLV (11/1), 172-126
L vs. Utah (at UNLV) (11/1), 187-113
L at Southern California (11/15), 182-118
Texas Invitational (12/4-6)
Since last poll:
W vs. Missouri (1/2), 160.5-101.5
Next competition: Friday vs. Stanford
15. Virginia Tech (4-1, 2-1 ACC)
Last poll rank: 12
Results
W vs. Old Dominion (10/18), 233-120
L at North Carolina (10/25), 182-118
W at Duke (10/26), 180-115
W at Notre Dame (11/7-8), 287-83
W vs. Pittsburgh (at Notre Dame) (11/7-8), 287-83
Virginia Tech Invitational (11/20-22)
Since last poll:
W vs. Kentucky (1/10), 186-114
W at Virginia (1/16-17), 218-135
Next competition: Saturday vs. Georgia Tech, UNC-Wilmington
16. Texas A&M (5-3, 0-2 SEC)
Last poll rank: Not ranked
Results
L at Texas (10/17), 153-115
W at Incarnate Word (10/24), 135-98
W at Florida Atlantic (10/30), 121-95
W at Indian River (11/1), 209.5-89.5
Art Adamson Invitational (11/20-22)
W vs. Missouri State (1/8), 175-119
L vs. Tennessee (1/8), 184-115
L vs. Alabama (1/9), 162-138
W vs. SMU (1/16), 132-104
Next competition: Saturday vs. Louisiana State
17. Wisconsin (6-3, 2-1 Big Ten)
Last poll rank: 14
Results
W at Arizona State (10/3), 130.5-111.5
W at Arizona (10/4), 170-128
W at Minnesota (10/17), 153.5-146.5
L at California (11/7), 169-116
L at Stanford (11/8), 148-90
W vs. Northwestern (11/13), 186.5-110.5
Ohio State Invitational (11/21-23), second place
Texas Invitational (12/4-6)
Since last poll:
W at USC (1/9), 131.5-130.5
L vs. Indiana (1/16-17), 202-151
W vs. Notre Dame (1/16-17), 257-96
Next competition: February 6 vs. Milwaukee
18. Southern California (4-0, 2-0 Pac 12)
Last poll rank: 16
Results
W at Cal Poly-San Luis Obispo (10/17), 152-125
W at UC-Santa Barbara (10/18), 152-107
W vs. Arizona State (11/14), 165-125
W vs. Arizona (11/15), 182-118
Texas Invitational (12/4-6)
Since last poll:
L vs. Wisconsin (1/9), 131.5-130.5
Next competition: February 6 at California
19. Iowa (2-2, 1-1 Big Ten)
Last poll rank: 20
Results
L vs. Michigan (10/4), 179-113
W at Michigan State (10/17), 174-126
L at Minnesota (10/31), 163-137
Hawkeye Invitational (12/5-7)
W vs. South Dakota State (1/3), 126-90
Next competition: Saturday at Northwestern
20. North Carolina (3-2, 1-0 ACC)
Last poll rank: Not ranked
Results
W vs. Tennessee (10/10), 170-130
L vs. Georgia (10/17), 155-145
W vs. Virginia Tech (10/25), 182-118
L at Louisville (11/7-8), 220-133
Nike Cup (11/20-22), second place
W at Navy (1/10), 169-126
Next competition: Saturday at Virginia
21. Utah (7-0, 2-0 Pac 12)
Last poll rank: 24
Results
W vs. Colorado Mesa (10/3-4), 297-67
W vs. Air Force Academy (at Colorado Mesa) (10/3-4), 259-113
W vs. BYU (at Colorado Mesa) (10/3-4), 236-136
W at UNLV (11/1), 192-102
W vs. Arizona (at UNLV) (11/1), 187-113
W vs. Colorado Mesa (11/7), 179-101
Texas Invitational (12/4-6)
Since last poll:
W at Arizona State (1/9), 174.5-119.5
Next competition: Friday vs. Denver
22. Florida State (1-4, 0-2 ACC)
Last poll rank: 22
Results
Pinch A Penny Invitational (10/3-5), second place
L vs Georgia Tech (10/25), 183-116
L vs. NC State (at Georgia Tech) (10/25), 173-115
W vs. Florida Southern (11/7), 168-119
Georgia Tech Invitational (11/20-22), third place
Since last poll:
L vs. Florida (1/3), 173-126
L at Louisville (1/9-10), 239.5-111.5
Next competition: ACC championships (2/25-28)
23. Minnesota (4-2, 1-1 Big Ten)
Last poll rank: 23
Results
W at Arizona State (10/4), 181-117
L vs. Wisconsin (10/17), 153.5-146.5
W vs. North Dakota (10/24), 207-89
W vs. Iowa (10/31), 163-137
L at Florida (11/8), 167-125
Arena Grand Prix-Minneapolis (11/20-22)
Jean Freeman Invitational (12/5-6)
Since last poll:
W at Hawaii (1/7), 139-108
Next competition: Friday and Saturday at North Carolina State
24. Alabama (2-2, 1-2 SEC)
Last poll rank: 18
Results
W vs. Delta State (9/12), 199-98
L at Georgia (10/10), 164-128
W vs. LSU (11/1), 220-80
L vs. Auburn (11/1), 167-133
Virginia Tech Invitational (11/20-22)
Since last poll:
W at Texas A&M (1/9), 162-138
Arena Pro Swim Series (1/15-17)
Next competition: Friday vs. Cincinnati
25. Harvard (7-0, 5-0 Ivy League)
Last poll rank: 19
Results
W vs. Cornell (11/15), 169-131
W vs. Dartmouth (11/15), 246-54
W vs. Columbia (11/21), 207-88
Texas Invitational (12/4-6)
W at Duke (1/10), 199-95
W vs. South Carolina (at Duke) (1/10), 180-120
W vs. Brown (1/17), 237-63
W at Penn (1/17), 190-108
Next competition: January 31 at Princeton
Also receiving votes: Georgia Tech, Penn State, Virginia, Yale
More CSCAA Coaches Rankings
Division I Women
Division II Men and Women
Division III Men and Women