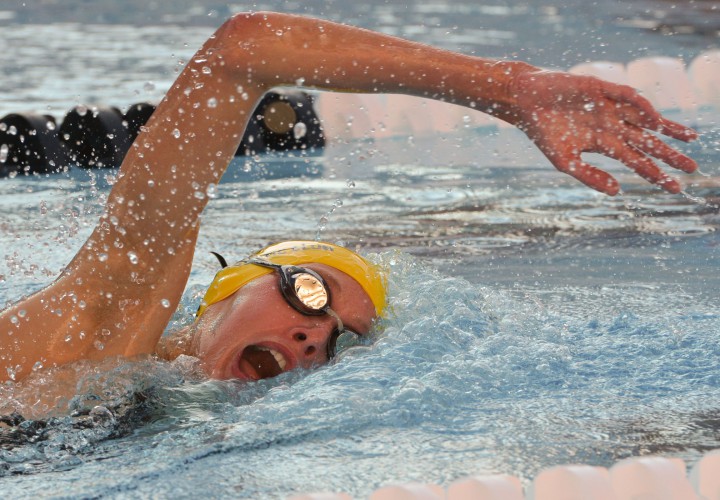 Photo Courtesy: Donna Nelson
Agon is the proud sponsor of all high school coverage (recruiting, results, state championships, etc.) on SwimmingWorld.com. For more information about Agon, visit their website AgonSwim.com.
Ryan Hoffer and Taylor Ruck both set state records in winning events at the Arizona high school swimming and diving championships. Brophy Prep continued its reign at the top of the boy's Division I standings to win the team title, while Chaparral won the girls' Division I team title for the second year.
With perennial Division II champion Catalina Foothills High School moving up into Division I this season, the door was open for new team champions. Notre Dame Prep took advantage to win their first girls' team title, while Salpointe Catholic High School won the boys' Division II title.
Arizona state high school championships team scores
Division I boys top five:
Brophy College Prep: 302
Mountain View: 207.5
Horizon: 189
Desert Vista: 182
Chandler: 170
Division I girls top five:
Chaparral: 359
Desert Vista: 234
Pinnacle: 219.5
Xavier College Prep: 204
Verrado: 180
Division II boys top five:
Salpointe Catholic: 236
Notre Dame Prep: 185
Williams Field: 184
Phoenix Country Day: 142
Queen Creek: 137
Division II girls top five:
Notre Dame Prep: 215
Salpointe Catholic: 181
Sabino: 168.5
Agua Fria: 120
Seton Catholic: 117
2015 Arizona state high school championships – Results
Arizona state high school championships: Division I
All eyes were on Hoffer as many believed he could break the national high school record of 19.29 in the 50 freestyle. But the Chaparral High School junior fell short of that in winning his third 50 free title with a 19.95. About 20 minutes later, Hoffer stepped up for the 100 butterfly and won his first state title in that event with a 47.47. That broke the state record of 47.80 set last year by Mark Jurek. Both of Hoffer's winning times were off his personal bests that he swam last December to win junior national titles, but with the 17-year-old swimming unshaved at the Skyline Aquatic Center, he did what was needed to get the wins.
Jurek had won the past two state titles in the 100 butterfly, but skipped that event for a marathon performance in Division I finals. After swimming breaststroke for Chandler High School's 200 medley relay that placed fifth, Jurek was on the blocks about 10 minutes later for his first 200 free state final. Jurek dominated the field with a winning time of 1:37.36, then came back in the next event to win his third 200 IM state title with a 1:47.86. That was just eight tenths off his state record, but good enough to close out his high school career with another win.
Ruck was the star of the women's Division I meet, winning the 200 and 500 freestyles. Her 1:46.51 in the 200 free broke her year-old state record of 1:46.76, giving the world junior champion the win by nearly four seconds. Ruck, a sophomore at Chaparral, had no problem repeating as 500 freestyle champion with a 4:45.17, getting closer to Ashley Evans' state record of 4:42.61 and falling about four seconds short of her personal best.
Chaparral swept the girls relays, with Ruck contributing to two of them. At the start of the meet, Ruck swam freestyle on Chaparral's winning 200 medley relay, splitting 22.80 to help the team post a 1:44.62. Ruck finished off her meet by swimming the anchor leg for Chaparral, helping them capture the win in a state record time of 3:26.47. That took down the state record of 3:26.86 swum last year by Pinnacle.
Chaparral also won the 200 free relay with a 1:36.99, holding off Desert Vista, who was second in 1:37.37.
Catalina Foothills' boys' team had a great showing in their first meet in Division I, thanks to the performances by junior Brooks Fail. After placing third in the 200 free with a 1:39.96, Fail took on defending Division I champion Ben Olszewski in the 500 free and won with a 4:26.68 to Olszewski's 4:27.53.
With Hoffer out of the 100 free this year, Brophy Prep's Jack Blake had no problem taking the win with a 45.75, a good seven tenths ahead of runner-up Erik Orr of Rincon/University High School.
Desert Vista's Josh Vedderwas looking for a sub-50 in the 100 backstroke, but fell just short with a 50.26, taking the win by eight tenths over Bryce Kuchan. Hamilton senior Ty Dang closed out his high school career with a 55.97 to win the 100 breast.
Mountain View pulled off a bit of an upset in two boys' relays by beating favored Brophy Prep. In the 200 medley relay, Mountain View posted a 1:34.14 to Brophy's 1:34.66, then held off a strong charge from Brophy's Blake in the 400 free relay to win with a 3:06.51. Horizon High School also got ahead of Brophy in the 400 free relay with a 3:06.62, while Brophy settled for third with a 3:06.83. Brophy got revenge in the 200 free relay, winning by 1.5 seconds with a 1:25.27 over Chaparral.
Emma Broome, a junior at Chaparral, got two wins in the girls' Division I meet. She started off by pulling off a close victory in the 100 fly with a 55.07 to beat a trio of ladies under the 56-second barrier. She wasn't challenged too hard in the 100 back, as she won with a 54.80, eight tenths faster than runner-up Matti Harrison's55.62.
Allie Worrall of Xavier was looking for the sweep of the sprint freestyles, but Boulder Creek's Claire Grover prevented that with a 23.42 in the 50 freestyle to Worrall's 23.85. Worrall came back in the 100 free and held off Highland High School freshman Kyla Yetter to win with a 51.79 to Yetter's 52.03.
Savanna Carlson took the 200 IM in a strong 2:02.94 to give the Arcadia junior nearly a one-second victory over Chaparral's Kelly Huffer. Alyson Yancy gave Pinnacle High School a victory with a 1:02.62 in the 100 breast, just 14 hundredths of a second ahead of Grover.
2015 Arizona state high school championships – Results
Arizona state high school championships: Division II
In winning their first state team title, Notre Dame Prep won two relays and one individual event. Notre Dame won the 200 medley relay with a 1:51.20 and the 200 free relay in 1:39.89. Freshman Isabella Fratesi and junior Caroline Strolic gave Notre Dame a 1-2 finish in the 200 IM, with Fratesi posting the win in 2:07.67 and Strolic right behind in 2:09.97.
Taylor Nations won two events, including a thrilling tie for first in the 100 fly with Katie Higgins as the two touched in 55.39. Nations was well ahead of the pack in the 100 backstroke, touching in 56.70 to round out her high school career for Sabino High School.
Also winning two events in the girls' meet was Green Field Country Day sophomore Olivia McNally, who repeated as 50 free champion with a 24.65 and won the 100 free for the first time with a 53.47.
Verrado High School freshman Destiny Kling took her first state title with a 1:53.91 in the 200 freestyle. She was in the hunt to also win the 500 free, but couldn't catch Nicole Matheson, a junior at Sunrise High School, who took the state title in the 500 free with a 5:06.81 to Kling's 5:08.09.
Eleonora Dall'Olio, a senior at host Skyline High School, took the 100 breast title with a 1:05.78. With the state title wrapped up, Notre Dame didn't need to swim the 400 free relay, which went to Sabino High School in 3:39.72, thanks to a 52.67 anchor leg from Nations.
On the boys' side, Gilbert Classical Academy High's Austin Baker swept the sprint freestyle events, starting with a 21.22 in the 50 free and following it up with a 47.07 in the 100 free that was a whisker ahead of the 47.10 by Phoenix Country Day's Jacob Bain.
Archie Spindler also won two events, putting up a big time drop to win the 200 free for Seton Catholic in 1:45.06. Spindler led from the start in the 500 free and never let up to win in 4:44.52, about two seconds over Cholla's Brent Zang.
Brad Christensen had a gutsy swim in the 200 IM, as he overtook Gavin Turley to win with a 1:59.13 to Turley's 1:59.85. Christensen was after another win in the 100 backstroke, but couldn't keep the pace with Queen Creek's Tyler Reznicek, who won with a 53.28 to Christensen's 54.12.
Salpointe got its sole win of the meet from senior Steven Rothe in the 100 fly. Rothe had a battle with Bourgade Catholic High School's Zabric Kline, as the two were the only ones under 52 seconds. Rothe got the win in 51.39, while Kline was not far off with a 51.43.
Notre Dame Prep won two relays and one individual event. In addition to dominating in the 200 medley relay and 200 free relay, the team also celebrated a big win from senior Braxton Bilbrey with his 57.91 in the 100 breaststroke.
Salpointe tried to put an exclamation mark on its Division II team win in the 400 free relay, but Williams Field High School had other plans, taking the relay win in 3:15.67 to Salpointe's 3:15.95.