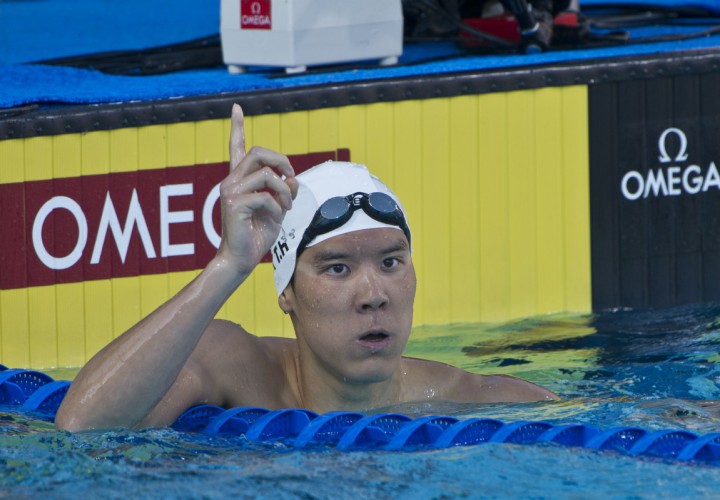 GIMCHEON, South Korea, July 21. AFTER a day off to rest up, Olympic gold medalist Tae Hwan Park raced to his sixth gold medal of the meet at the South Korean Nationals today.
Park powered his way to a 4:23.21 in the men's 400-meter IM to down the meet record. That's not bad for someone who up until this week had rarely, if ever, competed in an IM event. He finished the meet with wins in the 100 free (48.68), 200 free (1:45.25), 400 free (3:44.75) as well as the 200 IM (2:00.31). His team also took home the 800 freestyle relay title.
Typically, Park has focused on the men's 1500-meter freestyle on the final day of the meet, but decided to take on the 400 IM this year instead. With him gone, Bak Seok Hyeon won the men's 1500 with a time of 15:41.46.
In other action, Nam Yuseon topped the women's 400-meter IM in 4:42.57.
Park is going to have a battle ahead of him in about a month-and-a-half when South Korean hosts the Asian Games in Incheon. He will have a strong head-to-head fight with China's Sun Yang, who proved that all of the trials and tribulations from the previous year are behind him with a strong meet at Chinese Nationals. In fact, there may be no other international meet this summer with as highly anticipated of a matchup as Sun and Park.