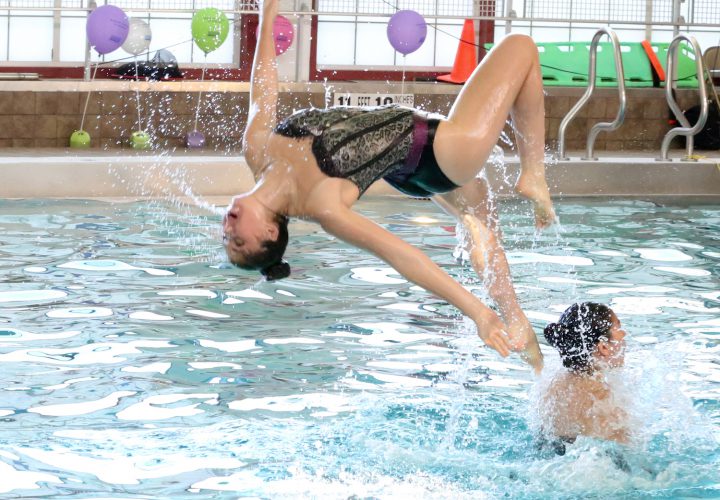 Photo Courtesy: Gotham Syncro
By Michael Randazzo, Swimming World Contributor
New York City, the city that spawned stickball, may seem the least hospitable of venues for an activity like synchronized swimming, remembered here mostly for Martin Short and Harry Shearer's hilarious send-up on Saturday Night Live. Evidence is growing, though, that the sport's popularity is on the rise in this hard-core urban setting.
"Water ballet," as it's known to some, is an exceptionally elegant pursuit; when properly executed, it's a delight to watch. But it requires dedicated participants, experienced coaches and—most critical—pool time, ingredients not in plentiful supply in Gotham.
Such was not always the case. The Aquacade, an Art Deco 11,000 seat amphitheater in Flushing Meadows park in Queens, hosted the most successful show of the 1939 New York World's Fair, produced by the legendary Billy Rose and starring the likes of Johnny Weissmuller, Buster Crabbe and Gertrude Ederle (the first woman to swim the English Channel) along with newcomer Esther Williams. Times and tastes change, however, and the Aquacade fell on hard times.
But "synchro," an exhausting athletic pursuit, has experienced an uptick of interest in New York due to the dogged persistence of coach and performer Rowena Mohammed and the recent arrivals of Paola Tirados, a silver medalist for Spain at the 2008 Beijing Games, and Emily Kokernak, formerly a synchro coach in Massachusetts.
Mohammed, with more than 30 years' experience as a choreographer, coach and swimmer, likens synchro to ice skating or ballroom dancing—with the twist that it's performed in deep water. She herself is a deep well of information describing the distinctly New York version of an aquatic sport that typically thrives where outdoor pools and comfortable weather are the norm.
Since 2006, her club Gotham Synchro, one of two synchro programs in New York City, has worked with male and female athletes of all ages to develop synchronized swim routines. Gotham has sent swimmers to regional and national tournaments, including Age Group Nationals at the Junior Olympics. As a member of USA Synchro's regional East Zone, Gotham's younger athletes compete against 30 teams from the New England and Tri-State (CT, NY, NJ) regions as well as Pennsylvania, Maryland and parts of Ohio.
Because pool time is limited, Gotham practices in Manhattan, Westchester and the Bronx: finding pools and committed athletes are the major challenges Mohammed's club contends with. "New York City is very expensive, so it increases the cost of the program and limits the budgets and commitments of potential swimmers and coaches," she wrote in an email.
Adding that "Children and adults are overscheduled and don't always have a commitment level that matches their desired goals," Mohammed regrets that busy parents with demanding professions make it difficult for their children to succeed.  "Like any other sport or activity, swimmers do better when they receive support and assistance from their family."
But New York does offer some distinct advantages, including a unique breadth of international talent and experiences. Former Gotham swimmers now compete in Canada, Spain, France, Germany, Japan and the United Kingdom.
Mohamad also believes that there will be more support for a sport that other parts of the country have not yet embraced. "New Yorkers respect us as the athletes that we are," she explained. "No one who has attended one of our practices has questioned the talent and training required to perform our sport."
Imagine Imports a Winner
While Gotham Synchro must fight to find pool time and participants, Imagine Synchro—part of the Imagine Swimming empire—is surely among the city's most fortunate aquatics programs. The arrival in 2014 of head coach Paola Tirados, a three-time Spanish Olympian (2000, 2004, 2008), and the support of Imagine co-founder Lars Merseburg promises well for the nascent synchro program.
But Tirados, who hails from the Canary Islands, describes the major challenges on her new island (Manhattan) in much the same terms as Mohammed at Gotham Synchro.
"[It] started with one girl, then a couple of months later I had two girls, but it was so difficult because synchronized swimming is not very popular here," she said. "It's popular in California and Florida but not here, because there aren't enough pools."
Luckily, Tirados, who moved to New York City four years ago with her husband and fellow Olympian, Dimas Wood, can take advantage of the infrastructure of the city's largest youth swim program as she builds a competitive team. According to Kate Pelatti, Imagine's COO, the Spaniard's vision for an urban synchro program dovetailed perfectly with Imagine's approach to competition and—more important—the pursuit of a healthy lifestyle.
"Synchronized swimming was the perfect fit to our overall approach to aquatics because it is expressive, full of movement, fluid and fun," Pelatti said. "There is nothing quite like dancing across the surface of the water."
Imagine Synchro is beginning to make its mark in the relatively small world of Northeastern synchronized swimming. This year, for the first time, Tirados' charges medaled in East Zone competition, success that their coach hopes will lead to better things. "We won a couple of medals in East Zone this year. Maybe next year we can arrive to the Junior Olympics."
And for Tirados, as important as success in the pool has been the approval of Imagine Synchro's parents.
Lourdes Escorial's daughter Claudia has swum with Imagine the past two years. Inspired by watching synchronized swimming at the 2012 London Olympics, Claudia had been a member of a synchro team in Madrid before her father took a New York City-based posting with Banco Bilbao Vizcaya Argentaria (BBVA), Spain's second largest bank.
Upon arriving in Brooklyn, Escorial looked for a water polo program for her son—which she found at St. Francis College in Brooklyn Heights—and synchro for her daughter. She was delighted to discover Imagine's program: "For us it was very surprising [to find synchro in the city]. It's very common in Spain and in Europe but not here."
When asked about the impact of Tirados, Escorial was effusive. "The group loves swimming together," she said. "They have different performances because there are stronger girls and those who only swim one or two times a week. But all of them love synchronized swimming."
Daniela Raz's 14-year-old daughter Una had been swimming with Imagine for a number of years but grew bored with lap swim. When Una found that she could combine swimming and dancing with a group outside of the social demands of middle school, she was delighted, as was her mother.
"It's surreal," Raz says of the experience of synchro in New York City, "because it's both very beautiful, ornate and graceful, but it's also incredibly athletic. You have these kids who are a combination of both…dance and discipline and expressiveness, but also athleticism."
As with Escorial, the presence of a qualified and knowledgeable coach has had a profound impact on her daughter's experience of synchro in the city. "Paola has been tough and supportive of being respectful and working hard, but also incredibly generous and thoughtful," Raz said.
Adults Can Play Too
Gotham and Imagine are not the only synchro programs looking to make a splash in the New York marketplace. There are other up-and-comers, notably Kokernak, a former Age Group and intermediate coach with the Cambridge [Mass.] Synchro Swans.  In 2015, Kokernak started a coed program focused on adults, based out of the Berkeley Carroll School in Brooklyn, which welcomes swimmers of all levels and currently has six core members.
Called the Brooklyn Synchro Club, the program initially focused on local opportunities, with club members occasionally performing at benefits and parties. But Kokernak said that three women new to the sport are planning to compete this October at the USA Synchro Masters Nationals in Clermont, Florida.
"I want to be able to offer the synchro experience everyone dreams about, whether it is competing or just learning for fitness and fun," she said. Despite, or perhaps because of, formal synchronized swimming training and a reliance on FINA (an international federation administering international competition in water sports) technical rules, Kokernak insists that the classes are fun and dynamic.
"I'd love to see more adults try synchro and encourage men and women and girls and boys to seek out a class—it's a lifelong sport and insanely fun and addictive," she said enthusiastically.
In a city populated with individuals devoted to some of the most unusual passions, perhaps the idea of a fun, addictive athletic pursuit that involves water is perhaps not so surprising after all.
With Chip Brenner