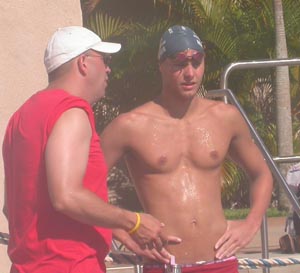 HONOLULU, Hawaii, June 7. DURING the afternoon workout of Wednesday at the National Club Swimming Association's All-American meet trip, Swimming World Radio spoke with the coaching staff of the West squad.
Jeff Cooper of the Oakland Live Y'ers, Soliman Eid of the Aquazot Swim Club, Jason Roberts of the Northern Kentucky Clippers and Michael Soderling of the Lawrence Aquahawks gave their input on the meet, their personal swimmers, which swimmers have stood out the most and a bit about their own home clubs.
Click on the Swimming World Radio button to the right to hear the interview, or visit SwimmingWorldRadio.com to listen to this and other broadcasts.