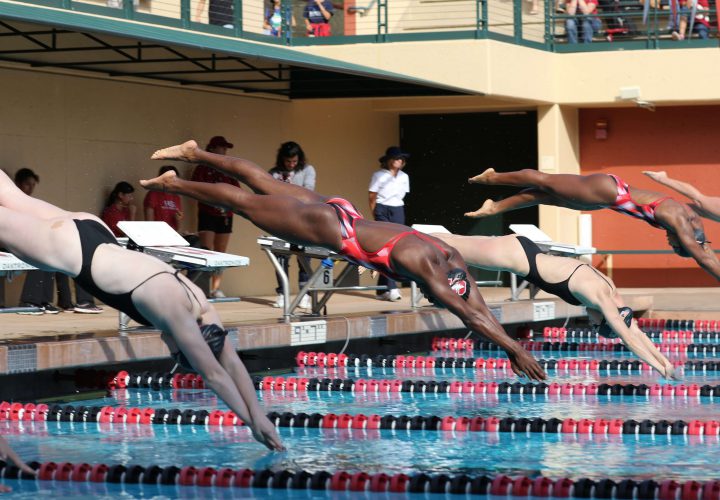 Photo Courtesy: Stanford Athletics
Understanding and Disproving Racial Stereotypes
In honor of Black History Month, Bruce Wigo, former President/CEO of the International Swimming Hall of Fame (2005-17), penned a commentary on the negative stereotype "black people can't swim."
If there ever was a baseless stereotype that went against historical facts, it is that "black people can't swim."
Wigo poignantly navigates the presence that black people have had as swimmers throughout history, beginning in 1451 and continuing through present-day. Not only does Wigo look at the history, but he also touches on the impact that swimmers of African descent, like Simone Manuel, Alia Atkinson, Cullen Jones, and Anthony Ervin have had on the sport of swimming, as well as challenging the stereotype that "black people can't swim."
To learn more about the history of swimming and how it affects racial stereotypes, check out the February 2018 issue of Swimming World Magazine, available now!

[ PHOTO BY GIORGIO PEROTTINO/DEEPBLUEMEDIA/INSIDEFOTO ]
Swimming World Magazine gives you access to all of the back issues of Swimming World Magazine dating back to 1960!  Visit the Swimming World Magazine Vault.
FEATURES
018 THE CASE FOR HIGH SCHOOL SWIMMING
by Annie Grevers
To swim in high school or not to swim in high school? Swimming World asked five U.S. Olympians for their perspective on the subject—swimmers who are but a few in a long line of high achievers who might never have reached the pinnacle of the sport without high school swimming.
021 UNDERSTANDING AND DISPROVING RACIAL STEREOTYPES
by Bruce Wigo
If there ever was a baseless stereotype that went against historical facts, it is that "black people can't swim."
024 SHI'S THE ONE
by Dan D'Addona
China's Shi Tingmao has dominated women's diving for the past three years, having won six gold medals and one silver medal at the last two World Championships and the Olympics.
026 NCAA DIVISION I DIVING PLAYBOOK
by Annie Grevers and Erin Keaveny
The 2018 NCAA Division I Championships will be chock-full of diving talent. Here are a few names of some of the outstanding divers who will be competing this year in Colum­bus, Ohio (women's meet, March 14-17) and Minneapolis (men's, March 21-24).
029 DIVERS MATTER
by David Rieder
Swimmers and divers almost never compete in each other's championship meets, yet the two sports are contested together at the NCAA level—with points from each disci­pline counting toward the eventual team champion. If a top swim team can get some quality diving points, that can make the dif­ference in a tight battle for the team title.
COACHING
010 LESSONS WITH THE LEGENDS: JAY FITZGERALD
by Michael J. Stott
013 COLLEGE RECRUITING: UNDER PRESSURE
by Michael J. Stott
In the fourth and final article of a multi-part series, Swimming World looks at early com­mitments, offers and obligations of coaches and college recruits.
016 SWIMMING TECHNIQUE CONCEPTS: CAN KATIE LEDECKY SWIM FASTER? (Part I)
by Rod Havriluk
There are substantial changes that Katie Ledecky can make in her head position and breathing motion—as well as in her arm coordination—to swim considerably faster. Next month's article will explain how to ad­dress these technique limitations.
040 HIGH SCHOOL TAPER SETS
by Michael J. Stott
While a preponderance of points at high school state meets are often scored by club swimmers, every team requires a cadre of dedicated, tapered athletes to support a championship drive.
043 Q&A WITH COACH BRENDAN HANSEN
by Michael J. Stott
044 HOW THEY TRAIN NICCO VELASQUEZ
by Michael J. Stott
TRAINING
039 DRYSIDE TRAINING: WANT MORE PULLING POWER?
by J.R. Rosania
JUNIOR SWIMMER
046 UP & COMERS
by Taylor Brien
COLUMNS & SPECIAL SECTIONS
008 A VOICE FOR THE SPORT
030 2018 SWIM CAMP DIRECTORY
047 GUTTER TALK
048 PARTING SHOT