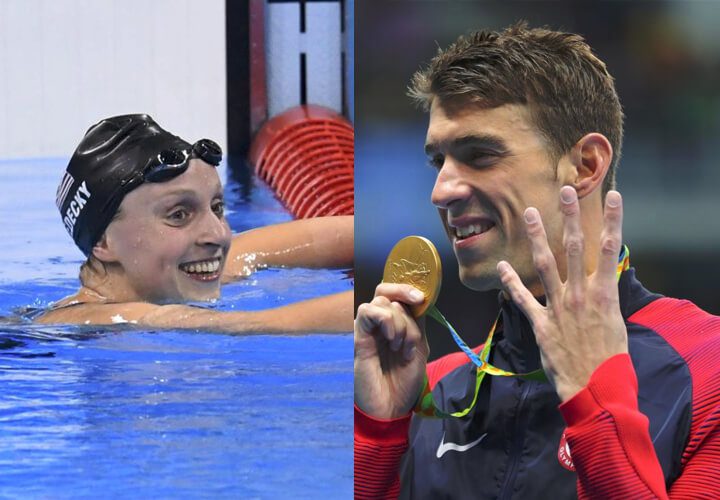 Each year Swimming World Magazine selects the top male and female swimmers from the following regions: Africa, the Pacific Rim, Europe, America, and World.
On Monday, Swimming World began announcing the top athletes in each region leading up to today's announcement of the Male and Female World Swimmer of the Year on December 1st. The final announcement coincides with the official release of the December Swimming World Magazine. To download this issue click HERE! To read previous "Swimmers of the Year", visit the Swimming World Vault and download past December issues.
Male World and American Swimmer of the Year
For an eighth time in his legendary career, Michael Phelps has been named Swimming World's Male World Swimmer of the Year.
That's not to say it was unanimous. It wasn't. Adam Peaty got his share of votes after his record-demolishing swims in the 100 breast at the Olympic Games, and Ryan Murphy, too, merited consideration after winning three Olympic gold medals and setting a world record this summer.
But neither could match Phelps, who won five Olympic gold medals and one silver in Rio, including his fourth straight title in the men's 200 IM. For his career, Phelps now has 23 Olympic golds and 28 total medals.
Phelps has now won the award in each of the past four Olympic years, and this honor comes 13 years after he first won the award in 2003. His eight awards double the total of the swimmer with the next most titles, Australia's Ian Thorpe. Phelps also captures Male American Swimmer of the Year honors for the 11th time, also a rec- ord. Second most is Lenny Krayzelburg with four.
After winning three events at the U.S. Olympic Trials in Omaha to become the first American man to qualify for five Olympic teams, Phelps opened up his Rio Games as the second leg on the U.S. men's 400 free relay. Diving in just behind France and still trailing halfway through his leg, Phelps used his signature underwater dolphin kicks to pull ahead, splitting 47.12 and giving Ryan Held and Nathan Adrian a lead they would not relinquish.
Phelps then returned two days later for the 200 fly, the gold medal he wanted most after losing a tight finish to South Africa's Chad le Clos in 2012. Phelps would not be denied, gutting out a painful last 50 to hold off Japan's Masato Sakai by 4-hundredths of a second, 1:53.36 to 1:53.40.
Phelps later dominated the final of the men's 200 IM, touching in 1:54.66 to win his record fourth-straight gold medal in the event. He also contributed to American wins in the 800 free and 400 medley relays. However, he suffered a rare setback in the 100 fly final, finishing behind up-and-comer Joseph Schooling and in a three-way tie with two of his longtime rivals, Chad le Clos and Laszlo Cseh.
After his final race (the 400 medley relay), Phelps received a long standing ovation from the packed crowd inside the Olympic Aquatic Center, and he lifted his arms to wave in appreciation. The greatest-of-all-time was walking away from the sport—this time for good, he insisted—perfectly content.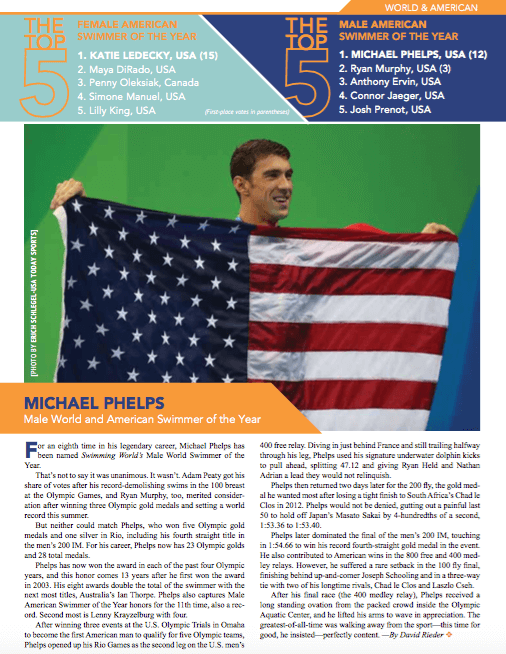 Female World and American Swimmer of the Year
To the surprise of no one, Katie Ledecky was unanimously selected as Swimming World's Female World Swimmer of the Year for the fourth consecutive year. The only other woman to match that feat was Janet Evans from 1987 to 1990.
Ledecky also earned her fourth Female American Swimmer of the Year award. Only five-time winner Evans (1987-91) has more. Lady Ledecky can now legitimately lay claim to being the most dominant female aquatic athlete on the planet.
To cement her claim to that title, Ledecky set a formidable challenge for herself at the Rio Olympics: win the 200, 400 and 800 freestyle events. In 100-plus years of Olympic swimming, only Debbie Meyer had taken that trifecta. And that was in 1968—48 years ago.
With collegiate swimming for women non-existent in 1968, Meyer had to retire at 19, just as she was nearing her peak. Ledecky, who was 19 in Rio, has only just begun and should have a long and luminous career.
In Rio, that "other Baltimore swimmer" was up to her self-imposed challenge, winning gold in her three individual events, including other-worldly, world record-smashing efforts in the 400 and 800. She clocked 3:56.46 in the 400, breaking her own global standard by two seconds and winning the event by nearly five seconds. And in the 800, the defending Olympic champion won with a searing WR of 8:04.79, more than 11 seconds faster than the silver medalist, Jazmin Carlin.
She knew her greatest challenge would come from a loaded field in her "sprint" event—the 200 free. In the final 25 of the final, Sweden's Sarah Sjostrom was stroke for stroke with Ledecky, but no one has stamina like Ledecky. The American studette blistered to victory with a 1:53.73 to Sjostrom's 1:54.08.
Ledecky also anchored both USA freestyle relay squads (3:31.89 American record, 7:43.03), picking up a fourth gold (4 x 200, 1:53.74 split) and a silver medal (4 x 100, 52.79 split).
Her final medal tally (four golds, one silver) made for the most decorated single-Olympics performance by a U.S. female athlete in terms of gold medals.