Current subscribers can visit the Swimming World Vault to download the issue now! Non-Subscribers can download for FREE by Clicking HERE.
The first Swimming World Biweekly for the month of November is now available! The 20th edition of the 2016 Biweekly magazine series features the full meet recaps from the Tokyo and Hong Kong stops of the 2016 FINA/Airweave World Cup Series, plus articles featuring the male and female World Cup title winners and Alia Atkinson's 50 breaststroke World Record from Tokyo.
What else will you find in this edition of the Swimming World Biweekly? Features on two recently retired Olympians, coaching changes, and marriage!
Be sure and download your FREE copy of Swimming World Biweekly: FINA World Cup Series Concludes today!
Save 25% on a 1 year subscription and download more issues from the Swimming World Vault and get the following:
Use Coupon Code: realnews and save 25%
A monthly print copy of Swimming World Magazine in the mail for 1 year!
Free download of the next 12 issues and the past 12 issues of Swimming World Magazine!
Free download of next 24 issues and the past 24 issues of Swimming World Biweekly!
Free download of next 4 issues and the past 4 issues of Swimming Technique Magazine!
CURRENT COVER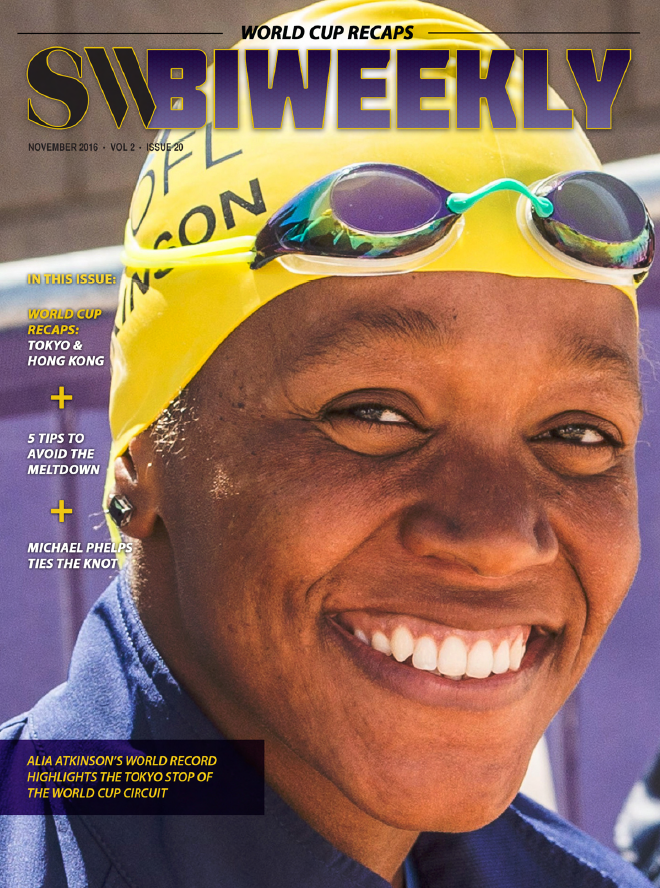 FEATURES:
006 2016 FINA WORLD CUP TOKYO FINALS RECAP
by Taylor Brien
A full finals recap from the Tokyo stop of the World Cup circuit.
012 2016 FINA WORLD CUP HONG KONG FINALS RECAP
by Cathleen Pruden
A full finals recap from the Hong Kong stop of the World Cup circuit.
016 2016 FINA WORLD CUP MONEY LIST: MOROZOV, HOSSZU CLINCH WORLD CUP TITLES
by Taylor Brien
Vladimir Morozov of Russie and Katinka Hosszu of Hungary clinched their titles as the top male and female performers of the 2016 FINA/Airweave World Cup Series after building upon their medal counts and solidifying their leads at the third and final cluster of the series.
017 ALIA ATKINSON SCORCHES 50 BREAST SCM WORLD RECORD AT TOKYO WORLD CUP
by Taylor Brien
Four-time Olympian Alia Atkinson of Jamaica scorched the competition in finals of the women's 50 SCM breaststroke while swimming at the Tokyo stop of the 2016 FINA World Cup Series.
018 PAUL YETTER BACK AT NORTH BALTIMORE AQUATIC CLUB AS HEAD SENIOR COACH
by David Rieder
North Baltimore Aquatic Club announced Paul Yetter is returning to the club as Head Senior coach. Yetter previously coached at the club from 2001 until 2009.
019 CONFLICTING REPORTS ABOUT DAVID MARSH AND HIS ROLE WITH ISRAELI SWIMMING FEDERATION
by David Rieder
U.S. women's Olympic team coach David Marsh is taking on some new responsibilities for hte next quadrennial. According to a report from 5 Sport in Israel, Marsh will sign a contract to work as a consultant for the Israeli Swimming Federation.
020 AUSTRALIAN OLYMPIAN ALICIA COUTTS ANNOUNCES RETIREMENT FROM SWIMMING
by Taylor Brien
Five-time Olympic medalist and eight-time Commonwealth Games Champion Alicia Coutts will bid farewell to the sport of swimming after wrapping u pher competitive racing career at the 2016 Rio Olympic Games.
022 THERESE ALSHAMMAR ANNOUNCES UPCOMING RETIREMENT
by David Rieder
Six-time Swedish Olympian Therese Alshammar has announced that she will be calling it a career after the Swedish Short Course Championships in Stockholm.
024 10 REASONS TO MARRY A SWIMMER
by Ailish Dougherty
With both Michael Phelps and Ryan Lochte, two of the biggest names in swimming, tying the knot and popping the question in the last six months, it makes you wonder what it must be like to marry such an elite athlete.
025 MICHAEL PHELPS TIES THE KNOT
by Taylor Brien
Michael Phelps and Nicole Johnson held their official wedding ceremony on October 29, 2016 in Cabo San Lucas, Mexico.
026 AARON PEIRSOL AND DARA TORRES TO BE HONORED AT ISHOF AQUATICS SHOW
by David Rieder
U.S. Olympic greats Aaron Peirsol and Dara Torres were among those inducted into the International Swimming Hall of Fame (ISHOF), Oct. 29, in California. The festivities included an "Alice in Waterland"-themed performance.
028 5 TIPS FOR HANDLING A MELTDOWN
by Emily Messina
"I'm hanging in there." That is my go-to answer when anyone asks how I am feeling, how I am juggling everything going on, or how I am handling life…
030 KATE DOUGLASS DOWNS TORRES' 24-YEAR-OLD 50 FREE NAG
by Taylor Brien
Kate Douglass, a sophomore at Pellham High School, dashed to a new National Age Group record in the girls 50 free while swimming at the New York High School Section 1 Girls' Championships.
031 KROMOWIDJOJO REVEALS SHE SWAM THROUGH OLYMPICS WITH MAJOR INJURY
by David Rieder
Ranomi Kromowidjojo won three gold medals between the 2008 and 2012 Olympic Games but failed to get onto the podium in Rio. We konw now that she was dealing with a debilitating back injury suffered in training less than a month before the meet.
032 DO FAST TIMES IN OCTOBER FOREBODE FAST TIMES AT NCAAS?
by Lander Eicholzer
The SMU Classic has historically been known to produce fast swimming performances. It is often the first major invite of the college season and is sure to turn out exceptionally fast times when top end talent is brought together. The 2016 edition of the event was no exception.
034 TEN U.S. OLYMPIANS ON ROSTER FOR USA COLLEGE CHALLENGE
by David Rider
USA Swimming and the Big Ten Conference announced the rosters for the upcoming USA College Challenge, scheduled for Nov. 12-13 in Indianapolis.
038 HOLIDAY GIFT GUIDE