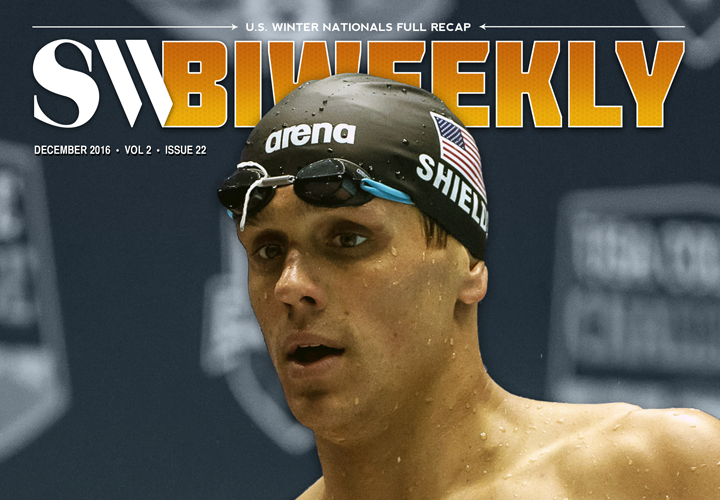 Tom Shields Shines, Baby Boomer Takes Swim Lesson, Top Stories
Revisit the top stories from the last two weeks with the latest edition of the Swimming World Biweekly. Current subscribers can visit the Swimming World Vault to download the current issue now! Non-Subscribers can download for FREE by Clicking HERE.   Also available in this edition of the Biweekly is the 2016 Holiday Gift Guide!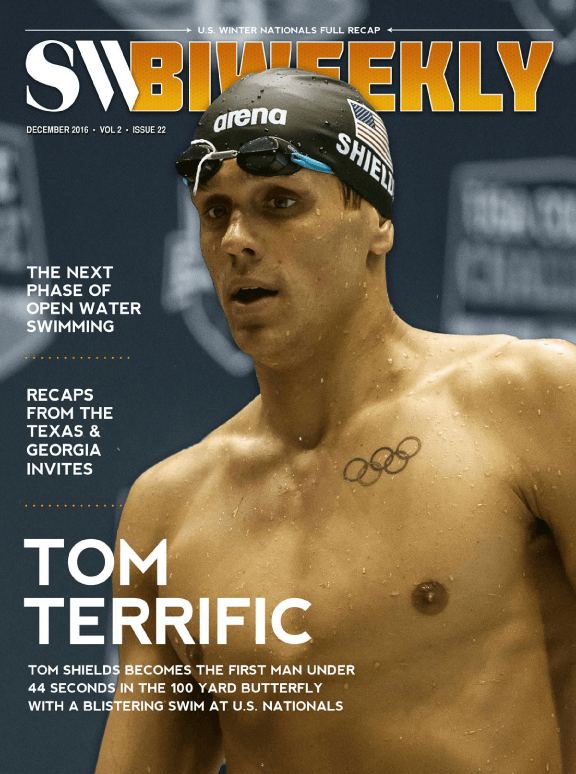 Be sure and download your FREE copy of Swimming World Biweekly today!
Save 25% on a 1 year subscription and download more issues from the Swimming World Vault and get the following:
Use Coupon Code: realnews and save 25%
A monthly print copy of Swimming World Magazine in the mail for 1 year!
Free download of the next 12 issues and the past 12 issues of Swimming World Magazine!
Free download of next 24 issues and the past 24 issues of Swimming World Biweekly!
Free download of next 4 issues and the past 4 issues of Swimming Technique Magazine!
Click Here For This Special Offer with coupon code "

realnews

"
 FEATURES
006 2016 U.S. WINTER NATIONALS FULL RECAP
by Taylor Brien
We bring all the action from Atlanta as Tom Shields, Amanda Weir and more tear up the Georgia Tech pool.
014 NAVY EDGES ARMY TO CONTINUE STREAK
by Dan D'addona
Army-Navy week ends with one of the most iconic football games in the country. It began with one of the closest swim meets in the history of the rivalry.
016 TEXAS INVITATIONAL: LONGHORNS CAP MEET WITH NATION'S BEST SWIMS
by Dan D'addona
Texas continues it's hot streak as both men and women dominated in the their hosted invite.
020 CAL SWEEPS GEORGIA INVITE WITH MEN'S AND WOMEN'S TEAM WINS
by Dan D'addona
Georgia's Chase Kalisz had a meet to remember, but in the end, the Cal men and women went home winners.
024 GEORGIA WOMEN HAVE WHAT THEY NEED TO MAKE ANOTHER RUN
commentary by David Rieder
In 2016, the Georgia women were bidding for a seventh consecutive conference title but ended up finishing third behind Texas A&M and Tennessee. And then, at the end of the season, they tend to come through big—just like they did in Atlanta in March
026 7 FINAL THOUGHTS ON INVITE WEEKEND IN NCAA SWIMMING
commentary by David Rieder
The end of Sunday's finals at the Georgia Invitational marked the conclusion of another wild and quick college invite season. Some big names swam fast, others didn't, and none of that will matter in the slightest once February and March rolls around and conference and NCAA team championships are handed out.
030 CLUB WOLVERINE NAMES GUNNAR SCHMIDT NEW HEAD COACH
by David Rieder
The Club Wolverine Parent Board of Directors is pleased to announce that it has officially named Gunnar Schmidt as Head Coach.
031 HUNGARIAN SWIMMING PRESIDENT TAMAS GYARFAS RESIGNS AMIDST CRITICISM
by Taylor Brien
A few weeks back, Hungarian Olympians Katinka Hosszu and Daniel Gyurta expressed discontent about the Hungarian Swimming Federation and called for the resignation of its president, Tamas Gyarfas. That call has now come to fruition as Gyarfas announced his resignation.
032 FINA NAMES ATHLETES OF THE YEAR; MICHAEL PHELPS HONORED
by David Rieder
In a spectacular ceremony at the Ceasar's Hotel in Windsor (CAN), FINA paid its annual tribute to the best athletes of 2016 during its FINA/Alisports World Aquatics Gala – "Soirée des Etoiles".
033 BOOMER PHELPS HITS THE POOL
by David Rieder
Back in Baltimore for the Thanksgiving holiday, Michael Phelps took his son, seven-month-old Boomer Phelps, to Meadowbrook Aquatic and Fitness Center for swim lessons with Cathy Bennett.
034 THE GLOBAL SWIM SERIES: THE NEXT PHASE OF OPEN WATER SWIMMING
By Caitlin Daday
With over 85 races in 27 different countries and around 40,000 total competitors, the Global Swim Series is the biggest thing you've never heard of. For the last year and a half, the series has worked to grow the sport of open water by connecting races all over the world.
035 CITY OF EL SEGUNDO FINALIZES BUDGET FOR NEW AQUATICS CENTER
By Taylor Brien
The City of El Segundo and Wiseburn Unified School District in Southern California—in partnership with South Bay Sports, Health & Recreation—have finalized the $13.8 million development and construction budget to complete the El Segundo