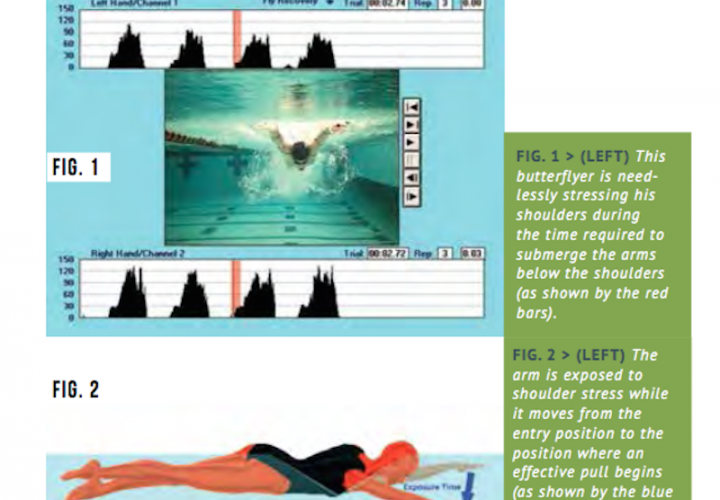 Photo Courtesy: Swimming World Magazine
Swimming Technique Misconceptions: Swim Through The Pain
Many people believe that it is worth copying the technique of the fastest swimmers. In reality, even the fastest swimmers have technique limitations, but they offset them with strength and conditioning. The purpose of this series of articles is to address scientifically the technique misconceptions that have become "conventional wisdom," and to present options that are more effective.
This month's Swimming Technique Misconception centers around the misconception that it is necessary to "swim through the pain" in order to maximize an individual's performance. Dr. Havriluk goes into detail about how swimming through the pain of conditioning can have negative effects on a swimmer's technique, and could lead to injury down the road.
Dr. Rod Havriluk is a sports scientist and consultant who specializes in swimming technique instruction and analysis. His unique strategies provide rapid improvement while avoiding injury. Learn more at the STR website, or contact Rod through info@swimmingtechnology.com.
To read more about swimming through the pain check out the March issue, available now when you take advantage of this special offer and save 68%!
Total Access Members Can Login To My Account and Download Now!  Not A Total Access Member? Purchase a Subscription Today
Curious what else you will find in the March 2016 issue of Swimming World Magazine?
Check out the Inside Swimming World video:
Not a subscriber? Swimming World Magazine gives you unlimited access to all online content on SwimmingWorldMagazine.com and access to all of the back issues of Swimming World Magazine dating back to 1960! Purchase your Subscription TODAY!
FEATURES:
014 TOP 9 OLYMPIC UPSETS: #5 DOUG RUSSELL— THE FIRST TEXAN
by Chuck Warner
American Doug Russell upset Mark Spitz in the 100 meter butterfly at the 1968 Olympics in Mexico City. His gold-medal performance that day remained the sole occasion he had ever beaten Spitz in that event!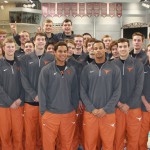 016 TEXAS EVEN TOUGHER
by David Rieder
After Texas dominated last year's men's NCAA Division I Swimming and Diving Championships, it's possible that this year's Longhorn team is better!
020 GEORGIA ON OUR MIND
by David Rieder
With the Georgia Bulldogs finishing first or second in the last five women's NCAA Division I Swimming and Diving Championships, picking Georgia No. 1 this year just makes sense—not to mention they have the talent…again!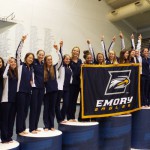 024 TIME FOR DEFENSE
by Jason Marsteller
All of the team champions from last year's NCAA II (Queens women and men), NCAA III (Emory women, Kenyon men) and NJCAA (Indian River women and men) Championships are getting ready to defend their titles. However, in 2016, the NAIA is guaranteed to crown a new women's and
men's champion!
030 A TOWER OF STRENGTH
by Annie Grevers
At 6-9, Texas swimmer Clark Smith—literally— towers over his competition. At NCAAs later this month, he'll return not only to defend his 500 free title, but also to help his Longhorn teammates repeat as national champions. If they do, the UT Tower on campus will be lit completely in orange and will display the #1 on all four sides of the 307-foot landmark.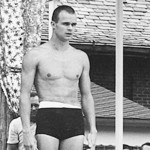 034 HISTORIC SURPRISES AT U.S. OLYMPIC TRIALS: JEFF FARRELL INSPIRES A NATION
by Annie Grevers
Six days after an emergency appendectomy, Jeff Farrell swam at the U.S. Olympic Trials and qualified for the 1960 U.S. Olympic team that competed in Rome, where he won two gold medals as the anchor of the world record-setting 400 medley and 800 freestyle relays.
COACHING
010 LESSONS WITH THE LEGENDS: EDDIE REESE
by Michael J. Stott
012 SWIMMING TECHNIQUE MISCONCEPTIONS: SWIM THROUGH THE PAIN
by Rod Havriluk
A common misconception is that it is necessary to "swim through the pain" to maximize performance. Typically, the source of the pain is the shoulder, and the cause is either from the demands of conditioning or from injury. Swimming through pain from conditioning can have a negative effect on technique. Swimming through pain caused by injury is almost guaranteed to have a negative effect on technique, as well as make the injury even worse.
026 RELAY STRATEGIES: GETTING IT DONE
by Michael J. Stott
There's so much more to winning a relay than just swimming fast. Decisions made before the race play an important role in giving a team the best opportunity to perform their best.
047 Q&A WITH COACH MIKE BOTTOM
by Michael J. Stott
048 HOW THEY TRAIN CONNOR JAEGER & ALI DeLOOF
by Michael J. Stott
TRAINING
029 DRYSIDE TRAINING: TRX WORKOUT
by J.R. Rosania
JUNIOR SWIMMER
053 UP & COMERS
by Taylor Brien
COLUMNS & SPECIAL SECTIONS
008 A VOICE FOR THE
038 2016 SWIM CAMP DIRECTORY
054 GUTTER TALK
056 PARTING SHOT