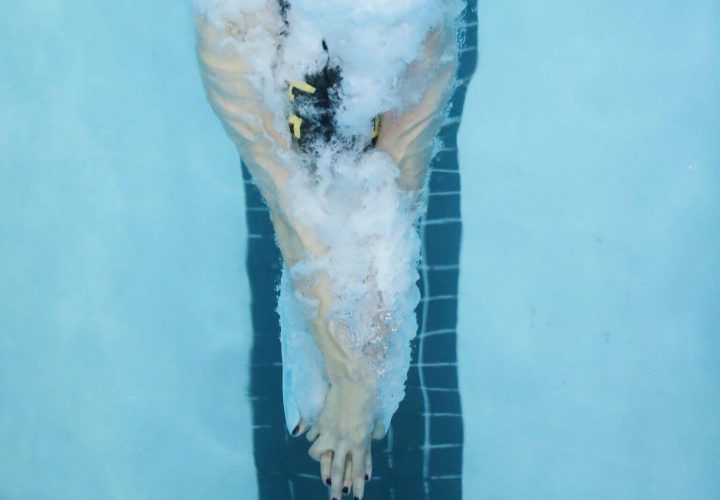 Photo Courtesy: Tennessee Athletics
Swimming Technique Concepts
It is only natural to think a world-record swim is a clear indication of technical proficiency…at least until the next world-record swim. A better—and more useful—approach is to consider the biomechanical principles that form the foundation for technical proficiency. Application of these principles can develop an optimal model for swimming technique based on clear and demonstrable factors, such as:
Body segment positions and angles that minimize both resistance and shoulder stress;
Body segment positions and angles that maximize propulsion,including the effect on leverage and base of support;
Rotation about the three axes of the body;
A head position that affords maximum visibility of criticalpositions and movements;
Hand path, hand pitch and hand speed that produce the most propulsion;
Generation of continuous propulsion;
Minimal fluctuations of body velocity;
Coordination of arm and leg movements;
The application of the same concept to similar positions indifferent strokes;
Therelativecontributionofdifferentfactorstoperformance.
This series of articles will address the development of an optimal technique model for the four competitive swimming strokes. This first article addresses body size and shape.
Dr. Rod Havriluk is a sports scientist and consultant who specializes in swimming technique instruction and analysis. His unique strategies provide rapid improvement while avoiding injury. Learn more at the STR website: www.swimmingtechnology.com. You can contact Rod at info@swimmingtechnology.com. All scienti c documentation relating to this article, including scienti c principles, studies and research papers, can be provided upon demand.
To learn more about how to develop an optimal technique model, check out the July 2018 issue of Swimming World Magazine, available now!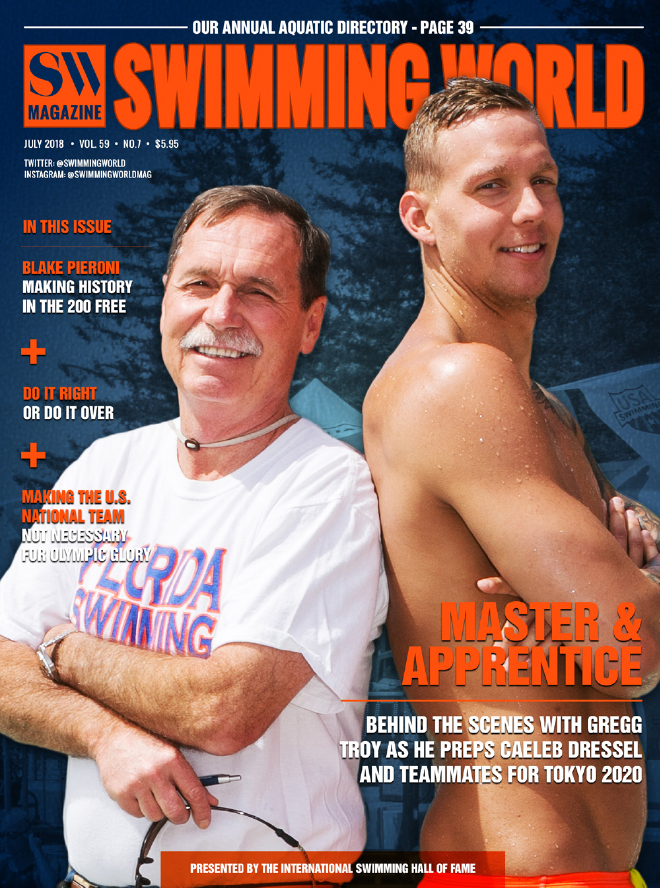 [PHOTO BY JD LASICA]
New! 1-Year Digital Only Subscription for just $29.95 Order Now!
Non-Subscribers Can Download This Issue For Only $4.95
Take a look inside Swimming World's July 2018 issue:
FEATURES
016 RIPPLE EFFECT?
by Dan D'Addona
When Gregg Troy announced his retirement from the University of Florida in April, the sport's immediate focus was how it would impact the Gators. But the real ripple effect of Troy's retirement could be seen in American swimming from now through the 2020 Tokyo Olympics—and it might even change the way professional swimming is approached in the United States.
018 HOPE SPRINGS ETERNAL
by David Rieder
National teams that will compete at major international meets the rest of this year and next will be selected at this summer's U.S. nationals. But for those swimmers who miss making Team USA at this year's meet, don't lose hope—many swimmers have made their breakthrough two years later at the U.S. Olympic Trials.
020 OPPORTUNITY KNOCKS
by David Rieder
Team USA has long dominated the men's 4×200 meter freestyle at major international competition. Although the Americans failed to win at Worlds in 2015 and 2017, last year's performances at the college level in the 200 yard freestyle provide reason for renewed optimism.
022 THE "ART" OF SWIMMING
by Bruce Wigo
In the first half of the 20th century, sports cartooning was one of the most entertaining mediums within the spectrum of the graphic art world, and no American newspaper of any size was without its regular sports cartoonist.
024 FREE TO MAKE HISTORY
by Annie Grevers
Olympic gold medalist Blake Pieroni of Indiana University became the first man ever to break 1:30 for the 200 yard freestyle. With the kind of training he's putting in with coaches Ray Looze and Mike Westphal—not to mention being a part of a training group consisting of many of the world's best 200 freestylers—it's exciting to think just how fast he can be.
028 NUTRITION: AROUND THE TABLE WITH CULLEN JONES
by Annie Grevers and Dawn Weatherwax
COACHING
010 LESSONS WITH THE LEGENDS: ED SOLOTAR
by Michael J. Stott
014 SWIMMING TECHNIQUE CONCEPTS: DEVELOPMENT OF AN OPTIMAL MODEL FOR TECHNIQUE: PART I—BODY SIZE AND SHAPE
by Rod Havriluk
Conventional wisdom relies on modeling the technique of champions. A scientific approach considers the biomechanical principles that optimize performance. Application of these principles can develop an optimal model for swimming technique based on clear and demonstrable factors.
032 DO IT RIGHT, OR DO IT OVER
by Michael J. Stott
This is the first installment in a multi-part series on swimmer motivation and how coaches approach the often-vexing issue of unsatisfactory practice performance.
035 SPECIAL SETS: SOMETIMES IT'S NOT ABOUT THE WATER
by Michael J. Stott
Summer league swimming is many things to many people. In some locales, it is no big deal. In other areas of the country, it is quite a different story. Here are some sample sets—and some fun activities—from Southamp­ton and Westwood swim clubs in Virginia to help prepare for your summer league championships.
049 Q&A WITH COACH KEN HEIS
by Michael J. Stott
050 HOW THEY TRAIN JAKE AND CARSON FOSTER
by Michael J. Stott
TRAINING
038 DRYSIDE TRAINING: STROKE AND DISTANCE STRENGTH SERIES—DISTANCE FREESTYLE
by J.R. Rosania
JUNIOR SWIMMER
030 GOLDMINDS: UNDERSTANDING MOTIVATION
by Wayne Goldsmith
Why do you swim? This is probably the most important question you can ask yourself. Understanding your answer is even more important. It will tell you what you really need to know: what motivates you to be the best you can be.
053 UP & COMERS: SCOTT SOBOLEWSKI
by Taylor Brien
COLUMNS &

SPECIAL SECTIONS
008 A VOICE FOR THE SPORT
013 BEYOND THE YARDS
039 2018 AQUATIC DIRECTORY
048 DADS ON DECK
052 THE OFFICIAL WORD
054 GUTTER TALK
056 PARTING SHOT