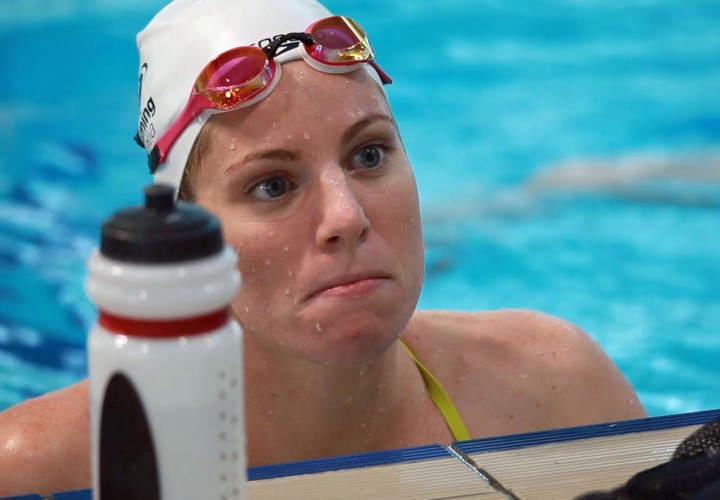 Photo Courtesy: Swimming Australia
The Australian Dolphins Swim Team are turning challenges into opportunities as they leave nothing to chance in preparation for the Rio 2016 Olympic Games.
This week, at the Australian Institute of Sport in Canberra they are learning to race when they are normally asleep and to sleep in late, to replicate the unique competition schedule for next year's Games.
Extensive data is being captured about how their bodies are responding to the big shift in their training and competition routines, with healthy sleep strategies implemented.
Research gathered over the five-day camp will ensure the Australian swim team are the best prepared for the change in body clock to maximise performance and rule out surprises leading into Rio.
Video footage of training camp (courtesy Swimming Australia)

In Brazil next August, gold medals will be decided between 10pm and midnight and heats swum between 1pm and 3pm to cater for the prime time television audience in the United States.
Athletes will also need to do media, doping controls and recovery so could be getting to bed after 2am and then racing again the next day. Not waking up at the normal 6am which most swimmers have been doing for years is a real challenge.
Despite the Dolphins normally being in bed before 10pm and awake early, they have embraced this new challenge and even Olympic gold medallist Cate Campbell, who was nicknamed 'The Bear' and ideally gets 10 hours sleep a night, has adjusted her sleeping well.
"I really rely on sleep and some people call me 'The Bear' for my hibernating," Campbell said. "Sleep quality and duration is very important and it is so good to do this preparation now.
"It is about changing your mindset and getting the most out of this camp. With the strategies we are trialling I slept until 9am and some boys until 11 which is very impressive!"
World Champion sister Bronte Campbell is enjoying the comprehensive six-day 'experiment'.
"It was interesting last night starting a training session when normally I am getting into bed," Bronte said. "Everyone handled it really well. I got to bed about 130 which is not at all normal for us but everyone seems to have adjusted well and it has become a new normal.
"It's just like adapting to jet lag for us and we have our fancy sleep watches on all the time collecting lots of data to see what we are doing right and what we are doing wrong and it is really a great experiment for us."
Australian Swim Team Head coach Jacco Verhaeren is very pleased with how the camp is going and how the athletes and support staff are embracing the simulations.
"It is a great opportunity to kick-off the season and to get a lot of things sorted from a medical point of view and nutrition," Verhaeren said. "A great focus here is sleep and recovery strategies so we are prepared for Rio."
Head of Recovery at the Australian Institute of Sport Shona Halson and her team will analyse all of the data from the camp and continue to develop strategies that maximise sleep, recovery and performance without the need for medication.
Australian Olympic Team Chef de Mission Kitty Chiller and AOC staff are also at the camp to ensure that learnings from the camp can be implemented for the Village and team logistics. It is a partnership that will ensure success for the swimmers and the entire 2016 Australian Olympic Team.
"This is a great initiative from Swimming Australia," Chiller said. "I've said from the start that Rio will be a very challenging environment for all sports and all countries. And the nations and sports that will be successful are the ones that deal with those challenges the best and turn them in to opportunities."
Chiller, who has been working hard since London 2012 with all sports to ensure an improved culture and team spirit, said she was thrilled with what she is witnessing.
"It's fantastic to see how the swim team are doing not only in the pool – as number one nation in Olympic events at Kazan. But also the great team spirit and culture that is being developed out of the pool as well."
On the 15-year anniversary of the Sydney 2000 Olympic Games, where Grant Hackett won his first Olympic gold, the swimming legend couldn't be happier with the culture in what he hopes will be his fourth Olympic Team in 2016.
"Being in Kazan (World Champs) for me just felt like being back on a team from yester years. The camaraderie, the way we performed, the results that we got and the attitude that the swimmers had towards their performances and one another.
"It's a really positive team environment to be a part of and certainly we are doing everything we can to produce the performances next year."
Press conference video footage (courtesy Swimming Australia)
Camp facts:
47 swimmers
31 from the 2015 FINA World Championship team
33 support staff and coaches
All athletes wearing sleep/activity watches for duration of camp
Monday/Tuesday Schedule:
Breakfast from 10:30am
Training from 1:00-3:00pm
Lunch from 5:00-6:00pm
Training from 10:00pm – 12:00am
Dinner from 11:30pm-1:00am
Competition:
Wednesday – racing from 10:00pm to 12:00am
Thursday – racing from 1:00pm – 3:00pm and 10:00pm to 12:00am
The above article is a press release submitted to Swimming World. To reach our audience, contact us at newsmaster@swimmingworldmagazine.com.