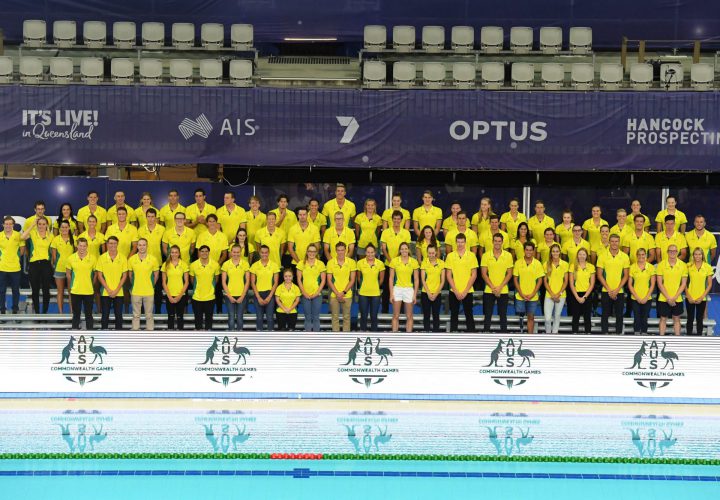 Photo Courtesy: Swimming Australia
Commonwealth Games Australia has announced a 70-strong swimming team for next month's 2018 Gold Coast Commonwealth Games.
The team was announced on the Gold Coast following the four-day Hancock Prospecting Australian Swimming Trials at the Optus Aquatic Centre.
Made up of 49 able-bodied swimmers and 21 Para-sport athletes, Queensland dominated team selection with 40, followed by NSW (ten), Victoria (nine), WA (six) and SA (five).
The team continues swimming's strong family ties at the Commonwealth Games with three sets of siblings; Chandler sisters Cate and Bronte Campbell; Griffith University's sister-brother combination Emma and David McKeon and USC Spartans sisters Kaylee and Taylor McKeown.
There is also a father daughter on the team with Griffith University's Georgia Bohl and father, team coach Michael Bohl.
It was a special night for the Bohls and the McKeons – with Michael Bohl along with Ron McKeon and wife Susie Woodhouse all members of the 1982 Commonwealth Games team in Brisbane.
The two youngest members of the team are 13-year-old Jasmine Greenwood (Bay and Basin) and 16-year-old Kaylee McKeown while the oldest members of the group are Holly Barratt (UWA) and Matt Levy (North Sydney) 31.
Australian swimming team for the Gold Coast Commonwealth Games (49 able-bodied, 21 Para-Sport athletes):
Jessica Ashwood (Qld)
Minna Atherton (Qld)
Jesse Aungles (SA)
Meg Bailey (NSW)
Hayley Baker (Vic)
Holly Barratt (WA)
Joshua Beaver (Vic)
Emily Beecroft (Vic)
Georgia Bohl (Qld)
Rohan Bright (NSW)
Bronte Campbell (Qld)
Cate Campbell (Qld)
Jack Cartwright (Qld)
Kyle Chalmers (SA)
Blake Cochrane (Qld)
Ellie Cole (Qld)
Timothy Disken (Vic)
Katherine Downie (WA)
Blair Evans (WA)
Daniel Fox (Qld)
Alexander Graham (Qld)
Jasmine Greenwood (NSW)
Madeline Groves (Qld)
Matthew Haanappel (Vic)
Brenden Hall (Qld)
Jessica Hansen (Vic)
George Harley (WA)
Timothy Hodge (NSW)
Mack Horton (Vic)
Liam Hunter (Qld)
Zac Incerti (WA)
Grant Irvine (Qld)
Shayna Jack (Qld)
Mitchell Kilduff (NSW)
Mitchell Larkin (Qld)
Paige Leonhardt (Qld)
Matthew Levy (NSW)
Clyde Lewis (Qld)
James Magnussen (NSW)
Travis Mahoney (SA)
Ashleigh McConnell (Vic)
Cameron McEvoy (Qld)
James McKechnie (SA)
David McKeon (Qld)
Emma McKeon (Qld)
Kaylee McKeown (Qld)
Taylor McKeown (Qld)
Jack McLoughlin (Qld)
Kiah Melverton (Qld)
David Morgan (Qld)
Leah Neale (Qld)
Jake Packard (Qld),
Lakeisha Patterson (Qld),
Leiston Pickett (Qld),
Logan Powell (Qld),
James Roberts (Qld),
Liam Schluter (Qld)
Madeleine Scott (Vic)
Emily Seebohm (Qld)
Mikkayla Sheridan (Qld)
Zac Stubblety-Cook (Qld)
Laura Taylor (Qld)
Tiffany Thomas Kane (NSW)
Brianna Throssell (WA)
Ariarne Titmus (Qld)
Ben Treffers (Qld)
Tessa Wallace (Qld)
Matthew Wilson (NSW)
Elijah Winnington (Qld)
Bradley Woodward (NSW)
Head Coach: Jacco Verhaeren
Mentor Coaches: Rohan Taylor, Jan Cameron
Coaches:
Peter Bishop (SA), Michael Bohl (QLD), Dean Boxall (QLD), Harley Connolly (QLD), Simon Cusack (QLD), Nathan Doyle (QLD), Craig Jackson (VIC), Adam Kable (NSW), David Lush (QLD), Chris Mooney (QLD), Chris Nesbit (QLD), Vince Raleigh (QLD), Richard Scarce (QLD), Gavin Stewart (NSW), Yuriy Vdovychenko (ACT).
The above press release courtesy of Swimming Australia.