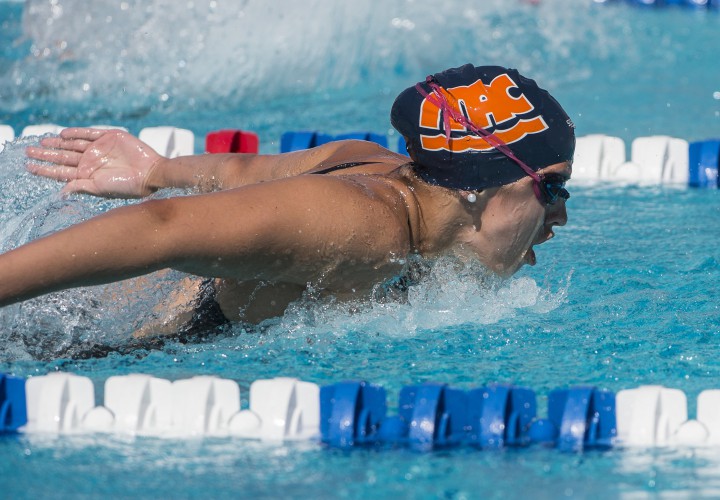 CHARLOTTE, North Carolina, March 14. SWIMMAC is certainly giving the U.S. National Age Group relay record book a workout at the Charlotte Sectionals. After taking down the 15-16, 15-18, 17-18 800-yard free relay marks last night, SwimMAC eclipsed the 17-18 400-yard free relay this evening.
The foursome of Kathleen Baker (48.20), Rebecca Postoll (49.55), Heather Merritt (50.75) and Lauren Rhodes (50.05) raced their way into the record books with a 3:18.55 to win the 400 free relay this evening.
That performance lowered another historic Mission Viejo record from 1981. After Mission's 800 free relay fell last night, Marybeth Linzmeier, Julie Williams, Sue Habernigg and Sippy Woodhead's 3:19.55 from 1981 also met its match tonight in Charlotte. That's some hallowed ground for SwimMAC to be treading.
Event 13 Women 400 Yard Freestyle Relay
==================================================================================
Sectional: S 3:21.38 3/15/2013 SwimMAC Carolina, MAC -NC
K Baker, N McCullagh, E Welshofer, L Rhodes
3:32.09 NCSA 2014 NCSA Jr Nats
Team Seed Finals Points
==================================================================================
1 SwimMAC Carolina-NC 'A' 3:20.29 3:18.55SNCSA 40
1) Baker, Kathleen 17 2) Postoll, Rebecca 17
3) Merritt, Heather 18 4) Rhodes, Lauren 17
23.09 48.20 (48.20)
1:12.02 (23.82) 1:37.75 (49.55)
2:02.14 (24.39) 2:28.50 (50.75)
2:52.41 (23.91) 3:18.55 (50.05)