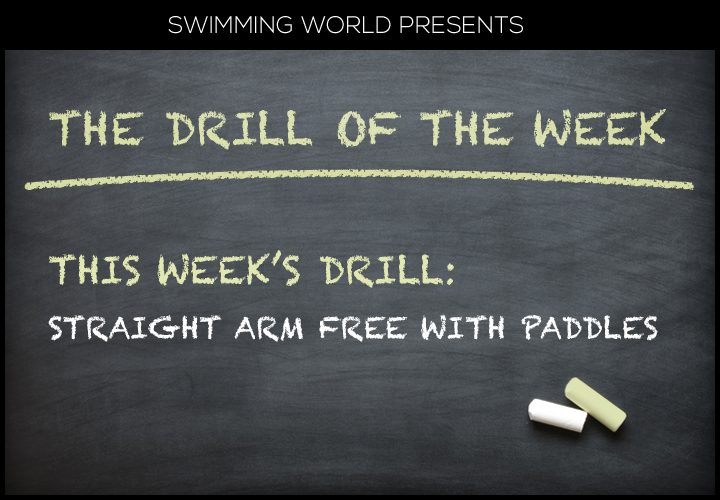 Welcome to the "Swim Drill of the Week". Swimming World will be bringing you a drill, concept, or tip that you can implement with your team on a regular basis. While certain weeks may be more appropriate for specific levels of swimming (club, high school, college, or masters), Drill Of The Week excerpts are meant to be flexible for your needs and inclusive for all levels of swimming.
This week's drill is straight arm freestyle with paddles. This is a drill that we have featured before, but want to add a variation of the drill with paddles to do with your more advanced swimmers.
As the name suggest, straight arm recovery freestyle has your athletes using a straight arm recovery to get maximum reach at the front of their stroke when their hand enters the water. Once contact with the water is made, swimmers should immediately begin the pull phase of their stroke, which should still be a traditional high elbow catch.
The goal of adding paddles to the drill is to challenge your swimmers to perform this drill while pushing their stroke tempo as high as they can while maintaining technique. You may want to start out slow so your swimmers can get the feel of the drill with paddles, creating a simple progression like:
1 x 25's slow straight arm recovery w/ paddles, perfect technique
3 x 25's fast straight arm recovery w/ paddles, maintain technique
While the paddles will make it easier to "grab" onto the water at the beginning of the catch, it will also make it more difficult to get their tempo up as they will also have to move more water at a higher speed. The result of this drill will be a greater awareness of when your athletes are setting into their catch and should make it easier for them to get up to sprint tempo once they take the paddles off and return to their normal stroke.
Watch to make sure they are still maintaining their technique during the drill (slight rotation from core and hips, strong stabilizing kick, full body engagement). Happy swimming!
All swimming and dryland training and instruction should be performed under the supervision of a qualified coach or instructor, and in circumstances that ensure the safety of participants.