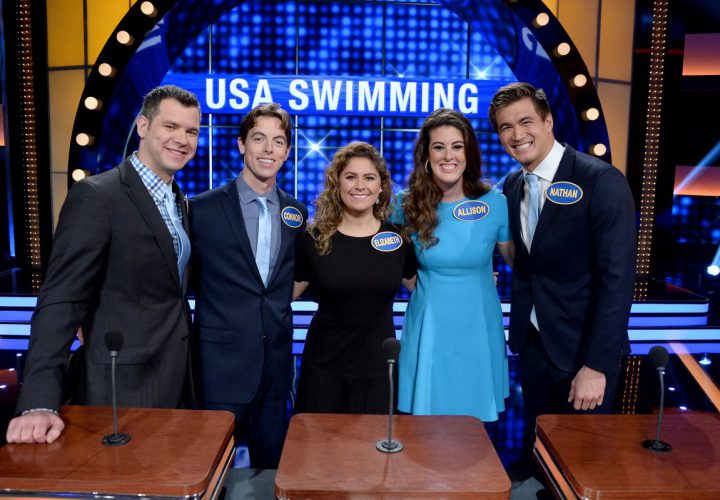 Photo Courtesy: USA Swimming/Twitter
In Sunday's episode of Celebrity Family Feud, a team of USA Swimming all-stars took on a team of former stars from the USA Gymnastics Team. The team of Nathan Adrian, Allison Schmitt, Elizabeth Beisel, Connor Jaeger and David Plummer won the head to head matchup to raise money for the USA Swimming Foundation.
Adrian and Schmitt were the leaders on the team as they led the team to 238 fast money points to take home $25,000 for the USA Swimming Foundation. Adrian and Schmitt, along with Beisel were captains for the Olympic Team last summer in Rio so it is no surprise they were the leaders here.
The team had plenty of energy throughout the 30 minute show. This had to be expected with Beisel and Schmitt on the team. The team is also getting more and more used to mixed relays, with the recent addition of the medley mixed relay to the Olympic schedule. Although Family Feud won't be added to the Olympic lineup, most likely because of the language barriers.
Normally Adrian would be asked to anchor a relay, but the coaches (or whoever else involved) elected to lead him off to ensure the team started off strong.
Beisel and Jaeger have never been in relays at the Olympics, but they responded well under pressure as both had the fastest reaction times on their questions. Rowdy Gaines would have been proud of those reaction times.
"Nate the Great" Adrian and Schmitt were selected for fast money as they delivered quite nicely as the latter delivered the number one answer for three out of the five clues. Schmitt anchored the team in a similar fashion to her anchor leg in the 4×200 free relay and the 4×100 medley relay in the 2012 Olympics.
Schmitt, Jaeger and Plummer may have left the pool after the Olympics, but the competitive spirit was still there, as well as the swimming references.