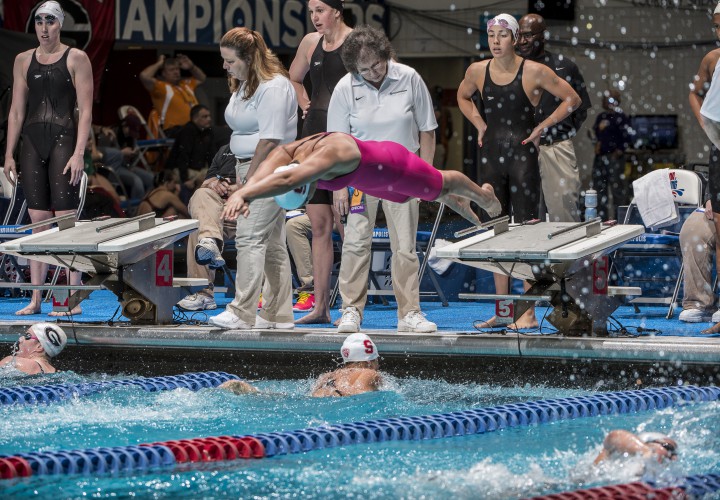 LOS ANGELES, California, February 1. THE Stanford women's swimming and diving team continued its hot streak against Pac-12 schools Saturday afternoon, earning its second victory in as many days with a 170-130 win over USC. Stanford remains undefeated in dual meets this season, while it marks the first loss of the season for the Trojans, who had just beaten top-ranked California last night.
Stanford's Felicia Lee looked impressive once again, posting sub-53s in both the 100 fly and 100 back. Her 52.65 swim in the 100 back broke the pool record in the event. Maya DiRado also won two events for Stanford, touching first in the 200 back and 200 fly. Meanwhile, Katie Olsen swept both breaststroke events for Stanford, just missing breaking 1:00 in the 100 breast. USC's Chelsea Chenault was the only other double event winner on the day, as she posted impressive swims in the 200 free and 500 free.
Stanford women's press release
The No. 4-ranked Stanford women's swimming and diving team completed a weekend sweep of Los Angeles with a 170-130 victory over No. 5 USC Saturday afternoon. Behind four total wins from Felicia Lee, the Cardinal won its fourth conference meet of the last two weeks and remained undefeated at 8-0 overall in duals.
"Having four meets in nine days certainly presents some challenges," said head coach Greg Meehan. "But I'm pleased with the intensity of which we raced at all 4 meets and no matter what the score was."
Lee claimed a pair of 100's, while Maya DiRado took two 200's today at Uytengsu Aquatics Center.
Lee won the 100 backstroke and 100 butterfly, outpacing USC's Kendyl Stewart, another one of the country's top swimmers, in each of her individual wins. The senior clocked in at 52.65 in the 100 back and 52.95 in the 100 fly and also starred on Stanford's 200 medley and 400 free relay squads.
DiRado was first in the 200 fly with a 1:57.98 and was ahead of the field in the 200 backstroke with a 1:56.98 later in the meet.
Katie Olsen swept the 100 and 200 breaststrokes for the fourth straight meet with times of 1:00.70 and 2:11.61 and helped the medley relay start the meet with a win for Stanford, as well.
Maddy Schaefer continued her dominance in the 50 freestyle by winning the seventh event of the meet to push Stanford's winning streak to four straight swims and six of the first seven. She swam a 22.63, 0.22 quicker than her time yesterday at UCLA. USC's Kasey Carlson would slip past Schaefer in the 100 free, but Lia Neal was third to have Stanford go 2-3.
Off of the diving boards, Stephanie Phipps (282.05) was the one-meter winner for the second straight day with Sloane Brazina in thrid (262.20). Lilly Hinrichs was the Cardinal's best in the three-meter competition, finishing fourth (276.85).
Stanford's best 400 free relay team, Schaefer, Lee, DiRado and Neal, capped the day with a final Cardinal win. The squad, which has the fastest time in the country to date, edged USC 3:18.04-3:19.38.
The Cardinal improved to 34-2 all-time against USC, a day after the Trojans took down No. 1 Cal.
Stanford finishes its dual meet schedule Feb. 15 against Cal. The 10 a.m. meet at Avery Aquatic Center will be aired live on Pac-12 Networks.
Southern California Press Release
In a women's swimming dual meet between two top-five undefeated teams, No. 4 Stanford defeated No. 5 USC, 170-130, on Saturday at the Uytengsu Aquatics Center at USC.
Freshman Chelsea Chenault won the 200y free and 500y free to lead the Trojans. Stanford senior Felicia Lee set a pool record in the 100y back. Cardinal swimmers captured eight of the 12 individual races, with two wins each by Lee, Maya DiRado, and Katie Olsen.
"Stanford and Cal are big meets, and those are some big-time teams," USC coach Dave Salo said after the Trojans' upset of No. 1 California on Friday followed by Saturday's meet against Stanford.
In the 200y free, Chenault, a U.S. gold medalist in the 800m free relay at the 2013 FINA World Championships, held off a late charge from Stanford freshman Lia Neal, a U.S. gold medalist in the 400m free relay at the 2012 Summer Olympics. Chenault's 1:46.92 was .04 seconds faster than Neal. Chenault's second individual free win came in the 500y free in 4:49.88. Stanford's Andie Taylor took second in 4:51.47. Chenault also won those two events against Cal on Friday.
"Chelsa Chenault did a nice job to come back after last night, and that's a tough double against two top teams," Salo said.
The pool record fell when Lee won the 100y back in 52.65 seconds, .34 seconds better than the previous record set by USC's Kristen Lahey in 2008. USC sophomore Kendyl Stewart was second in 53.90 seconds. Lee also captured the 100y fly in 52.95 seconds with Stewart second in 54.23 seconds.
Olsen took the 100y breast in 1:00.70 over USC's Kasey Carlson in 1:01.36. Olsen won the 200y breast in 2:11.61, followed by the USC trio of Stina Gardell in 2:13.37, Andrea Kropp in 2:14.62, and Meghan Hawthorne in 2:15.96.
DiRado won her first individual race in the 200y fly in 1:57.98 with USC sophomore Jasmine Tosky second in 1:58.61. DiRado then won the 200y back in 1:56.98.
USC's other individual wins came from seniors Carlson and Gardell. Carlson topped Stanford junior Maddy Schaefer in the 100y free with a time of 49.31 seconds to Schaefer's 49.48 seconds. Carlson also holds the NCAA's top time in the 100y free.
Gardell, a 2012 Olympian for Sweden, led every yard to win the 400y individual medley in 4:12.51 over Hawthorne in 4:12.75.
In Stanford's two relay victories, Stanford's quartet of Lee, Olsen, Nicole Stafford, and Schaefer held on in the 200y medley relay in 1:39.51 over the 1:39.62 clocked by the USC quartet of Joanna Stenkvist, Carlson, Stewart, and Kasia Wilk. Schaefer, Lee, DiRado, and Neal teamed up to win the 400y free relay for Stanford in 3:18.04 over the USC quartet of Carlson, Tosky, Wilk, and Chenault.
USC finished first, second, and third in the 3-meter springboard diving that took place earlier in the day at UCLA. Natalie Kalibat scored 302.50 points, ahead of Samantha Adams with 299.35 points and Haley Ishimatsu with 284.10 points. In the 1-meter springboard, Stanford's Stephanie Phipps took first with 282.05 points, followed by Ishimatsu with 268.25 points, Stanford's Sloane Brazina with 262.60 points, and Adams with 261.45 points.
Stanford's Andie Taylor won Stanford's first individual race in the 1000y free in 9:51.82 over Hawthorne, who timed 9:55.21. Schaefer, the top-ranked NCAA swimmer in the 50y freestyle, won the event on Saturday in 22.63 seconds. USC sophomore Wilk was second in 22.94 seconds.
Saturday's dual meet was USC's final home dual meet of the season. The Trojans honored seniors Andrea Basaraba, Lolo Blair, Ashley Brewer, Lynette Lim, Carlson, Gardell, and Hawthorne in a ceremony before the meet.
"We always celebrate our seniors the final meet at home," Salo said. "It's an emotional day with their parents there, and you realize that four years go by really fast. I'm sure some of them were swimming with some tears in their eyes. To see them grow up, I'm proud of them. Swimming is important, but what's really important is who they have become."
The Trojans will face UCLA in their final dual meet of the season on Feb. 17. Then they will compete in the Pac-12 Women's Swimming and Diving Championships in Federal Way, Wash., beginning on Feb. 26. Stanford and USC finished first and second, respectively, at the 2013 championships.