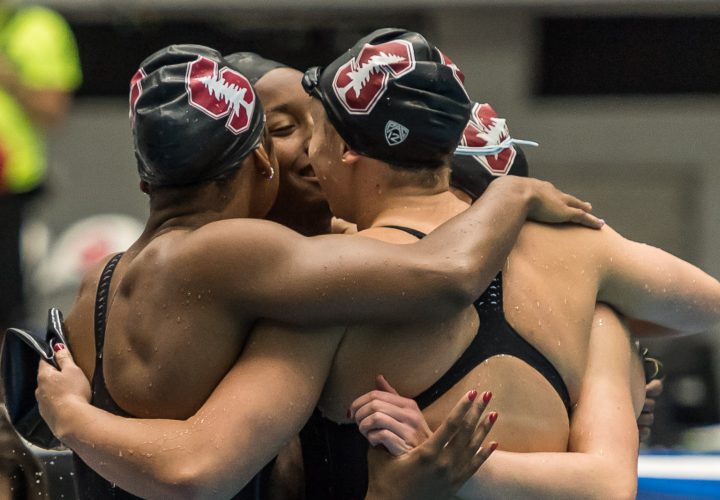 Photo Courtesy: Peter H. Bick
The women's 400-yard medley relay record has been around since 2016, or at least had been.
Two Pac-12 teams broke the previous mark on Friday.
The Stanford women's 400 medley relay won  in an NCAA-record 3:25.15 shattering the previous mark of 3:26.14.
Ally Howe, Kim Williams, Janet Hu and Simone Manuel won the event, bettering their prelims time by four seconds.
Cal's Kathleen Baker, Ali Harrison, Noemie Thomas and Abbey Weitzeil were second in 3:25.50, also bettering the previous NCAA record set by Stanford in 2016.
Event 14  Women 400 Yard Medley Relay
==================================================================================
         NCAA: N 3:26.14  3/17/2016 Stanford, STAN
                          A. Howe, S. Haase, J. Hu, L. Neal
       Pac-12: M 3:26.14  2016      Stanford, STAN
                          A. Howe, S. Haase, J. Hu, L. Neal
 Pac-12 Champ: P 3:26.25  2016      Stanford, STAN
                          A. Howe, S. Haase, J. Hu, L. Neal
                 3:32.67  A Standard
                 3:34.48  B Standard
    School                           Seed     Finals       Points 
==================================================================================
  1 STAN-PC  'A'                  3:29.54    3:25.15NA       64  
     1) Howe, Ally SR                 2) Williams, Kim JR             
     3) Hu, Janet SR                  4) Manuel, Simone SR            
                 24.29        50.21 (50.21)
        1:17.54 (27.33)     1:48.82 (58.61)
        2:11.85 (23.03)     2:39.20 (50.38)
        3:01.43 (22.23)     3:25.15 (45.95)
  2 CAL-PC  'A'                   3:30.45    3:25.50NA       56  
     1) Baker, Kathleen JR            2) Harrison, Ali FR             
     3) Thomas, Noemie SR             4) Weitzeil, Abbey SO           
                 24.07        50.24 (50.24)
        1:17.79 (27.55)     1:49.30 (59.06)
        2:12.05 (22.75)     2:39.50 (50.20)
        3:01.02 (21.52)     3:25.50 (46.00)
  3 UA-AZ  'A'                    3:33.52    3:32.85 B       54  
     1) Konopka, Katrina JR           2) Korenwinder, Mallory SO      
     3) Rumrill, Mackenzie JR         4) Stone, Jamie FR              
                 25.43        53.38 (53.38)
        1:21.24 (27.86)   1:53.52 (1:00.14)
        2:16.94 (23.42)     2:44.84 (51.32)
        3:07.63 (22.79)     3:32.85 (48.01)
  4 ASU-AZ  'A'                   3:37.05    3:33.43 B       52  
     1) Isleta, Chloe Kennedy SO      2) Kansakoski, Silja SO         
     3) Teijonsalo, Fanny JR          4) Fisch, Claire SO             
                 25.40        53.20 (53.20)
        1:21.03 (27.83)     1:52.01 (58.81)
        2:15.95 (23.94)     2:44.89 (52.88)
        3:07.51 (22.62)     3:33.43 (48.54)
  5 UCLA-CA  'A'                  3:37.50    3:36.58         50  
     1) Schanz, Emma JR               2) Kaunitz, Sarah SR            
     3) Okada, Amy SO                 4) Liu, Kenisha SO              
                 25.83        53.36 (53.36)
        1:21.46 (28.10)   1:54.38 (1:01.02)
        2:19.01 (24.63)     2:47.37 (52.99)
        3:10.65 (23.28)     3:36.58 (49.21)
  6 UTAH-UT  'A'                  3:37.73    3:38.27         48  
     1) Broome, Emma FR               2) Robertson, Genny JR          
     3) Wayner, Darby JR              4) Butter, Dorien SR            
                 26.30        54.36 (54.36)
        1:22.78 (28.42)   1:55.41 (1:01.05)
        2:20.39 (24.98)     2:49.46 (54.05)
        3:12.61 (23.15)     3:38.27 (48.81)
  7 WSU-IE  'A'                   3:39.81    3:41.83         46  
     1) Cook, Emily FR                2) Peseux, Clothilde JR         
     3) Fores, Alba FR                4) Morgan, Kelly FR             
                 26.45        54.41 (54.41)
        1:23.68 (29.27)   1:57.94 (1:03.53)
        2:22.20 (24.26)     2:52.05 (54.11)
        3:15.28 (23.23)     3:41.83 (49.78)
  8 OSU-OR  'A'                   3:45.25    3:44.00         44  
     1) Anderson, Felicia SO          2) Hofmann, Brooke FR           
     3) Letrari, Arianna JR           4) Jackman, Callan FR           
                 26.43        54.46 (54.46)
        1:24.22 (29.76)   1:58.35 (1:03.89)
        2:23.28 (24.93)     2:52.46 (54.11)
        3:17.23 (24.77)     3:44.00 (51.54)
 -- UTAH-UT  'B'                  3:46.00   x3:45.36        
     1) Allen, Mallori SO             2) Marsh, Jenna SR              
     3) St. John, Gillian JR          4) Jackson, Claire SO           
                 27.82        56.65 (56.65)
        1:25.34 (28.69)   1:59.34 (1:02.69)
        2:24.26 (24.92)     2:54.65 (55.31)
        3:18.58 (23.93)     3:45.36 (50.71)
 -- UTAH-UT  'C'                  3:47.75   x3:53.05        
     1) Zeiger, Rebecca FR            2) Smith, Marah SO              
     3) Horvath, Grace FR             4) Fagan, Gabby FR              
                 29.05        59.55 (59.55)
        1:29.14 (29.59)   2:04.66 (1:05.11)
        2:31.01 (26.35)     3:01.45 (56.79)
        3:25.83 (24.38)     3:53.05 (51.60)
 -- UCLA-CA  'D'                  4:01.33         DQ        
     1) Dunn, Faith FR                2) Honng, Emily FR              
     3) Burnham, Maddy SR             4) Reid, Carly JR               
                 28.12        58.45 (58.45)
        1:27.95 (29.50)   2:02.05 (1:03.60)
        2:27.90 (25.85)     2:58.32 (56.27)
        3:22.11 (23.79)          DQ (50.94)
 -- USC-CA  'A'                   3:29.96         DQ        
     1) Weiss, Hannah SR              2) Scott, Riley JR              
     3) Hansson, Louise SO            4) Ciesla, Marta FR             
                 24.94        52.25 (52.25)
        1:19.75 (27.50)     1:51.61 (59.36)
        2:14.47 (22.86)     2:42.00 (50.39)
        3:04.64 (22.64)          DQ (48.86)
 -- WSU-IE  'B'                   3:45.33         DQ        
     1) McCoy, Taylor FR              2) Duarte, Mackenzie FR         
     3) Brolin, Anna SR               4) Thompson, Rachel SR          
                 27.41        56.04 (56.04)
        1:25.62 (29.58)   1:59.24 (1:03.20)
        2:24.21 (24.97)     2:53.88 (54.64)
        3:17.54 (23.66)          DQ (50.43)