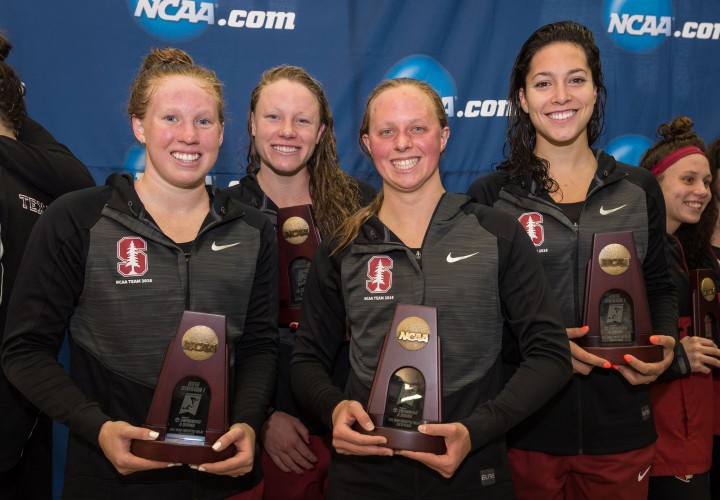 Photo Courtesy: Reagan Lunn/Georgia Tech Athletics
NCAA DI editorial coverage is proudly sponsored by Adidas. Visit All-American Swim for more information on our sponsor. For all the latest coverage, check out our event coverage page.

Following first day of prelims at the 2016 NCAA Division I Women's Championships, University of Arizona economist Price Fishback is back with his updated projections taking into account what has transpired already.
Barring disqualifications, Stanford is now projected to beat California by just one point in swimming points with Georgia taking a close third place overall.
As always, these projections are based on psych sheet scoring mixed with actual results, so plenty of changes can happen.  But, this gives everyone a good look at the lay of the land heading into tonight.
2016 NCAA Division I Women's Championships Projections After Day 2 Prelims
| Final Prediction | TEAM | Final Score Wed | Thur Prelim Swim | Thu Psych Swim | Prelim minus Psych | Fri Psych Swim | Sat Psych Swim | New Predicted Final | Psych Predicted Final |
| --- | --- | --- | --- | --- | --- | --- | --- | --- | --- |
| 1 | Stanford | 26 | 99 | 103 | -4 | 135 | 114 | 374 | 374 |
| 2 | California | 32 | 100 | 125 | -25 | 132 | 109 | 373 | 398 |
| 3 | Georgia | 40 | 122 | 75 | 47 | 79 | 91 | 332 | 279 |
| 4 | Virginia | 30 | 89 | 113 | -24 | 83 | 89 | 291 | 313 |
| 5 | Southern California | 34 | 81 | 74 | 7 | 66 | 84 | 265 | 264 |
| 6 | Texas A&M | 28 | 72 | 89 | -17 | 93 | 66 | 259 | 262 |
| 7 | Louisville | 24 | 81 | 84 | -3 | 89 | 42 | 236 | 227 |
| 8 | Indiana | 22 | 45 | 46 | -1 | 71 | 55 | 193 | 190 |
| 9 | Tennessee | 0 | 66 | 55 | 11 | 63 | 38 | 167 | 158 |
| 10 | NC State | 10 | 53 | 76 | -23 | 27 | 65 | 155 | 192 |
| 11 | Michigan | 12 | 42 | 42 | 0 | 17 | 68 | 139 | 157 |
| 12 | Texas | 14 | 40 | 50 | -10 | 35 | 31 | 120 | 142 |
| 13 | Arizona | 18 | 58 | 42 | 16 | 15 | 14 | 105 | 81 |
| 14 | Ohio State | 0 | 51 | 45 | 6 | 22 | 27 | 100 | 94 |
| 15 | Missouri | 0 | 32 | 10 | 22 | 39 | 14 | 85 | 63 |
| 16 | North Carolina | 8 | 8 | 18 | -10 | 29 | 25 | 70 | 72 |
| 17 | Florida | 2 | 4 | 13 | -9 | 2 | 44 | 52 | 67 |
| 18 | Purdue | 0 | 4 | 3 | 1 | 18 | 18 | 40 | 39 |
| 19 | Virginia Tech | 0 | 4 | 0 | 4 | 10 | 10 | 24 | 20 |
| 20 | UCLA | 0 | 6 | 5 | 1 | 7 | 8 | 21 | 20 |
| 21 | Wisconsin | 0 | 15 | 6 | 9 | 0 | 4 | 19 | 10 |
| 22 | Kentucky | 4 | 0 | 0 | 0 | 1 | 13 | 18 | 14 |
| 23 | UMBC | 0 | 0 | 0 | 0 | 0 | 17 | 17 | 17 |
| 24 | Alabama | 0 | 2 | 0 | 2 | 12 | 2 | 16 | 14 |
| 25 | Air Force | 0 | 7 | 0 | 7 | 0 | 9 | 16 | 9 |
| 26 | Cincinnati | 0 | 0 | 0 | 0 | 12 | 0 | 12 | 12 |
| 27 | Penn State | 6 | 0 | 0 | 0 | 1 | 5 | 12 | 6 |
| 28 | LSU | 0 | 0 | 0 | 0 | 0 | 11 | 11 | 15 |
| 29 | Iowa | 0 | 0 | 0 | 0 | 9 | 0 | 9 | 9 |
| 30 | Boise State | 0 | 0 | 8 | -8 | 0 | 6 | 6 | 20 |
| 31 | SMU | 0 | 0 | 0 | 0 | 6 | 0 | 6 | 6 |
| 32 | Denver | 0 | 3 | 0 | 3 | 0 | 3 | 6 | 3 |
| 33 | Auburn | 0 | 0 | 2 | -2 | 5 | 0 | 5 | 7 |
| 34 | Minnesota | 0 | 1 | 1 | 0 | 1 | 2 | 4 | 4 |
| 35 | Eastern Michigan | 0 | 0 | 0 | 0 | 3 | 0 | 3 | 3 |
| 36 | FGCU | 0 | 0 | 0 | 0 | 3 | 0 | 3 | 3 |
| 37 | OregonState | 0 | 0 | 0 | 0 | 0 | 1 | 1 | 1 |