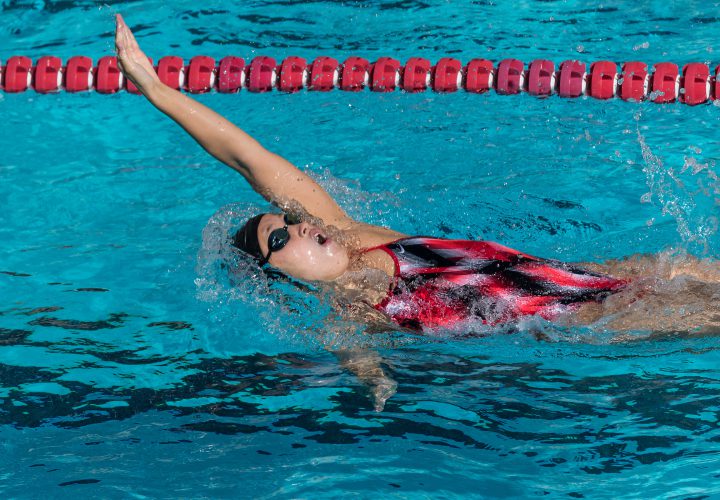 Janet Hu.
Photo Courtesy: Bill Dally/Stanford Athletics
By Dan D'Addona.
The Stanford depth continued to dominate during the Day 3 preliminaries at the Pac-12 Women's Championship meet on Friday in Federal Way, Washington.
The first event of the morning was the 400 IM and the Cardinal took a stunning six of the eight spots for tonight's final, going 1-2-3-4-6-8.
Katie Ledecky comfortably swam to the top seed, finishing in 4:00.68.
Ella Eastin was right behind at 4:02.22 to take the second seed, followed by Brooke Forde (4:04.27) and Allie Szekely (4:05.85).
Leah Stevens took sixth (4:08.63) and Hannah Kukurugya was eighth in 4:09.15.
Cal's Sarah Darcel took the fifth seed in 4:06.56. Arizona State's Marlies Ross took the seventh seed (4:08.94).
Ledecky wasn't finished, taking the top seed in the 200 free (1:42.54), just five hundredths ahead of teammate Simone Manuel (1:42.59).
Cal's Robin Neumann took the third seed (1:44.06), followed by UCLA's Katie Grover (1:44.68), Arizona's Kirtsen Jacobsen (1:44.73), Stanford's Lauren Pitzer (1:44.77), Cal's Abbey Weitzeil (1:44.96) and Stanford's Katie Drabot (1:45.20).
The 100 butterfly is shaping up to be a great race. USC's Louise Hansson took the top seed in 50.39, just ahead of Cal's Noemie Thomas (51.01) and Stanford's Ally Howe (51.44).
Cal's Katie McLaughlin took the fourth seed (51.84), followed by Stanford's Lindsey Engel (52.00), Cal's Maddie Murphy (53.37), USC's Maddie Wright (52.52) and teammate Catherine Sanchez (52.55).
The 100 backstroke could be an interesting final as well. Stanford's Janet Hu took the top seed at 50.36, six tenths ahead of Cal's Kathleen Baker (50.96). Cal's Amy Bilquist was just behind at 51.69.
USC's Hannah Weiss took the fourth seed at 51.81, followed by Cal's Keaton Blovad (51.90) and teammate Sophia Krivokapic-Zhou (53.07), UCLA's Emma Shanz (53.10) and Arizona's Katrina Konopka (53.18).
Arizona State's Silja Kansakoski took the top seed in the 100 breaststroke (59.22). USC's Maggie Aroesty took the second seed (59.53), followed by Stanford's Kim Williams (59.90), USC's Riley Scott (59.99), Stanford's Grace Zhao (1:00.10), Arizona's Mallory Korenwinder (1:00.16), Cal's Ali Harrison (1:00.34) and teammate Maija Roses (1:00.94).