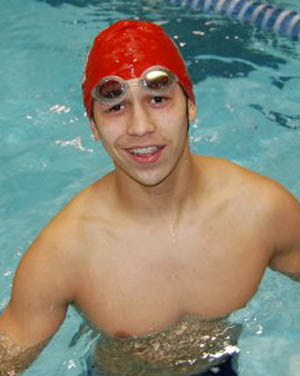 CINCINNATI, Ohio, January 21. IN what is known as the largest high school swimming invitational in the country, the Cincinnati Ursuline girls and Cincinnati St. Xavier boys emerged victorious with the team titles at the Southwest Ohio High School Classic over the weekend.
SwimmingWorld.TV was on hand to capture some of the best action at the meet. Keep an eye out for a SwimmingWorld.TV package soon.
Ursuline amassed 529 points to claim the title for the girls, while Centerville (418), Mason (292), St. Ursula (186) and Sycamore (174) rounded out the top five. Meanwhile, St. Xavier dominated the boys meet with 674 points. Centerville (372), Moeller (356), Mason (292) and Turpin (213) took home second through fifth.
The boys meet featured a pair of meet records. Swimming World 4-star senior recruit Brent Hitchcock of Springfield Catholic Central, who is headed to the University of Southern California after this year, set the 400-yard IM meet record with a winning time of 3:57.24. That performance eclipsed the 2004 record of 3:57.49 recorded by Kevin Need of Cincinnati Hills Christian. Hitchcock went on to win two other distance titles with triumphs in the 500 free (4:29.48) and 1650 free (15:30.99).
Sophomore Devinn Jones of Huber Heights Wayne secured the other meet record with a 23.95 in the 50 fly. He surpassed last year's record of 23.99 set by Jim Linneman of Cincinnati La Salle. Jones also tied for first in the 50 back with a 26.94 as fellow sophomore Christopher Wells of Loveland also finished the sprint back in 26.94.
Swimming World 3-star senior recruit Jim Barbiere of Cincinnati St. Xavier, who is on his way to Indiana University next year, won the 100 back (52.09) and 100 free (47.39), while Swimming World 3-star senior recruit Nathan Butler of Cincinnati Turpin, soon-to-be a Northwestern Wildcat, grabbed titles in the 100 breast (57.75) and 200 breast (2:05.53).
Swimming World 4-star senior recruit Brian Howell of Cincinnati Moeller, who will swim for Florida, finished as the only other multiple winner with triumphs in the 200 back (1:53.48) and 200 IM (1:52.92).
Individual wins came from senior Steven Springer of Cincinnati St. Xavier (50 free – 21.61), senior Brand Langford of Mason (200 free – 1:44.12), senior David Albert of Cincinnati St. Xavier (50 breast – 29.48), senior Alex Smit of Cincinnati St. Xavier (100 fly – 51.61), junior Michael Hart of Lakota West (200 fly – 1:53.65) and sophomore Cole Dennis of Cincinnati St. Xavier (100 IM – 57.89).
St. Xavier also swept the relays with wins in the 200 free (1:26.61), 400 free (3:12.08), 200 medley (1:37.42) and 400 medley (3:31.22), while junior Michael Grainger of Cincinnati Indian Hill claimed the lone diving title with a 442.45 in the 1m.
For the girls, sophomore Danielle Jansen of Mason and senior Margaret Fish of Cincinnati Indian Hill led the way with doubles.
Jansen hit the wall first in the 100 fly (58.00) and 200 free (1:52.83), while Fish claimed the 500 free (5:04.56) and 400 IM (4:27.23).
Sophomore Lauren Weaver of Cincinnati Colerain (50 free – 24.31), senior Sarah Radke of Cincinnati Ursuline (100 free – 53.22) and junior Casey Ridge of Cincinnati St. Ursula (1650 free – 17:11.81) picked up the rest of the freestyle titles.
In the breaststroke events, senior Sarah Burrell of Mason (50 – 32.83), senior Stephanie Conklin of Cincinnati Ursuline (100 – 1:05.87) and senior Katelyn Ishee of Cincinnati Ursuline (200 – 2:21.71) earned wins, while junior Sarah Blood of Cincinnati Ursuline (50 – 29.38), senior Cara Lennon of Loveland (100 – 57.95) and junior Sarah Andrews of Centerville (200 – 2:04.43) claimed titles in the backstroke events.
Junior Jenna Tameris of Cincinnati Sycamore (50 – 28.16) and junior Laura Krueger of Cincinnati McAuley (200 – 2:01.06) went home with butterfly crowns, while senior Erin Fawley of Xenia (100 – 1:04.73) and junior Jamie Barrett of Vandalia Butler (200 – 2:06.67) snared wins in the IM events.
Cincinnati Ursuline won three of the four relays with victories in the 200 free (1:38.03), 400 free (3:33.27) and 200 medley (1:48.60), while Centerville triumphed in the 400 medley (3:57.53). In the 1m diving event, senior Nicole Brehm of Lemon-Monroe won with 385.80 points.
Meet web site including full results and photo album.