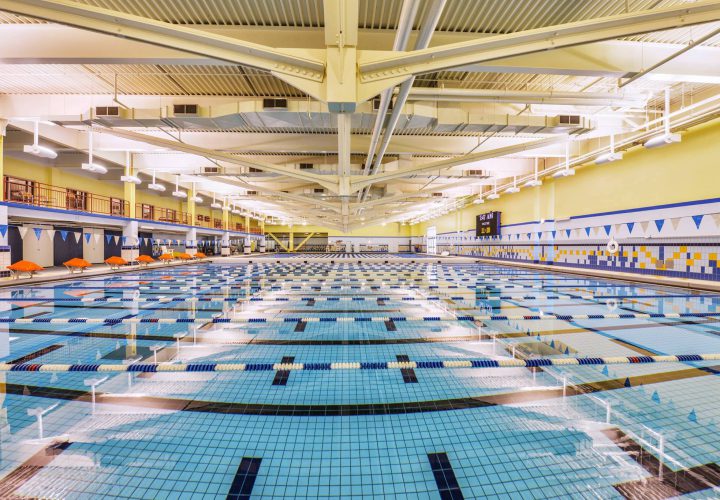 Photo Courtesy: Chelsea Piers Connecticut
By Michael Randazzo, Swimming World Contributor. 
Last weekend's Snowball Showdown tournament at Chelsea Piers Connecticut proved an exclamation point to what USA Water Polo (USAWP) and the National Federation of High School Associations (NFHS) recently reported: youth water polo is one of America's fastest growing sports. Featuring seven clubs playing 46 matches in U12, U14 and U18 brackets, in just two years the Showdown has become the largest youth tournament for teams in the Northeast, the country's most populous region.
The brainchild of Paul Ramaley, Water Polo Director/Head Coach at Chelsea Piers Connecticut, the Showdown is ideal for Eastern clubs looking to start strong in a season that culminates with Junior Olympics (JOs) qualification in May.
"The tournament works well because it's a dead time in water polo on the East Coast," said Ramaley. "A lot of players are preparing for the spring and welcome the chance to play."
Alex Milojkovic, coach of a Navy Aquatics U18 squad that traveled from Annapolis, MD, agreed with both the tournament's timeliness as well as the quality of competition at the Showdown.
"This time of the year we don't have that many games, so any competition is good for our kids," said Milojkovic. "We love coming here because there's lots of quality water polo, especially playing against Greenwich Aquatics and Chelsea Piers."
Besides Navy AC, the competing clubs included: Brooklyn Heights St. Francis of New York City; the D.C. Capitals of Washington, D.C.; Greenwich Aquatics of Greenwich, CT; Boys and Girls Olympic Development Program (ODP) teams sponsored by USAWP; and host Chelsea Piers Connecticut.
Momir Ivetic, an ODP coach for the 2000, 2001 age groups, singled out benefits gained by his squads. Drawn from as far north as Boston and as far south as Virginia, his teams won't play together again before ODP National Championships, to be held in February and March in California.
"This [tournament] is the only thing we can do to get games for ODP kids," he said during a break in the action. "It's very beneficial for them to play together."
Ivetic — familiar with Chelsea Piers Connecticut from coaching with Princeton Tigers Water Polo  — said that the Showdown supports his primary goal: making girls' water polo more popular in the East.
"All I want to do is help these girls play," he said
Julia Sheahan, 15, who traveled almost 300 miles to play for a 2002 ODP girls team as well as for her hometown Capitals, got to do just that.
"It was definitely worth traveling to CT for the Showdown," Sheahan said by email after the tournament. "I played 7 games this weekend! That's what I love… games!"
The Falls Church, VA native added: "These games are important because we play challenging teams, which allows me to develop my skills as a player and gives me the opportunity to bond with teammates."
Also traveling from the D.C. area was Patrick Fry, a U14 coach for the Capitals, and his sons Ryan (16) and Ian (14).
"Tournaments like these are useful to see where the kids fit in and to teach them what they need to know," in preparation for JOs, he said.
A swimmer in high school who played polo at Notre Dame, Fry believes there is a strong base of swimming in the nation's capital for polo to build on.
"The D.C. area is huge for swimming," he said, and populated with kids — like his — that quit when they discover they're not fast enough for serious competition. When the Capitals began play six years ago Ryan and Ian made the switch and haven't looked back.
"Our USA Water Polo zone membership has grown significantly," Fry said. "There's no reason why that won't continue."
Navy coach Milojkovic was complimentary of the Capitals, his team's main rival.
"The Capitals have made a huge effort growing their club, which benefits everyone on the East Coast." he said. "We need more clubs that can play at their level."
In one of the Showdown's featured matches, Navy AC's U18 squad squeaked out an 11-9 win over the Capitals.
According to Chelsea Pier's Ramaley, the weekend's best game was a shootout between the Boys ODP Youth Team (2000/2001) and Chelsea Piers U18, ultimately won 11-10 by the ODP team. The match was watched by local college coaches, including Brian Kelly, Iona College men's and women's coach.
Irakli Sanadze, who refereed both years, cited the improved level of play at this year's Showdown.
"The kids are more mature and their play is smarter," he said between matches. "They better understand what's happening."
Sanadze, also a U12 coach for the Y Pro Water Polo Club in Brooklyn, lamented that his club was unable to attend — but promised they will be in Stamford next year.
"It's a great experience to get involved with," he said. "Unfortunately, my team is not here and it's a mistake."