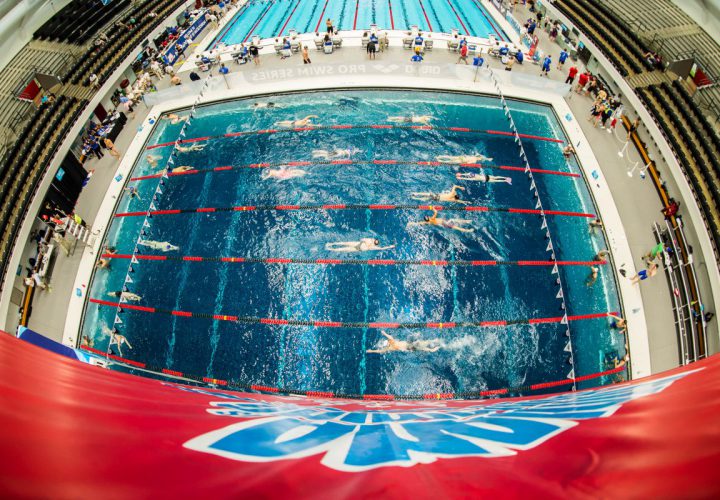 Photo Courtesy: Peter H. Bick
Editorial content for the 2018 TYR Pro Swim Series Indianapolis is sponsored by SwimOutlet.com. Visit SwimOutlet.com for more information on our sponsor. For full Swimming World coverage, check out our event coverage page.
The first preliminary session of the 2018 TYR Pro Swim Series meet at Indianapolis kicked off from the IU Natatorium on Thursday morning. Katie Ledecky put up a pretty good 400 free swim and the crowd will be intrigued on what she can put together in finals, if she can put together another world record like last night.
US National Team members Kelsi Dahlia, Simone Manuel and Blake Pieroni also put up the top times in their respective events during prelims.
Manuel was making her professional debut as the Olympic and World Championship gold medalist cruised in the 100 free heats.
Heat Sheets
Live Stream
Results
Women's 100 Fly
Kelsi Dahlia got her Pro Swim Series meet started with a solid 57.67 100 fly morning swim. She is well ahead of the rest of the field as her Louisville teammate Mallory Comerford is the second seed at 59.05.
Dahlia has been the premiere butterflyer in the USA since she won Olympic Trials in 2016. She is head and shoulders above the rest of the country.
Canada's Rebecca Smith is the third seed for tonight at 59.38.
Amanda Kendall (59.59), Hellen Moffitt (59.73), Katie Drabot (59.87), Christie Jensen (1:00.16) and Veronica Burchill (1:00.27) will also swim in the A-final tonight.
Men's 100 Fly
There's no Caeleb Dressel and there's no Tim Phillips, the two guys who went to Budapest in the 100 fly last summer for team USA. The fastest American this year, Jack Conger, is also not in attendance. The 100 fly heats were topped by versatile Gunnar Bentz of Georgia at 53.11.
He was just ahead of fellow Bulldog Camden Murphy (53.34) and Cal's Tom Shields (53.37). It is a very tight field as Ryan Held (53.69), Vini Lanza (53.71), Nicolas Albiero (53.78), Drew Kibler (53.87) and Zach Harting (54.09) will also swim in tonight's A-final barring any later flight swims.
Women's 400 Free
Katie Ledecky returned to the pool Thursday morning with a smooth 4:02.08 to lead the 400 free heats at the TYR Pro Swim Series at Indianapolis. Ledecky is a little off her 3:56.46 world record but who knows if she will get down to that tonight. Regardless, she is well ahead of the rest of the field as Leah Smith (4:09.96) and Hali Flickinger (4:11.41) followed her in second and third.
It is another tight field as the rest of the field was all within a few seconds of each other. Ashley Neidigh (4:11.96), Katie Drabot (4:12.18), Rose Bi (4:12.25), Sierra Schmidt (4:12.37) and Erica Sullivan (4:12.75) will also swim in the A-final tonight.
Men's 400 Free
Club Wolverine's Felix Aubock had the fastest 400 free of the morning heats with a 3:52.45 as he out-touched Marwan El Kamash in his heat. El Kamash is the second seed at 3:52.68 as they are two seconds ahead of the rest of the field.
Marcelo Acosta (3:54.99) and Zane Grothe (3:55.15) followed them in third and fourth as they could both provide serious challenges to Aubock and El Kamash tonight.
Ricardo Vargas (3:55.96), Kevin Litherland (3:56.09), Gil Kiesler (3:56.26) and Logan Houck (3:56.37) also placed in the top eight this morning in Indianapolis.
Women's 200 Breast
Swimming in her first year as a post grad, Emily Escobedo must have been feeling the hype of the UMBC Retriever's men's basketball team this past March as Escobedo put up a very good morning swim of 2:26.43 in the 200 breast. Escobedo is ahead of two of the finalists at last summer's World Championships Lilly King (2:28.81) and Bethany Galat (2:30.74).
Breaststroke was once a weak link for the American women but has now become a very stacked field. Olympians Molly Hannis, Breeja Larson and Micah Sumrall have all been swimming very well in 2018 and it will be a big fight to get on the Pan Pac team later this summer.
Melanie Margalis (2:28.22), Annie Lazor (2:29.58), Allie Szekely (2:31.23), Emily Weiss (2:32.30) and Bailey Bonnett (2:32.51) will also swim in the A-final tonight.
Men's 200 Breast
In a field of mostly post grad Olympians and World Championship team members, it was 18-year-old Stanford commit Daniel Roy on top of the field in the men's 200 breast heats. Roy swam a 2:12.40 on Thursday morning in Indianapolis at the TYR Pro Swim Series. Roy is ahead of Olympians Chase Kalisz (2:12.60) and Cody Miller (2:13.63).
The rest of the field is pretty solid as well as Nic Fink (2:13.85), Kevin Cordes (2:14.91), Marat Amaltdinov (2:16.19), Charlie Swanson (2:17.46) and Reece Whitley (2:17.64) will also swim in the A-final tonight.
Women's 100 Free
Simone Manuel is swimming in her first meet as a professional swimmer as the reigning World and Olympic champion swam a 54.20 on Thursday morning at the TYR Pro Swim Series in Indianapolis. Manuel is just ahead of Canadian superstar Taylor Ruck (54.35). Ruck will be joining Manuel in Palo Alto this fall so the two will have plenty of time to get to know each other.
Margo Geer (54.53), Mallory Comerford (54.75) also broke 55 seconds as those two will be vying for relay spots later this summer at US Nationals for the Pan Pacific Championships in Japan.
Canada's Kayla Sanchez (54.85), Katie Ledecky (55.02), Kelsi Dahlia (55.13) and Rebecca Smith (55.42) also will swim in the A-final tonight.
Men's 100 Free
Blake Pieroni cruised to the top time in the 100 free prelims with a 49.04 ahead of 2017 World Championship team member Justin Ress (49.47) of NC State. Both swimmers showed tremendous value on relays at NCAA's in March and will be valuable pieces on relays later this summer for USA Swimming if they can make the team in August.
Indiana's Ali Khalafalla (49.60) and 2012 Olympic Gold Medalist Nathan Adrian (49.79), as well as recent Indiana transfer Zach Apple (49.80) and NC State Olympian Ryan Held (49.88) also broke 50 seconds in Thursday morning's heats.
Aaron Greenberg (50.41) and Gus Borges (50.83) will also swim in the A-final tonight.