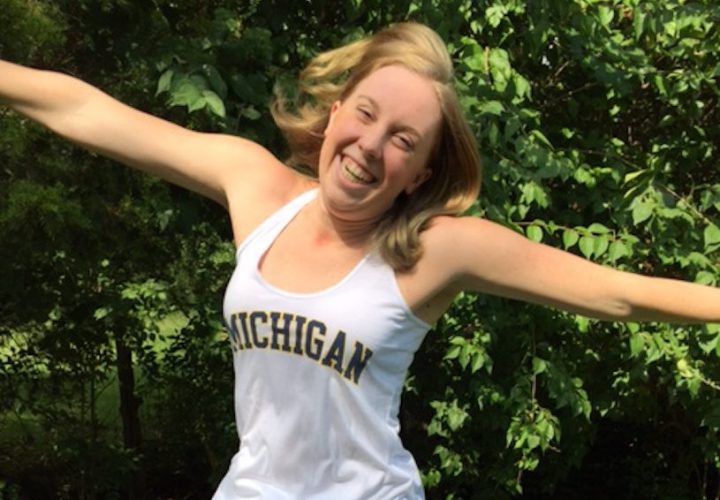 Photo Courtesy: Sierra Schmidt
Agon is the proud sponsor of all high school coverage (recruiting, results, state championships, etc.) on SwimmingWorld.com. For more information about Agon, visit their website AgonSwim.com.
U.S. National Junior team member Sierra Schmidt announced Monday morning that she has verbally committed to swim for the University of Michigan.
Schmidt was the the gold medalist in the 800 free last year at both the Pan American Games and FINA Junior World Championships, and she made the final in that event at the U.S. Olympic Trials, but she is perhaps just as well-known for her intricate pre-race dancing routines.
Schmidt confirmed the the news of her commitment in an email to Swimming World.
I am so grateful to have this opportunity and I want to thank everyone that helped me along the way to make this decision. I am incredibly excited about this next step in my life as well as working with world class coaches, a supportive and fun team, and learning at a superb academic university. Also looking forward to dancing in Ann Arbor for four years! GO BLUE!
Schmidt will join a resurgent Michigan women's program that won a tight Big Ten Championship last year ahead of Indiana and then finished tenth at the NCAA Championships. Head coach Mike Bottom, in his ninth season in Ann Arbor, has since 2012 headed up a combined women's and men's program, and Rick Bishop is the women's associate head coach.
Schmidt will join a talented roster that includes U.S. Olympic Trials finalist Clara Smiddy, Hong Kong Olympian Siobhán Haughey and distance aces Rose Bi and G Ryan. Schmidt figures to contribute to the Wolverines' cause at the NCAA level right away, as her lifetime best of 15:57.89 in the 1650 free would have placed seventh at last year's NCAA championships.
Her top time in the 500 free (4:38.47) would have scored her consolation finals points at NCAAs last year, and her third event for college will likely be the 400 IM (best time 4:11.64).
In long course, Schmidt's best times are 4:07.47 in the 400 free, 8:27.54 in the 800 free and 16:12.84 in the 1500 free.
Schmidt has represented North Baltimore Aquatic Club in the past, although she is currently listed as Unattached in the USA Swimming database. She has been coached by Erik Posegay, who recently left to take a job as an assistant at Penn State.
To report a verbal commitment email HS@swimmingworld.com.