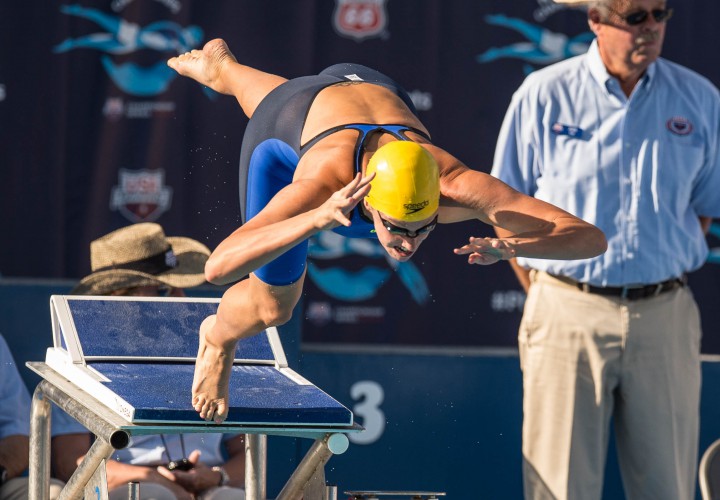 Photo Courtesy: Peter Bick
By Chris Balbo, Swimming World College Intern. 
In an endurance sport like swimming it can be argued there are finite ways in the pool to get faster. Every second, tenth and hundredth matter, but the pool is not the only place swimmers compete. Athletes and swimmers now focus on competing outside of the pool– for instance, in the kitchen. Competing in the kitchen requires adequate food or fuel for performance and recovery.
Some fad diets such as "going gluten free" became popular in America but is not necessarily "better" than diets containing gluten. More recent questions have been proposed whether the gluten free diet should be recommended for endurance athletes. Swimmers are endurance athletes, so should swimmers go gluten free?
What is Gluten?
Gluten is a protein found in wheat, rye, barley (malt), and can be found in processed oats. The gluten free diet therefore entails the elimination of gluten from the diet including traditional bread, pastas, and baked goods. Those following a gluten free diet eat grains such as rice, corn, potatoes, and quinoa for carbohydrates as opposed to wheat. Gluten free products are usually higher in calories, fat, and sodium opposed to their gluten containing counterparts.
Gluten Free Diet Recommendations
The gluten free diet entails the elimination of gluten from the diet. Gluten free diets are usually only recommended to the one percent of the population with celiac disease. Celiac disease is a genetic autoimmune disease that affects the digestion and processing of the gluten proteins in the small intestines. If an individual with celiac disease eats gluten the immune cells attack the lining of the small intestines. Along with the population with celiac disease, an increasing number of people have been found to have gluten sensitivity or gluten intolerance. Those who are gluten intolerant or sensitive may experience gastrointestinal discomfort. These individuals should follow a gluten free diet. The real question is should athletes go gluten free for extra health benefits? The answer is simply "no".
Gluten and Athletic Performance
A US National Library of Medicine study done with non-celiac athletes concluded that there were no benefits in athletic performance, gastro-intestinal symptoms, or well-being by following a gluten free diet compared with a gluten containing diet.Therefore, the gluten free diet does not benefit anyone other than those with dietary gluten issues. Although this study was completed for a short period of time (a matter of weeks), it is not necessarily the secret to swimming faster.
Swimmers like Dana Vollmer have turned to the gluten free diet, but Vollmer is known to suffer from gluten intolerance as well as other allergies. Vollmer's improved speed could have been attributed to her dietary change because her gastrointestinal tract was possibly no longer attacking itself, allowing for her intestines to heal. All in all, competing in the kitchen can be critical to augmenting swimming performance, but the gluten free diet is not the answer for everyone.
All nutritional research was conducted by the author and does not necessarily reflect the views of Swimming World Magazine nor its staff.