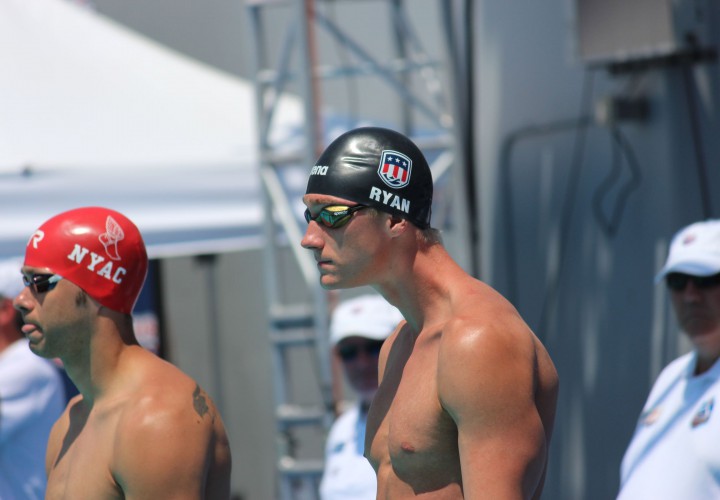 Photo Courtesy: Griffin Scott
By Matthew Grillo, Swimming World College Intern
When Shane Ryan stepped on to the University Park campus at Penn State in August 2012, his mindset was like that of any other varsity athlete: Compete for a university for four years and graduate with a degree, ready to enter the real world. Yet, for Ryan, that all changed in the fall of 2014.
The junior majoring in Recreation, Park, and Tourism Management will now be taking the next academic year off and moving to Ireland where he will seek to represent Ireland in the 2016 Olympic Games.
Ryan will be training at the National Aquatic Centre in Dublin. Swim Ireland has created the High Performance Center, which consists of approximately 20 swimmers vying to represent Ireland at the Olympics.
"Shane will have two practices available to him six days a week with up to four land sessions also available and the plan will be put together when he arrives," Peter Banks, the high performance director for Swim Ireland said via email.
His focus will be completely geared towards swimming and improving aspects outside of the pool such as nutrition to help with peak performance.
"I will be concentrating on my nutrition because this summer when I was here, when I wasn't taking any classes, that was really important," Ryan said. "Really making sure my body is recovering."
The decision to leave was a difficult one for Ryan, but it came down to the exposure Ryan would get to long course swimming. At Penn State, Ryan trains the majority of the year in short course yards and short course meters pools. Access to a long course pool is difficult since Penn State only has an outdoor 50-meter pool. Therefore, Ryan can only begin training long course in May.
"At Penn State we do get a lot of great training, but we don't have a long course pool which kind of really hinders my training," Ryan said. "Everyone else has been in the 50-meter pool for over a year training in that, especially up to their big meets, and I can't do that."
In order to represent Ireland at the Olympic Games, Ryan must have lived in Ireland for one year prior to qualifying for the Olympic Games. Ryan finished up his school semester and arrived in Ireland on May 13.
Since the Irish Olympic trials will start April 28, 2016, Ryan cannot qualify at Ireland's Olympic trials and he will have to compete at the European Championships in order to gain a spot on the Olympic team.
"Uprooting yourself to another country across an entire ocean to realize a dream is a something that takes a lot of guts and obviously it was a tough decision, but I think he made the right one and [I] can't fault a kid for going for a lifelong goal," said Max Byers, Ryan's former teammate and close friend.
With such a difficult decision of having to leave his immediate family to live across the world, Ryan looked to his family for some input. Yet, they largely left the decision up to him.
"Family members really didn't have an input on it just because they wanted me to do whatever I wanted to do," Ryan said. "They were going to back me up no matter what I did. They really didn't play a part in it, except for supporting me and my decision."
If all goes well, Ryan will return to Penn State after the Olympics to finish his senior year and receive his degree.
"[After the Olympics] I will come back and finish my senior year and graduate," Ryan said. "Then, I don't know where I'll go. Maybe I'll stay with Ireland, maybe I'll stay with the United States."