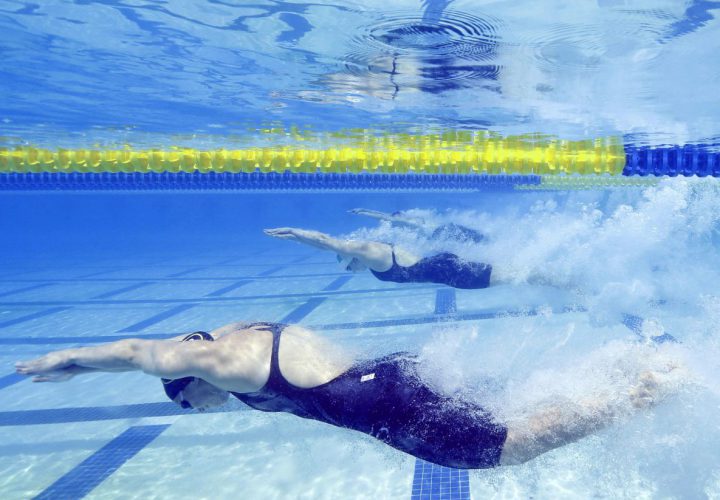 Photo Courtesy: Bob Stanton-USA TODAY Sports
Commentary by Jeff Commings
Most competitive swimmers believe they are invincible. If they can survive a 10,000-meter workout during the holiday break or do a 2,000-meter butterfly set and ask for more, then nothing can stop them.
Unfortunately, that is not true.
With the research indicating that underwater dolphin kicking is faster than swimming on top of the water, athletes feel the need to add more underwater kicking to their daily workouts. When University of Texas men's swimming head coach Eddie Reese said he started every workout this past college season with some underwater dolphin kicking, I'm sure every coach said "We're going to do that, too!" Sometimes, the goal is to reach the 15-meter mark. Other times, athletes will push past it and challenge their teammates to see who can kick the furthest underwater.
In many cases, a swimmer will stay after practice to do some extra credit work on underwater dolphin kicking. That's what happened to Louis Lowenthal in 2012 when he stayed after practice with the North Baltimore Aquatic Club to improve his kicking work. Though lifeguards were on the deck, it's understandable to think that they didn't need to watch him closely, as he was a very accomplished swimmer.
A few minutes later, a lap swimmer noticed Lowenthal motionless at the bottom of the pool. He was pronounced dead later that day, the victim of shallow water blackout. It's caused when oxygen levels in the brain get drastically low, and carbon dioxide in the body is even lower, often due to hyperventilation before submerging. The low level of carbon dioxide is the catalyst for shallow water blackout, as it's often too low to signal the brain to tell the body to surface. Once oxygen is depleted, the swimmer faints underwater and drowns.
Lowenthal's death was a catalyst for Bob Bowman to use his stature in the swimming community to educate his fellow coaches about shallow water blackout. While he spoke with his peers at the 2014 American Swimming Coaches Association's world clinic about the silent killer, Dr. Rhonda Milner was walking the halls with an equally important goal.
She wanted people to know about ShallowWaterBlackoutPrevention.org, which was created to educate people on the dangers of hypoxic training. I spoke with Milner at the clinic about her son's death in 2011 due to shallow water blackout, and her tips on recognizing when someone is in danger of passing out underwater.
Rhonda Milner's SwimmingWorld.TV interview, September 2014

In the eight months since we posted that interview, action has been taken around the world. USA Swimming, British Swimming and Swimming Australia were a few national federations to issue statements warning coaches and swimmers about overdoing it on underwater kick training. Swim teams have responded with social media messages and letters to families about safely training to be great underwater kickers. With the cooperation of USA Swimming and the Michael Phelps Foundation, Milner created a public service announcement last winter to help kickstart the education process.
USA Swimming public service announcement featuring Bob Bowman and Michael Phelps

"Unfortunately it's taken more deaths to get more recognition, because these were deaths that were totally preventable," Milner said.
Sunday is the first National Shallow Water Blackout Prevention Day, which is part of National Water Safety Month. It's perfect timing, with public pools opening across the country for the summer season.
"We wanted to bring some more attention to shallow water blackout and try to raise awareness and educate," said Milner, who created the national day through her Shallow Water Blackout Prevention organization. "We thought it would be a good way to close out the National Water Safety Month. We are hopeful that this will … lead to a lot of more people realizing that prolonged breath holding should be banned in public pools."
An article by the Reuters news agency reports that New York City and Santa Barbara, Calif., have taken steps to ban breath holding in their public pools. Signs admonishing the act have been posted, and lifeguards have been trained to know what to do when they spot breath holding at their pool. Statewide bans are also being considered, Milner said, thanks to a report by the Centers For Disease Control and Prevention that highlighted the risks of prolonged breath holding.
Though the above PSA says competitive swimmers are most at risk for shallow water blackout, recreational swimmers can also die from it. Though many of the causes of drowning are simply due to someone not knowing how to swim, some are caused by kids who dare their friends to a breath-holding contest. Not wanting to lose, one of them will push their bodies past the limit, when their brain shuts down before it tells the body to go to the surface. The scary thing is that shallow water blackout can happen in as little as three feet of water, and happen so quickly that even the most experienced lifeguard might miss it.
I agree with the critics in the Reuters article that say lifeguards can't spot every swimmer holding their breath underwater at a busy rec pool on a summer day. But knowing the signs helps their chances of recognizing it. The lifeguards at a pool that I use regularly walk around the edge of the pool about every10 minutes, looking down into the water. For a long time, I never knew what they were doing. To relieve my curiosity, I asked a lifeguard about it.
She said a recent audit by the city parks and recreation department showed them that the lifeguards have a limited field of vision at their posts, and that some swimmers are not easily visible to them, even if they are sitting as high as 10 feet above the pool.
A new policy was created to have a lifeguard check along the edge of the pool regularly, especially in the wake of an incident in which a man nearly drowned. Though it was partly due to his weak heart condition, he had also been doing limited-breathing swims. The lifeguard on duty didn't notice it immediately, but another lifeguard was walking by the man's lane at that moment and noticed his swim gear on the deck, though no one appeared to be in the lane. That lifeguard peeked underwater and saw the swimmer motionless on the bottom. Luckily, the staff was able to revive him after a few minutes, but he had suffered minor brain damage after being underwater for about 20 seconds.
"If the other lifeguard hadn't been walking by, the man would have died," the lifeguard said.
There's more work to be done to educate the public about the dangers of shallow water blackout, but the attention is spreading quickly. We at Swimming World have written numerous articles on shallow water blackout prevention, and it's a topic that we will always support if it means saving more lives in the pool.