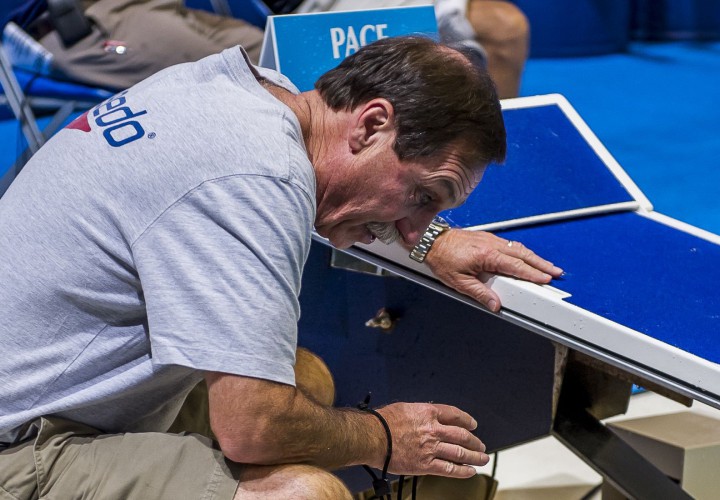 Florida coach Gregg Troy.
Photo Courtesy: Peter H. Bick
By Dan D'Addona.
There were few meets on the first-semester schedule like the three-way battle this weekend between Florida, Texas and Indiana.
Three major conferences were represented and every team involved was ranked in the top 13 in the nation.
It was one of the most anticipated meets of the season, but it turned out to be a little disappointing for the Gators.
Florida was coming off a close rivalry win over Florida State. The Gators are ranked No. 3 in the men's rankings and No. 9 in the women's poll.
In Saturday's half of its two-day double-dual meet, the Florida men (1-4) were swept by No. 8 Indiana 204-77 and No. 1 Texas 182-99, with the women (1-4) also losing 183-98 to No. 13 Indiana and 191-85 to No. 7 Texas.
The meet was a two-day event with different formats. Friday was long course and Saturday was short course.
The short course meet was a battle that will be there again at the NCAA championships. If the Florida Gators want to get their hands on a trophy, this is a meet they will have to motivate them for late in the season. Florida won just three events each day.
"We certainly had our hands full with two very good and focused teams again today," Florida coach Gregg Troy told FloridaGators.com. We responded well in some areas and not as well in others. This will provide us with some good areas of weakness as we address the next training cycle."
Early season meets are not the end of the world, win or lose it is about experience and learning.
After surging to win the rivalry matchup with Florida State, the Gators have another lesson to learn from.
On the other side of things, this was an absolute huge meet for Indiana, which swept Florida and beat Texas in the women's meet.
There were plenty of swimmers aiming for individual national championships in this meet and it they will all remember this meet.