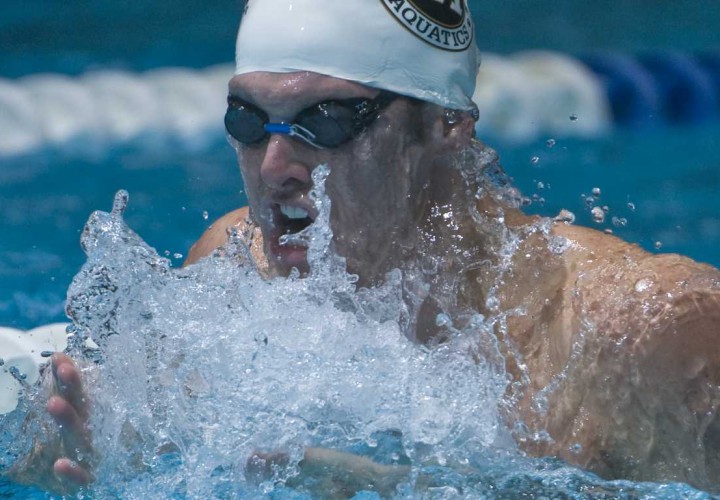 Photo Courtesy: Peter H. Bick
2004 Olympian Scott Usher is being inducted into the Nebraska High School Sports Hall of Fame for his accomplishments at and beyond Grand Island Senior High School in Grand Island, Nebraska.
Congratulations Scott Usher – 2017 Nebraska High School Sports Hall of Fame Foundation Inductee! #nebpreps@WearPurpleBGOLD@GIPublicSchoolspic.twitter.com/VI9wrGiKOO

— NE Hall of Fame (@NebHallOfFame) September 24, 2017
In his junior and senior years at Grand Island, Usher won three gold medals at the Nebraska State meet, and also left the team with school records in the 100 freestyle, 200 freestyle and 200 IM.
He then went on to become the University of Wyoming's first Olympic Qualifier after finishing second at the 2004 U.S. Olympic Trials in the 200 breast. He finished seventh at the Games in Athens, Greece and was also a member of the 2005 World Championship Team in Montreal.
Back in the States, Usher earned five All-America honors over the course of his collegiate career. A six-time conference champion, Usher won 35 of the 36 dual meet breaststroke events he raced while at Wyoming and placed second once.
Usher expressed his gratitude for the award via his Twitter account:
Amazing honor! Thank you. Wouldn't have been possible without my amazing coach @islanderswim and coach Whitman! Proud @WearPurpleBGOLD alum. https://t.co/g30XYwpKRJ

— Scott Usher (@UsherScott) September 29, 2017
He will be honored with ten other athletes, five coaches, one contributor and one official at a ceremony held on Oct. 1 at Lincoln East High School.