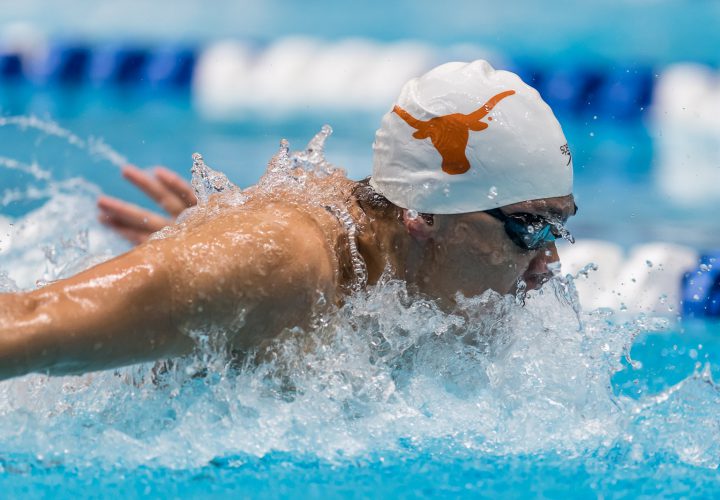 As day three of the 2018 men's and women's Big 12 Conference championships gets underway the conference's fastest swimmers go head-to-head in order to earn their university a spot in a scoring final tonight.
In the very first event this morning, the women's 100 fly, Texas posted the fastest two times with Remedy Rule (52.43) and Lauren Case (52.82) while WVU's Morgan Bullock took the third slot going into tonight's finals by virtue of her 53.35 from this morning. Rounding out the A final will be WVU's Amelie Currat who swam a 54.65.
In the men's 100 fly Joseph Schooling cruised a 45.13 to earn the middle lane in the A final tonight where he will be flanked by teammates Tate Jackson (47.02) and Brett Ringgold (47.14). Taking ownership of lane eight in the A final tonight will be WVU freshman Angelo Russo who dropped a 48.31.
Texas freshman Evie Pfeifer turned in the quickest time of the morning with her mark of 4:13.50 while her teammate Maxine Wolters posted a 4:18.25. Iowa State Cyclone Haley Ruegemer touched in 4:19.48 for third while KU's Ellie Flanagan swam a 4:23.26 to round out tonight's A final.
The Texas men took control of the 400 IM prelims with senior Jonathan Roberts leading the way in 3:46.70 while sophomore Sam Stewart took second in 3:49.46. UT's John Larson posted the third fastest time in 3:50.89 with TCU's Dayne Odendaal (3:56.44) taking the eighth spot.
Texas duo of Quinn Carrozza (1:45.07) and Nora McCullagh (1:47.40) posted the fastest two times of the morning while Kansas Jayhawk Jenny Nusbaum took third with her 1:47.93. Taking the eighth place position tonight will be TCU's Katelyn Kenchel by virtue of her 1:49.42 from this morning.
In the men's 200 free the Texas gentlemen took the first six spots heading into tonight's final with senior Jeff Newkirk leading the crew with a 1:34.73. Sam Kline and Townley Haas followed with times of 1:35.22 and 1:35.60, respectively. Rounding out the A final will be WVU's Drew Damich (1:38.66).
In the women's 100 breast Longhorn Kennedy Lohman touched first in a 59.33 while KU's Haley Downey (1:01.48) and Texas' Olivia Anderson (1:01.64) followed. Iowa State's Martha Haas took eighth in 1:03.25.
WVU's Jake Armstrong broke up a Longhorn dominated prelims session by taking the middle lane in tonight's 100 breast A final with his 52.11. Teammate Tristen Disibio took second in 52.75 while UT's Austin Temple nabbed the third spot in 53.42. Rounding out the A final tonight is Safa Anya (54.55) from Texas.
Longhorns Claire Adams (51.38) and John Shebat (45.92) earned top seeds in the women's and men's 100 backstroke as we await the start of the women's 3-meter diving prelims.