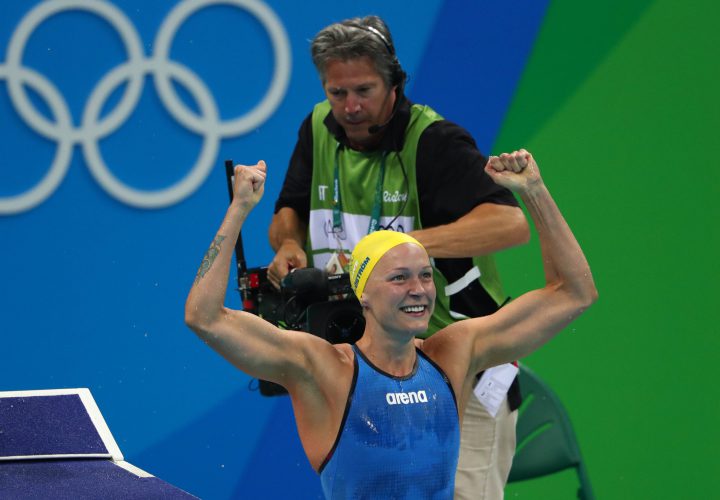 Photo Courtesy: Rob Schumacher-USA TODAY Sports
The first night of competition in Canet-en-Rousillon, starting off the final leg of the Mare Nostrum Series, proved to be the property of Sweden's Sarah Sjostrom. Sjostrom attacked her two events, the 50 freestyle and 100 butterfly, proving herself as a force to be reckoned with at Worlds. Meanwhile, the men's races proved tamer, although France's Mehdy Matella allowed his swim to do the talking in a stacked 100 fly heat.
The night kicked off with the women's 50 backstroke, led by favorite Emily Seebohm of Australia in 28.13. Seebohm was tightly followed by the Netherlands Maiike De Waard in 28.34, and Great Britain's Elizabeth Simmonds, in 28.61.
Meanwhile, the men's 50 backstroke race proved exciting thanks to a nail-biting finis between JĂ©rĂ©my Stravius (25.28) of France and the United States' Taylor Dale (25.29). To add to the excitement, Australia's Mitchell Larkin stayed close in 25.32. Although the top three times did not crack the top twenty-fastest times this year, the race was nonetheless magnetic.
With a crowd prepared for excitement, Sarah Sjostrom stole the show in the women's 50 freestyle. Her 23.85 came up just short of Britta Steffen's 2009, full-suited world record time of 23.79 but demolished the Mare Nostrum record. What's more, Sjostrom virtually dominated the competition; her closest competitor was Ramoni Kromowidjojo of the Netherlands in a respectable 24.35, followed by Denmark's Pernille Bloom in 24.47.
The men's race proved closer, as Brazil's Bruno Fratus, with a 21.92, just edged out Australia's Cameron Mcevoy, in 22.17. Andrii Govorov of the Ukraine rounded out the medalists in the A-final, just a hair behind Mcevoy, in 22.18. The time for Fratus would rank him ninth in the world, except that he is already on the list at number five.
In the women's 800, it was Anja Kesley of Hungary who came out on top with an 8:31.50—a crucial race on her part that allowed her to wiggle her way into the twentieth ranked spot in the world. Behind Kesley, it was France's Sharon Van Rouwendaal in 8:33.56, and Portgual's Diana-Margarida Duraes in 8:40.86.
The men's distance freestyle event of the day—the 400 freestyle—had even more dramatic effects on world rankings in the lead up to world championships. Champion Aleksander Krasnykh of Russia swam a decent race of 3:46.93, which is over a second off of his best for the year but nonetheless important as he gears up for this summer's main event. On the other hand, Poland's Filip Zaborowski (3:47.28) made a significant vertical leap in world rankings, landing all the way in 12th. Norway's Henrik Christiansen also posted a solid 3:48.47 for the night.
In the 200 backstroke, Australia's Emily Seebohm proved herself once again as a force to be reckoned with. She swam the fastest time of the year in the world and set a Mare Nostrum record of 2:06.66. Behind Seebohm, Daria K Ustinova of Russia hit the pad in a strong 2:08.76—not her best, but a serviceable swim. Finally, Canada's Taylor Ruck established herself event with a third-place finish in an impressive 2:09.54, a time that will land her at ninth in the world.
In the men's race, Poland's Radoslaw Kawecki proved that morning rankings do not tell the whole story, as he came out of the sixth seed to win it all in 1:57.47. Kawecki was followed by Hungary's Adam Telegdy in 1:58.25 and Australia's Mitchell Larkin, close behind in 1:58.93. All three men were shy of their best marks for the year.
After that rather sleepy 200 backstroke, Yulia Efimova of Russia set the crowd on fire. Efimova blazed to a 1:04.82, setting a new Mare Nostrum record and pouncing close to the world record time of 1:04.35. It was her fastest—and the world's fastest—mark of the year. Moreover, it was the fifth-fastest time of all time in the event. Behind the Russian, Sweden's Jennie Johansson took a convincing second in 1:06.79, and Australia's Jessica Hansen nabbed the bronze in 1:07.09, just ahead of Jessica Val Montero.
The men's race proved no less exciting, with Efimova's fellow Russian, Aton Chupkov, setting a new Mare Nostrum record of 59.53 and just edging out Japan's Yashuhiro Koseki (59.66). Arno Kamminga of the Netherlands followed closely behind in 1:00.51.
In the 200 IM, reigning queen of the event, Hungary's Katinka Hosszu¸ unsurprisingly pulled out a victory in 2:11.16, the tenth-ranked time in the world, if Hosszu weren't already ranked first. Hiroko Makino of Japan was nearby in 2:12.34, just dodging her world-ranked time of 2:12.11, while Canada's Erika Hodgson Seltenreich settled for third in 2:13.07.
In the men's 400 IM, Alexis-Manacas Santos of Portugal won convincingly in 4:21.48. Behind Santos, Dawid Szwedzki of Poland easily found silver in 4:22.98, and Denmark's Daniel Skaaning took the bronze away from distant competitors in 4:25.75.
Yet again, in the women's 100 butterfly, Sjostrom proved herself as a global threat to world records. On the heels of her fantastic 50 free, Sjostrom attacked the first 50 of her 100 fly in 26.07, as if she hadn't swum in weeks—when, in fact, she swam the same event last weekend and set a Mare Nostrum record. She ultimately finished out her race in 55.76, barely dodging the world record of 55.48 and trouncing her own Mare Nostrum record of 56.20.
Although it was Sjostrom's race from the outset, South Korea's An Seyhon also had a noteworthy performance, landing in second with a 57.28, the fourth-fastest time in the world. Ironically, at the same time as Seyhon beat out Canada's Penny Oleksiak (57.32) in the pool, she also bumped Oleksiak down a spot in the more abstract world rankings, to fifth.
The men's 100 butterfly was less a question of favorites than it was of grit. France's Mehdy Matella surpassed both Hungary's Laslo Cseh (51.87) and South Africa's Chad Le Clos (51.92) with a tremendous 51.63. The race allowed Matella to prove his salt head-to-head against two of the most seasoned flyers in the world—an excellent preview of what is to come at Worlds.
The women's 200 freestyle came down to the fingernails. Although Australia's Emma McKeon took out the first fifty under world record pace, she was unable to maintain her rhythm, and Sweden's Michelle Coleman pulled ahead. Despite shortening up during the last 50 yards of the race, Coleman held onto her lead for a 1:56.22. McKeon gained in the back half for silver in 1:56.29, while Femke Heemskerk of the Netherlands snagged third in 1:56.51.
Stravius once again went head-to head in the men's 200 freestyle, but this time he fell to his close competitor. Despite leading the pack for most of the race, Russia's Krasnykh worked slowly but surely to overcome him. In the final 25 yards, Krasnykh succeeded in passing and touching out Stravius with a 1:47.36. Stravius posted a strong 1:47.89, while Italy's Filippo Magnini took third in 1:48.70.