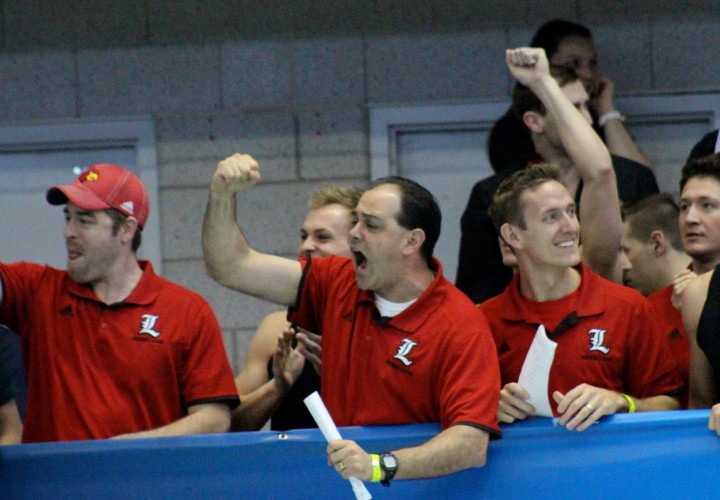 Photo Courtesy: Taylor Brien
Agon is the proud sponsor of all high school coverage (recruiting, results, state championships, etc.) on SwimmingWorld.com. For more information about Agon, visit their website AgonSwim.com.
Mid-distance freestyler Sam Steele will join the Louisville swimming team next fall, making a verbal commitment to move from Alabama to Kentucky in 2016.
Steele will be a part of a program that has had much success in mid-distance freestyle. Joao de Lucca was a two-time NCAA champion in the 200 free (2013, 2014) and this summer's Pan American Games champion. Steele's best time in the 200-yard free is 1:37.76, which would have been one of the top five times on the team last season. The Cardinals finished 14th in the 800 free relay at the NCAA championships last March, and head coach Arthur Albiero looks to be building a group that can continue to score points in the long relay.
Steele also has potential in the 500 free with a best time of 4:26.86. The NCAA Division I championships doesn't offer a 1000 free, but Steele can contribute in the event during dual meets with a lifetime best of 9:22.94.
In long course, we'll see Steele in the 400 free at the Olympic Trials next year. His best time in that event is 3:58.66. He's just a few tenths off the Trials cut of 1:51.89 in the 200 free with a personal best 1:52.37.
Steele represents the Birmingham Swim League in Alabama, and was third in the C final of the 200 free with a 1:52.37. He didn't perform well in the 400 free at juniors, where his lifetime best would have placed in the top eight.