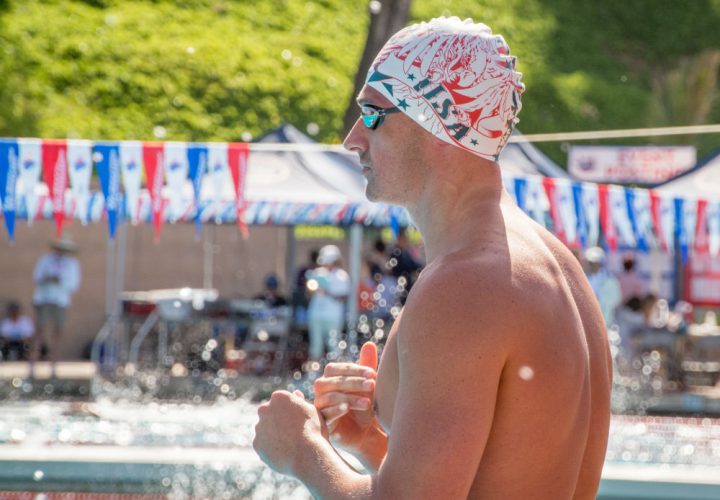 Photo Courtesy: Laura Hamel/U.S. Masters Swimming
Olympic gold medalist Ryan Lochte had not competed since last year's Olympics in Rio, as he is currently suspended for his role in an outside-the-pool incident in Brazil, but he competed for the first time at U.S. Masters Nationals in Riverside, Calif., competing in the 100 breast and 200 IM on the first full day of competition.
In the 30-34 age group, Lochte finished second behind Mike Alexandrov in the 100 breast. Alexandrov finished in 53.55, just off Ed Moses' national record of 53.44 and four tenths ahead of Lochte (53.95).
Lochte later dominated the 200 IM, finishing in 1:44.21. That's well off Darian Townsend's national record of 1:42.03, and Lochte has actually been as quick as 1:40.08, ranked third all-time in the event.
The first national record of the meet actually came during distance Thursday as Maurine Kornfeld broke the national record in the 95-99 women's 1000 free. She posted a time of 23:57.82, an amazing 27 minutes quicker than the previous national record, Annie Dunivin's 50:44.12.
Rick Colella took down the first national record of the Friday action his 1:02.75 in the 65-69 men's 100 breast, obliterating Robert Strand's previous national record of 1:07.35. Also breaking a record in the 100 breast was Steve West, who posted a 56.30 in the 45-49 age group to surpass Todd Torres (56.83).
In the women's 100 breast, Charlotte Davis broke the 65-69 national record with her time of 1:20.27, while Kathleen Lewis (1:23.53) also beat Joann Leilich's old mark of 1:23.95. In the 55-59 age group, Caroline Krattli posted a time of 1:10.55 to beat Chris Wenzel's national record of 1:13.76.
Three records went down in the women's 200 back. Diann Uustal posted a time of 2:47.52 in the 70-74 age group, almost 10 seconds ahead of Joy Ward's record of 2:57.22. In the 65-69 age group, Laura Val broke her four-month-old record of 2:28.21 with a time of 2:27.76.
Finally, in the 55-59 age group, Karlyn Pipes took down Jill Hernandez, 2:11.29 to 2:12.87, both crushing Bonnie Blitch's national record of 2:19.94.
Jeff Natalizio touched out Mario Marshall to win the 35-39 men's 50 fly, both of them going under Josh Davis' national record of 22.26.
Uustal broke her second record of the day in the 70-74 women's 50 fly, her time of 32.72 crushing Gail Roper's old mark of 35.06. In the 35-39 age group, Noriko Inada took one hundredth off her own 2015 record of 25.05, touching in 25.04. And then in the 25-29 age group, Danielle Hermann broke Tanica Jamison's old record of 24.41, posting a time of 24.19.
Colella became a double record-breaker on the day when he posted a new national mark in the men's 65-69 200 IM. He touchedi n 2:03.63 to obliterate Larry Day's previous record of 2:16.17.
Pipes beat Hernandez in the two faced off in the 200 back, but Pipes sat out the 200 IM, leaving Hernandez to take down Pipes' national record from earlier this month. Hernandez finished in 2:15.70 to beat Pipes' old record of 2:18.07.
Kornfeld broke another record when she posted a 2:04.52 in the 95-99 women's 100 free, ten seconds faster than Rita Simonton's previous record of 2:14.55. Finally, Val wrapped up the day with a 58.21 in the 65-69 women's 100 free, much faster than her own record of 59.68 from last month.