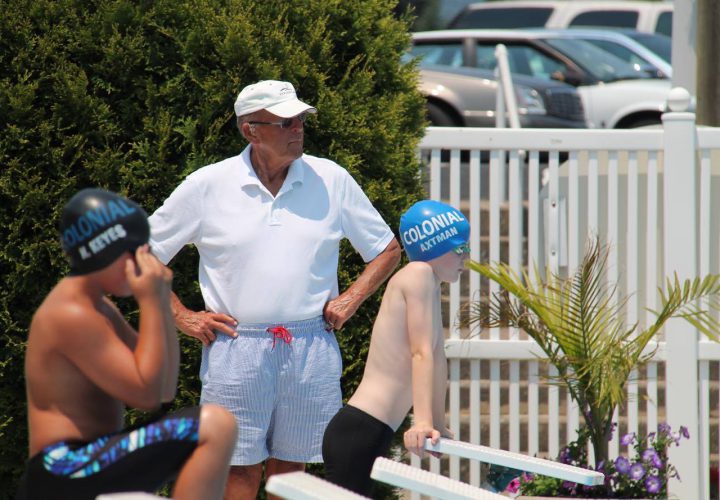 Photo Courtesy: Jennifer Pompei
By Katie Wingert, Swimming World College Intern. 
For Coach Rusty Owens, age is but a number, and work is a passion that ignites. This summer marks his sixtieth year of teaching Central Pennsylvania children to swim—both for safety and for speed. Owens, the 2010 recipient of the International Swimming Hall of Fame G. Harold Martin Award, is far from ordinary.
On any given summer morning at Colonial Golf and Tennis Club in Linglestown, Pa., the tan, blue-eyed 81-year-old paces the outdoor pool deck. He usually arrives at the pool around 4:30, sometimes earlier. Owens rises well before the sun, at 3:30 or 4, and he spends the first part of his morning reading articles about swimming on his computer.
At 5:15, when groggy swimmers begin trudging through the pool gate onto the deck, Owens is fully alert. While parents clutch their coffee mugs, Owens turns on sprinklers, checks the pool chemistry, sweeps the deck, tightens lane lines, and stays busy.
When Owens first speaks, his low, gravelly voice decisively shatters the silence of the morning. In his trademark voice, Owens has sly jokes and nicknames for each swimmer who walks through the gate.
Practice begins in the mist of the morning, with swimmers clustered attentively around Owens, who sits down holding his reading glasses and a stack of papers. Owens always has some new piece of research to share on swimming technique. Then, his swimmers spend fifteen to twenty minutes of practice working on turns and underwater streamlines to warm up.
Finally, his athletes get to the meat of the practice—concentrated drill work alternated with speed work, often from the blocks. Meanwhile, Owens will undulate his body like a vertical dolphin on the pool deck, in rhythm with his swimmers.
Owens treats his swimmers as a sports psychologist might, by finding ways to motivate each individual swimmer: pitting siblings against each other in competition, loosening up hyper-focused swimmers with humor, and talking about the glory of victory. His analogies are memorable, whether he's telling little ones to slide their hands like ice skates when swimming freestyle, or instructing older swimmers "to lean to breathe like you lean on your honey's arm."
Perhaps most strikingly, Owens continually immerses himself in the developments of his sport, even with sixty years of wisdom and experience. His passion remains fervent.
Owens did not always have this passion for the sport of swimming, however. In 1953, he entered Lebanon Valley College on a football scholarship, but he didn't know what he was going to do with his life. He decided to join the Marines.
After three months on Parris Island for boot camp and advanced combat training at Camp LeJeune, Owens returned to Parris Island to play football for the Marines. Because he could swim, Owens was also assigned to be a swim instructor on the base.
That assignment didn't have real meaning until an unforgettable night in April of 1956. A drill instructor, Sergeant Matthew McKeon, marched his 74-man platoon through Ribbon Creek Swamp as an extra disciplinary exercise.  When the platoon returned to the base the next morning, six men were missing, and several marines on the base were ordered to go search for the missing men. One of the chosen searchers was 20-year-old Owens.
"They told me to go look for [the bodies]," Owens recalls. "They had no idea where they were." The searchers took shrimp boats out into the swamp and tried stirring up the murky water. They found nothing until the tide receded, twenty-four hours later. "It wasn't pretty," Owens remembers. The bloated, discolored bodies were stiff with rigor mortis. Later reports suggested that some of the platoon had unknowingly trampled over the backs of the drowning men in the dark swamp.
After the Ribbon Creek Incident, football was cancelled on the base, and swimming became important on the island. It also became more important to Owens, who never forgot the drowned Marines he had found. Officers who had swum competitively in college exposed Owens to swim coaching techniques.
In 1958, Owens was discharged from the Marines and returned to his home in Harrisburg, Pa. Based upon his experience in the Marines, he started teaching swimming lessons at a local YMCA, in addition to finishing his college degree. Coincidentally, he taught lessons at the same time that the local swimming team practiced. One day, the coach got called away for a phone call and left Owens in charge.
"And that was that," he says. In an instant, he decided he wanted to be a swim coach.
Sixty years later, Owens hasn't stopped coaching. During his career, he has coached memorable teams across a broad spectrum. Beginning in 1960, he coached the affluent Hershey Aquatic Club, which produced teens who went to Senior Nationals and young swimmers who had nationally ranked times. He also coached the Harrisburg Swim Club, a team that united both city and suburban kids. Their team suit consisted of cut-off jean shorts, and Owens drove around in his station wagon picking up swimmers in downtown Harrisburg before each meet.
Owens' swimmers have ranged in age from the preschoolers he calls "puffins," just learning to put their faces in the water, to swimmers of the highest level–including Jeremy Linn (1996 Olympic silver medalist) and Anita Nall (1992 Olympic gold, silver, and bronze medalist).
Today, as Owens coaches both Lower Paxton Aquatic Club and the Colonial Clippers, his passion for the sport remains paramount. His constant refrain is, "I just get so excited about swimming," whether he is reading research or enjoying his swimmers' improvements. He is particularly proud of Colonial, which will look to earn its twentieth-straight league title this summer.
A tragic event in the Marines transformed Rusty Owens from a young man who didn't know what to do with his life to a legendary swim coach who, over the past 60 years, has found and done exactly what he was meant to do.
Pennsylvania swimming will forever bear his mark.
All commentaries are the opinion of the author and do not necessarily reflect the views of Swimming World Magazine nor its staff.