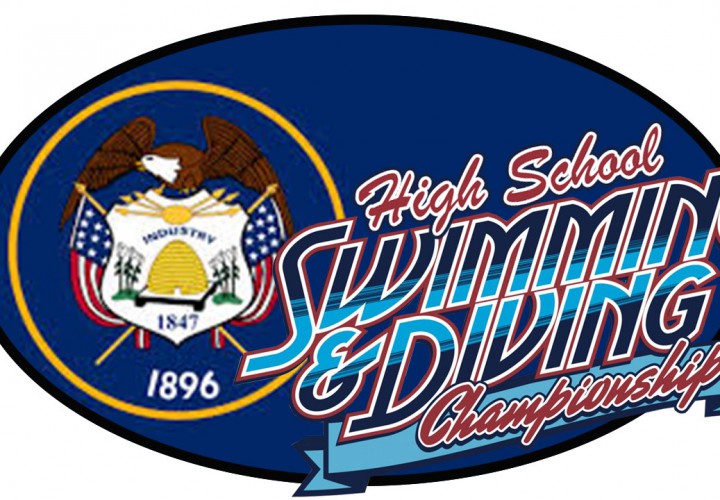 Photo Courtesy: Swimming World
Agon is the proud sponsor of all high school coverage (recruiting, results, state championships, etc.) on SwimmingWorld.com. For more information about Agon, visit their website?AgonSwim.com.?National Records for High School Are Pending Application Verification.? Click Here to Learn More
Agon is the proud sponsor of all high school coverage (recruiting, results, state championships, etc.) on SwimmingWorld.com. For more information about Agon, visit their website AgonSwim.com.
At the 3A Utah State Championships at the Wasatch Aquatic Center, Rowland High School claimed the girl's title with 279 points while the Emery High School boys earned the boy's state title with 242 points.
Girls Meet
Emery's Sydney Terwilleger (32.54), Haley Guymon (34.49), Kaelee Hooley (29.27) and Alexis Johansen (27.10) began the meet with a win in the 200 yard medley relay, stopping the clock in 2:03.31. Grantsville placed second in 2:04.84 with Judge Memorial taking a close third in 2:04.85.
The first individual win of the meet went to Beaver's Rachel McMaster, who finished the 200 yard freestyle in 2:02.76. Maeser Prep's Kylie Hansen was second in 2:03.24 while Judge Memorial's Hailey Grandy was third in 2:06.50.
Grantsville's Savannah Thomas won the 200 IM with a time of 2:16.84. Rowland Hall's Grace Smith was second in 2:18.79 and Grand County's Mary Kimmerle was third in 2:24.33.
Rowland Hall's Ella Vitek sprinted to first in the 50 yard freestyle with a time of 25.76, followed by McMaster (25.88) and Richfield's Aubri Kling (26.28).
Grantsville's Hadlee Begay was the only swimmer to crack the one-minute barrier, winning the women's 100 yard fly in 59.59. Rowland Hall's Grace Smith finished second in 1:02.39 and Summit Academy's Olivia Reynolds took third in 1:04.48.
Millard's Drew Roper won the 100 yard freestyle in 55.13. Grandy was second in 56.86 while Rowland Hall's Bella Goh took third in 1:00.04.
Begay won her second event of the meet, this time taking home gold in the 500 yard freestyle with time of 5:18.85. Maeser Prep's Kylie Hansen was second in 5:26.88 and Kimmerle took third in 5:43.24.
Rowland Hall's Smith (26.49), Alison Puri (27.94), Sophie Hannah (27.12) and Vitek (25.31) were victorious in the 200 yard freestyle relay, posting a time of 1:46.86. Richfield finished second (1:47.44) and Carbon took third (1:48.64).
Not too long after her win in the 100 yard freestyle, Roper was back in the pool to win the 100 yard backstroke in 59.49 as the only swimmer under the one-minute mark. Vitek was second in 1:02.89 with Carbon's Megan Swasey taking third in 1:05.83.
Thomas won her second event of the meet, this time taking first in the 100 yard breaststroke with a time of 1:09.00. Guymon (1:15.20) was second and Kling (1:17.03) finished third.
Rowland Hall's Bella Goh (59.39), Smith (57.26), Hannah (1:01.22) and Vitek (56.92) dominated the 400 freestyle relay in a final time of 3:54.79 to conclude the meet. Judge Memorial swam to second in 4:00.17 with Richfield finishing third in 4:06.93.
Top 5 Girls Teams:
1. Rowland Hall – 279
2. Carbon – 257
3. Emery – 225
4. Judge Memorial – 213
5. North Summit – 179
Boys Meet
The boys' meet opened up with North Summit's Porter Hellander (26.59), Jay Dearden (31.82), Cody Piotrowski (25.91) and Eli Crittenden (22.65) winning the 200 medley relay in 1:46.97. Judge Memorial was second in 1:47.32 and Millard was third in 1:52.70.
Grand County's Braxten Pierce and Summit Academy's Johan Boer finished ten seconds ahead of the rest of the field as the only two swimmers under the 1:50 mark in the 200 yard freestyle. Pierce ultimately won in 1:49.11, followed closely by Boer's 1:49.92. Grantsville's Seth Smurthwaite was third in 1:59.36.
Maeser Prep's Tony Puertas dominated the 200 yard individual medley, knocking off nine seconds from his prelims swim to win the event by over 20 seconds with a final time of 1:54.58. Grantsville's Zane Thomas took second in 2:14.68 and Rowland Hall's Lucas Erikson was third in 2:15.87.
Emery's Keldan Guymon broke the 23-second barrier to win the 50 yard freestyle in 22.67, followed by Judge Memorial's Charlie Berceau (23.18) and South Summit's Koven Card (23.35).
Puertas cruised to first in the 100 yard fly, taking first by over seven seconds in 49.91. He was just off the 3A State record of 49.84. Seth Smurthwaite was second in 57.15 while his teammate and brother Ethan Smurthwaite took third in 57.48.
Guymon sprinted to first place in the 100 yard freestyle, stopping the clock in 50.99 for his second individual title of the meet. South Summit's Koven Card finished second in 51.26 and Crittenden took third in 51.93.
Pierce won his second event of the meet, this time in the 500 yard freestyle. He finished 15 seconds ahead of the runner-up, posting a final time of 5:07.40. Second went to Erickson (5:22.42) and third went to Summit Academy's Blake Smith (5:41.85).
Emery's Deegan Minchey (24.48), Parker Stilson (23.88), Asher Beagley (23.64) and Guymon (22.32) combined to win the 200 yard freestyle relay in 1:34.32. North Summit touched second in 1:35.54 with Judge Memorial finishing third in 1:37.05.
After finishing second in the 200 yard freestyle, Boer won his first individual title in the 100 yard backstroke, touching the wall in 55.08. Hellander finished over three seconds behind in 58.45 while Minchey finished third in 1:00.55.
Judge Memorial's Thomas Kearns dropped nearly four seconds from his seed time to win the 100 yard breaststroke in 1:03.64. Millard's Nathan Despain (1:05.08) was second and Carbon's Tyson Swasey (1:07.79) was third in the event.
Emery's Minchey (53.50), Stilson (54.09), Beagley (54.21) and Guymon (50.52) combined to add the 400 yard freestyle title to match the 200 freestyle relay win earlier. They won in 3:32.32 followed by Grand County (3:36.92) and Grantsville (3:37.81).
Top 5 Boys Teams:
1. Emery – 242
2. North Summit – 187
3. Judge Memorial – 171.5
4. Grantsville – 171
5. Grand County – 169