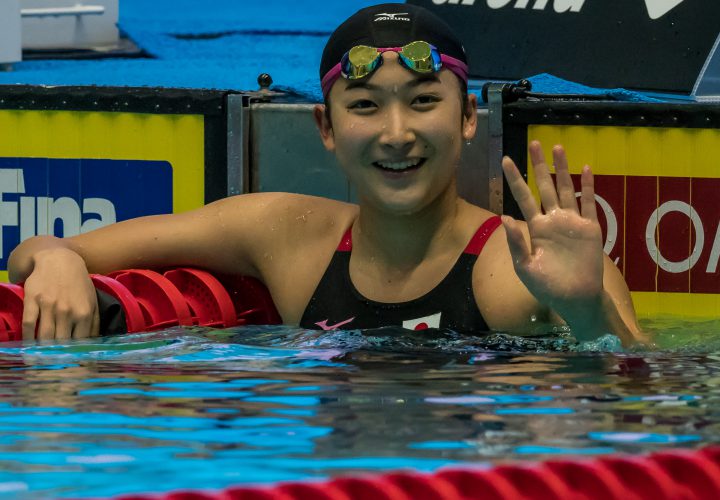 Photo Courtesy: Peter H. Bick
Japanese sprinter Rikako Ikee successfully lowered her own National Record and World Junior Record in the 50-meter free at this weekend's National Sports Festival of Japan.
The 17-year-old dashed to a striking 24.33 to slice .15 seconds off her previous personal best of 24.48, which stood as both the National and World Junior Records.
Ikee has a stronghold over the Japanese National long course meter records with top showings in the 50, 100, and 200 freestyles, along with the 50 and 100 butterfly events. In addition to her national records, Ikee owns a total of six World Junior Records across both SCM and LCM races: 50 SCM fly (25.73), 100 SCM fly (56.42), 100 SCM Individual Medley (58.24), 50 LCM free (24.33), 50 LCM fly (25.51), and 200 LCM Individual Medley (2:09.98).
She recently competed at both the 2017 FINA World Championships in Budapest, where she finished 16th in the semi-finals of the 50 (24.94) and sixth in the final of the 100 fly (57.08). At the 2017 FINA World Junior Championships in Indianapolis, she collected a total of three individual titles: 50 fly (25.46), 100 fly (57.25), and the 50 free (24.59).
With her continuing improvements, Ikee will be a key athlete to watch as the swimming world edges closer to the 2020 Summer Olympics in Tokyo.