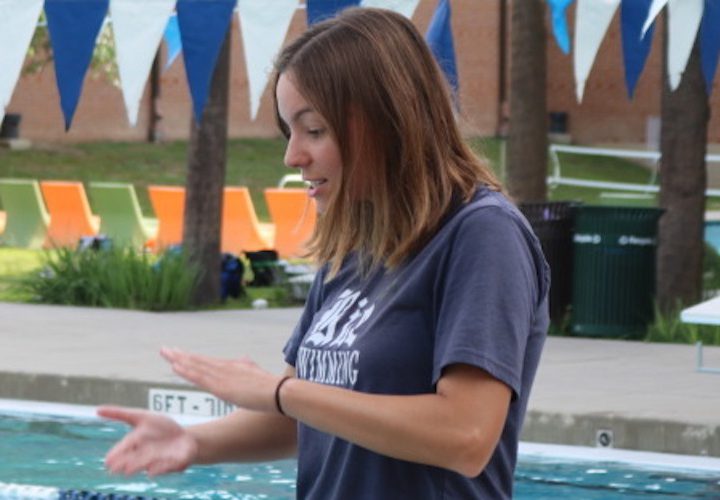 Photo Courtesy: Rice University Athletics
Rice volunteer swim coach Jessica Rodriguez has been promoted to the full time assistant coach with the program, Owl head swim coach Seth Huston announced.
Rodriguez is certainly no stranger to the Rice swim team after having served the past two years a volunteer coach. A USA certified coach through Rice Aquatics, Rodriguez has been the lead coach for that program's beginning and intermediate teen groups. The Stafford, Texas, native was a four-year swimming letterwinner at the University of North Texas who served one year as a volunteer assistant coach for the Mean Green.
As the full time assistant under coach Huston (officially beginning on July 1), Rodriguez will work with all areas of the Owls' swim program and have a primary focus on training sessions, video, team travel and recruiting. After watching her work ethic with the Owls the past few years, Coach Huston stated promoting Rodriguez was an easy decision to make.
"I couldn't be more pleased than to announce the promotion of Jessica Rodriguez to assistant coach," coach Huston said. "She has proven herself to be a valuable member of our coaching staff over the last two-plus years and she continues to grow in her new role. The team was so excited when I told them the news. They know Jessica has a passion for swimming, for them as people and for Rice University."
Rodriguez' experience as a club, high school, and college swimmer has allowed her to draw on a wide-array of coaching techniques. The former middle-distance freestyle specialist certainly understands the demands of being a student-athlete, having been a three-time Academic all-conference honoree in her competitive years who has recently been pursuing a Masters of Education at Rice.
"That's Jessica `building the whole person' as we say at Rice," coach Huston added. "At our University, athletic department and within our swimming program, we strive to develop an individual to be a committed student, athlete and teammate, as well as a contributor to the whole community. Jessica can and will lead by her values and actions."
The above press release was posted by Swimming World in conjunction with Rice University Athletics. For press releases and advertising inquiries please contact Advertising@SwimmingWorld.com.