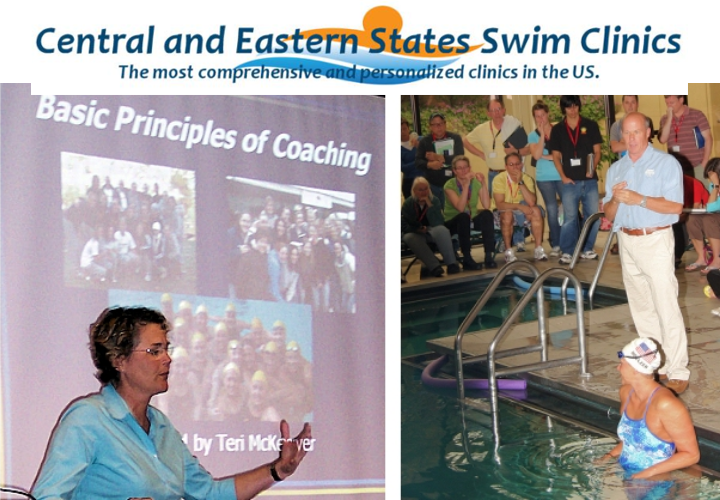 Central States Swim Clinic
Central States Swim Clinic
Take advantage of Central States Swim Clinic's group discount and pre-registration pricing and make your plans to attend the 
Central States Swim Clinic
 in Oak Brook, IL on 
May 19-20
 at the Oak Brook Marriott in Oak Brook, IL. Pre-registration and our special clinic hotel rate ends 
May 7
.
Don't forget to make your hotel reservations at the same time — call (630) 573-8555 for special clinic rates.
Don't delay – register NOW!
The 2018 Clinic proudly offers the following prestigious line-up of speakers and the special opportunity to meet and work with Olympic swimmers Elizabeth Beisel and Tyler Clary.
Clinic Staff – 2018 Central States Swim Clinic
Bob Bowman


Currently the Head Coach of Men & Women at ASU, Bob was Men's Head Coach for the '16 Rio Games. His ASU teams are quickly climbing the ranks of the Pac12 & NCAA's. Bob is one of our country's most respected swimming coaches, a passionate teacher of the sport & long time coach of Michael Phelps. Michael holds 7 world records, 23 Olympic gold medals 3 silver & 2 bronze. After 4 years as Men's Head Coach at the Univ. of Michigan & Club Wolverine where led the Michigan men to 4 top 8 NCAA finishes including 6 NCAA individual champions, Bob returned to NBAC to be the Head Coach and CEO. Bob was Asst. Men's Olympic Coach in '04, '08 & '12. He was Head Coach at '07, '09 & '13 World Championships & Asst. in '01, '03, '05, & '11. His swimmers hold 43 World records & 50 American records. Bob has been USA Swimming Golden Goggles Coach of the Year 4 times, USA Swimming Coach of the Year 6 times, ASCA Coach of the Year 5 times & Developmental Coach of the Year in '02. In 2016, Bob was inducted into the Swimming Hall of Fame.

Eddie Reese

Eddie is one of our country's most respected swimming coaches and the winningest coach in the history of the sport. He has been named Men's Olympic Head Coach '08, '04 & '92 & Asst. Olympic Coach '12, '00, '96 & '88. He has been Head Men's Coach at the U of Texas since '79 & has led Texas to 13 NCAA team titles including the last 3 years consecutively, 38 consecutive Conference titles, developed 67 NCAA Individual Champions, 48 National Champion relays, 29 Olympians winning 39 gold medals, 16 silver & 8 bronze. Eddie has been NCAA Coach of the Year 8 times. He has been ASCA Coach of the Year 4 times, most recently in '09 & CSCAA Coach of the Year. Eddie and was inducted into the Swimming Hall of Fame in '02. Eddie runs a very popular age group summer camp program at Texas. Eddie is always teaching & finding enjoyment in the pursuit of one's potential is the heart of his coaching philosophy. Eddie is funny, humble & always a popular speaker.

Dave Salo

Dave is Head Coach for Men & Women at USC prior to which he was one of the nation's top club coaches for more than 16 years at Novaaquatics. Dave has been Asst coach for the Olympic Games '04 & '00, Pan Am Games '99 & '02, World Championships '05 & '03, Pan Pac's, Head Coach for '15 World Games & '01 Goodwill Games. His Men's & Women's teams at USC consistently finish in the top teams in the Pac 12 & at NCAA's. His club teams made history when they were USA National Champions & the 18U National Combined Champions in '99 and then repeated in '02. In '02 Dave was honored as the Doc Councilman Swim Coach of the Year. His age group & collegiate swimmers have won medals in all major national and international championships, hold World & American records & represent USA at every Olympic Games. Some Olympians coached by Dave are Hosszu, Piersol, Beard, Lezak and Soni. You also may be familiar with his book Sprint Salo.

Alan Goldberg Ed.D

No stranger to our clinics, Alan holds a doctorate in Counseling Psychology and is an internationally known Sports Performance Consultant. He is the author of "Smoke On The Water," "Swimming Fast When It Counts The Most," "Developing Mentally Tough Swimmers (DMTS)," "The Racer's Edge," and his latest program, "Swimming With The Competitive Edge." Alan travels extensively to work with swim teams and clubs across the country. His specialty is helping swimmers overcome blocks and slumps and perform to their potential. A knowledge able and humorous speaker, you will truly enjoy Alan!

Elizabeth Beisel

Elizabeth made her first USA National Team when she was only 13 years old & for the last 10 years she has been representing the USA competing around the world. She was National Champion at Florida in her favorite events, the 400 IM & 200 Back. In her first Olympics '08, at only 15 years old, she was 4th in the 400 IM & 5th in the 200 back. In London '12, she did lifetime bests, silver in the 400IM & bronze in the 200 back. Elizabeth is known as one of the hardest working swimmers in the world & was elected captain & led the women's team to one of their most successful Olympics ever in Rio '16. In Rio, she broke her finger in the warmup pool & didn't get to the podium. She has a very outgoing personality & loves encouraging the next generation of swimmers to dream big and swim big.

Tyler Clary

At the London Olympics Tyler won gold in the 200 back & set an Olympic record. He also was 5th in the 200 fly. In '09, he broke Phelps' American record in the 400IM & Lochte's NCAA record in the 200 back. In '13, he won 2 silver & 2 bronze medals at Worlds. In '11, Tyler won silver in the 400IM & bronze in the 200 back at Worlds. At Winter Nationals '11, he won the 400IM & 200 back. He was the '09 NCAA Swimmer of the Year while at Michigan & recipient of the '09 Golden Goggles Award. Tyler was also a 3 time NCAA Champion. He was the most talented young male swimmer in America. When participating at the '06 Junior World Champs, he won both IM events & was 3rd in the 200 back and free. Now in his spare time, Tyler loves to race cars and has been an overwhelming favorite at our past clinics.
Central States Swim Clinic Coaches Clinic Registration Prices
All information about the clinic, including online registration, is available at swimclinic.com/central-states-swim-clinic/.
PRE-REGISTRATION March 10 through May 9
$180.00 – Coach registration
$170.00 – Swimmer registration (ages 8 and up)
SPECIAL GROUP DISCOUNT March 10 through May 9 (must register at the same time)
Register 5 swimmers get the 6th free
Register 5 coaches get the 6th free
LATE REGISTRATION – available online after May 9 and at the door
$200.00 – Coach registration at the door
$190.00- Swimmer registration at the door
Watch This Fun Interview with Ryan Lochte Taped At A Previous Central States Clinic

Additional Courses – 2018 Central States Swim Clinic
*ASCA
**USA Swimming
If you wish to register for these additional courses, please note in the appropriate space on the clinic registration form and include payment payable to Central States Swim Clinic. These courses may be attended separately or in conjunction with the clinic.
*Dryland Training for Swim Coaches
(May 17th: 1pm – 4pm) $50.00
Whether you have a large team or small, 8 and unders or teenagers, every coach needs a dryland program to enhance their team's time in the water. Strength, flexibility and durability (injury prevention) are all part of the creation of better athletes. This program will discuss program design and execution for all ages, and will be based on minimal facilities and equipment. We will also discuss equipment options for those with a budget.
*Effective Swim Meet Coaching 
(May 17th: 5pm – 8pm) $50.00
Coaches ply their craft in two settings. First, at practice, which is where we all get opportunity to get better. The second is at swim meets, where meet coaching is a small fraction of the time we spend in the sport. Swim meet coaching is a learned skill and is what we teach in this course. We'll discuss meet philosophy, teaching your athletes to prepare for success mentally & physically and explore how to speak with different athletes before their races. This will be relevant for coaches of all ages of athletes from 8 and unders through the elite athlete. "The most important course I ever took" is the most frequent comment from past attendees.
*The Stroke School 
(May 18th: 9am- 5pm) $75.00
The Level 2 Stroke School is about creating strokes and correcting strokes. The emphasis is on basic progressions and teaching methods for developmental swimmers aged 6 years old through 9th graders with lots of video clips of real developing swimmers. We also discuss the current trends in world class swimming today. In addition to the four strokes we will cover starts, turns and finishes. Manual Provided. Level 2 Certification available for ASCA Members.
*Creating Team Leadership 
(May 18th: 6-8pm) $50.00
This course is for both coaches & athletes & covers what is leadership, what types of leaders are there, what are the responsibilities of leadership & how does leadership grow? These are the core topics to be discussed. Presented as a discussion, rather than a lecture, the goal is to provide athletes with a clear picture of leadership & the tools for creating a leadership oriented swim team.
**USA Club Leadership/Business Management
(May 17th & 18th: 6:30-9pm) $20.00
Required for all new USA clubs for club registration Course 201. Club coaches & board members will learn strategies to improve club governance, management, & leadership. Included are the basic models for swim teams, responsibilities of nonprofit boards, staff/board responsibilities, roles of the Head Coach, governance versus management, financial development, recruiting volunteers, evaluation, & assessment. Attendance at both sessions is required to fulfill the requirement. Either the Board/Booster Club president or Head Coach must attend (both are encouraged). This is required for new clubs, but all are welcome.
All information about the clinic, including online registration, is available at swimclinic.com/central-states-swim-clinic/.
Clinic Schedule – 2018 Central States Swim Clinic
Additional ASCA and USA Courses held on Thursday May 17th and Friday May 18th (click here to see course descriptions & fees)
FRIDAY 
6:30-7:45 pm
Technology Corner
8:00- 9:45 pm
Informal Social and Dolfin/TYR Raffle in the Exhibit Hall
SATURDAY
7:30-8:30 am
Registration and Exhibit Hall open (Breakfast available)
8:30-9:30 am
Reese: Key Considerations at Different Levels: Fly, Back, Breast & Free
8:45-10:45 am
Beisel & Clary with Swimmers at the pool
9:30-10:00 am
Visit the Exhibit Hall
10:00-11:00 am
Salo: Adapting Workout Plans for Different Ages & Abilities
11:00-11:30 am
Visit the Exhibit Hall
11:30-12:30 pm
Goldberg: Overcoming Performance Blocks
11:30-12:30 pm
Beisel & Clary with Swimmers (Q&A)
12:30-1:30 pm
Lunch Break (Lunch available – Exhibit Hall)
1:30-2:30 pm
Reese: Season Planning: What to Do When
1:30-2:30 pm
Goldberg with Swimmers
2:30-3:00 pm
Visit the Exhibit Hall
3:00 pm
Exhibit Hall Closes
3:00-4:00 pm
Beisel & Clary: Our Favorite Sets from Age Group & Up
3:00-4:00 pm
Salo & Reese with Swimmers
4:15 pm
Leave for the Pool (Coaches & Swimmers)
4:15-5:30 pm
Pool Practicum for Swimmers and Coaches: Schubert, Salo & Reese with Beisel & Clary Drill Demonstration
6:00-7:30 pm
Clinic Social (Sponsored by TYR)
SUNDAY 
7:30 am
Exhibit Hall Open (Breakfast available)
8:00-9:00 am
Bowman: Progression of Training Age Group to Senior
8:15-10:30 am
Beisel & Clary with Swimmers at pool
9:00-9:30 am
Visit the Exhibit Hall
9:30-10:30 am
Salo: Sets that Train Swimmers to Race
10:30-11:00 am
Visit the Exhibit Hall
11:00-noon
Bowman with Swimmers
11:00- noon
Goldberg: Getting Parents to Work with You not Against You
12:00-1:00 pm
Lunch Break (Lunch available – Exhibit Hall)
1:00-2:00 pm
Beisel: What Swimmers need from their Coach: Age Group, Senior & Olympics
1:00-2:00 pm
Goldberg with Swimmers
2:00 pm
Exhibit Hall Closes
2:00-3:00 pm
Bowman: My Favorite Drills & Why
2:00-3:00 pm
Beisel & Clary with Swimmers Q&A and Autograph/
Picture Time
3:00-4:00 pm
Open Forum for coaches and swimmers: All Speakers and Olympians (autograph/mingle time at end)