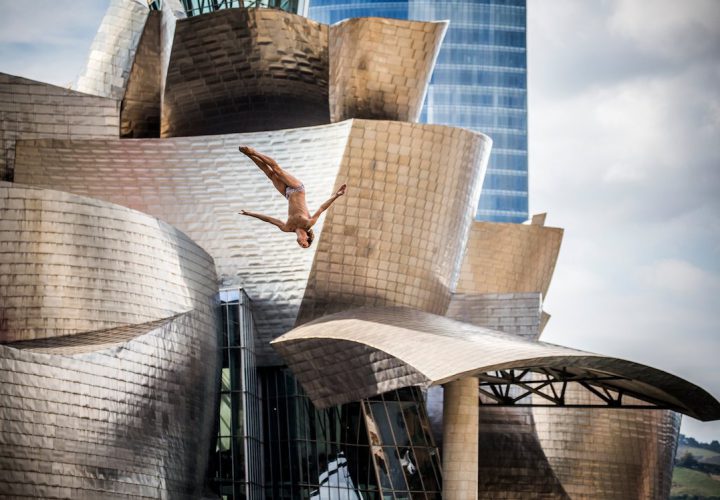 Gary Hunt diving from La Salve Bridge in 2015 - Photo Courtesy: Romina Amato/Red Bull Content Pool
After a record-breaking season opener in Texas, USA with the maiden win of Poland's biggest diving talent Kris Kolanus, the 27m platform on top of Bilbao's La Salve Bridge is the take-off strip for the year's first aesthetic free falls on European soil.
The men will continue their battle for the King Kahekili trophy when they dive in front of the iconic Guggenheim Museum Bilbao as the sport's current heavyweights, record winner Gary Hunt (GBR) and Mexico´s Jonathan Paredes, will need to step up their game after a disappointing start into the anniversary season. Thousands of fans are expected to line the Nervión river to cheer on the action, just as they did when the city hosted the 2015 season finale.
After opening this year's account with his debut victory, Poland's Kolanus returns to the place where he achieved his first ever podium in 2014, while the 'brilliant Brit' Hunt will try to shine again in a place where he was crowned champion three seasons ago. Despite the fact that the record holder was stopped from twisting due to a mental block and had to tone down his diving list, Hunt's hunger for success is as big as ever, especially coming from an 8th place.
The same applies for the Madrid-resident and 2017 World Series champion Paredes, who has the added motivation of performing in front of his adopted home crowd. Following his poor 10th-place finish in Texas, the 28-year-old aims for an immaculate display of his complete list during the second of seven stops to better his opening.
The Basque city hosts the first of two stops solely reserved for the men, due to structural limitations of the location, and among the 14-strong line up are all former and current World Series champions: Orlando Duque (COL), Artem Silchenko (RUS), Hunt and Paredes.
With a rising number of athletes performing manoeuvres with 5 somersaults or 5 twists, diving grace will be combined with growing complexity when the athletes launch from a venue that is intrinsically interwoven with the modern state of art.
Click here for 2018's permanent athletes.
Wildcards: Alain Kohl (LUX), Artem Silchenko (RUS), Carlos Gimeno (ESP), Oleksiy Prygorov (UKR)
Standings (after 1 of 7 stops)
1- Kris Kolanus POL – 200pts
2- Michal Navratil CZE – 160
3- Blake Aldridge GBR – 130
4- Andy Jones USA – 110
5- Sergio Guzman (W) MEX – 90
6- Steven LoBue USA – 70
7- Alessandro De Rose ITA – 60
8- Gary Hunt GBR – 50
9- David Colturi USA – 40
10- Jonathan Paredes MEX – 30
11- Orlando Duque COL – 20
12- Miguel Garcia (W) COL – 10
13- Nikita Fedotov (W) RUS – 9
14- Kyle Mitrione (W) USA – 8
Red Bull Cliff Diving World Series
Since 2009, the Red Bull Cliff Diving World Series has provided a platform for aesthetic free-falls and dives of ever growing complexity, spotlighting the sport's finest athletes as well as the most promising talents and in 2014 it introduced a Women's World Series. Celebrating its 10th season in 2018, this rapidly progressing sport will crown two new champions during seven demanding competitions for the men and five for the women. Between June and September, this pure extreme sport will hit waters in natural and urban environments as well as remote and iconic venues of World Series classics.
The above press release was posted by Swimming World in conjunction with Red Bull Cliff Diving. For press releases and advertising inquiries please contact Advertising@SwimmingWorld.com.