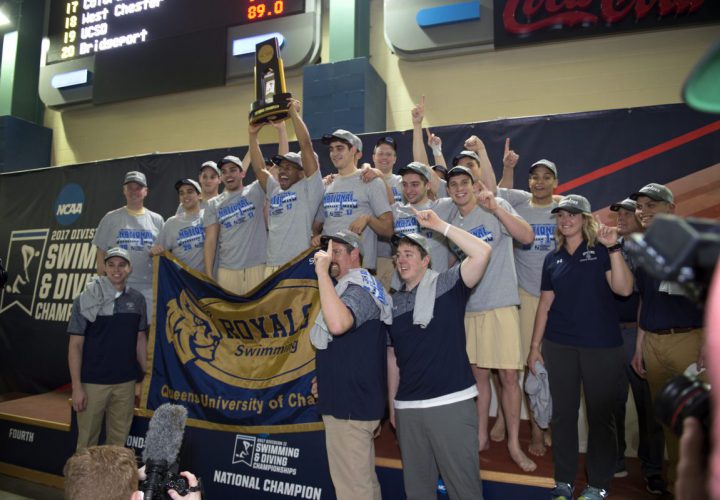 Photo Courtesy: Queens Athletics
Agon is the proud sponsor of all high school coverage (recruiting, results, state championships, etc.) on SwimmingWorld.com. For more information about Agon, visit their website AgonSwim.com.
To report a college commitment, email HS@swimmingworld.com. Join Swimming World's Watch List
NEW COMMIT: Defending Division II National Champions, Queens University has received a verbal commitment from one of Michigan's top talents in the Class of 2018: Skyler Cook-Weeks. A distance swimmer, he trains with Michigan Lakeshore Aquatics and is a senior at Holland Christian High School.
His best SCY times are:
200 Free 1:38.14
500 Free 4:26.96
1000 Free 9:09.31
1650 Free 15:28.61
In a division that swims the 1,000 at the National Championship, Cook-Weeks' distance skills become more valuable to the team's success. At the 2017 NCAA DII Championships Cook-Weeks would have finished sixth in the 1000. The Royals had two swimmers in the top 16, but they'll both be gone by the time Cook-Weeks moves to Charlotte next fall. His best time would have put him ninth in the mile and tenth in the 500 free.
Cook-Weeks wrote on his CollegeSwimming profile,
"The reason why I chose Queens University of Charlotte is because I feel that it is the best fit for me coming from a small private High School. The small classroom size and exceptional teaching staff will work well for me. The Coaching staff at Queens is phenomenal and everyone on the team is treated like family! Go Royals!!"