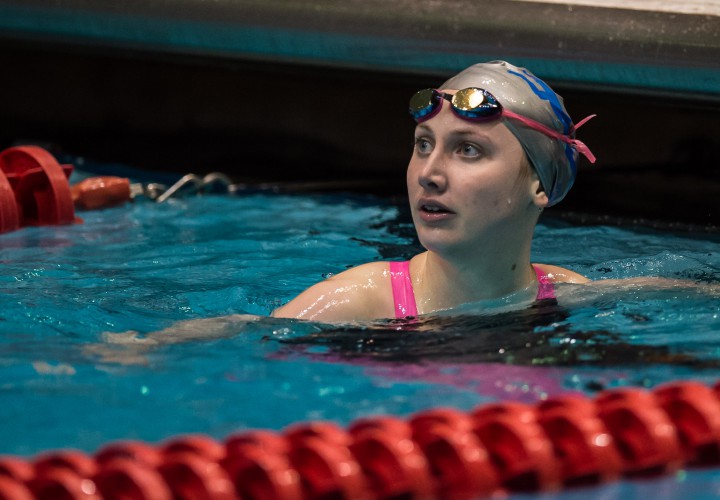 Photo Courtesy: Peter H. Bick
By Katlynn Emaus, Swimming World College Intern
Sprint superstar Amy Bilquist is a freshman at University of California, Berkeley. Eighteen-year-old Bilquist had a phenomenal summer, placing as high as 6th in the 50 freestyle at the Phillips 66 National Championships in August. Bilquist has the sixth fastest time in the country (25.26) trailing big names like Simone Manuel, Natalie Coughlin, Madison Kennedy, Amanda Weir, and Kelsi Worrell.
Bilquist recently took time to talk swimming with Swimming World…
SW: What is your swimming background?
I started competitive swimming at the age of four. I swam for Westside Silver Fins in Arizona until I was 15 and then I swam for Scottsdale Aquatic Club until I was 16 and moved to Indiana. My last two years on club I swam for Carmel Swim Club under Chris Plumb and Ian Murray. I swam my freshman and sophomore years of high school for Verrado High School and my junior and senior years for Carmel High School. I now swim for the University of California, Berkeley.
SW: Why did you decide to stick with swimming?
I have kept swimming for so long because I honestly love working hard and being in the water. I was a multi-sport athlete until my junior year of high school (balancing volleyball and swimming) so it was nice to see a different sport while swimming. I chose to stick with swimming because it is a part of me. Swimming was always there no matter if my day was good or bad.
SW: What events do you swim?
I typically swim the 50, 100 free and 100 back and sometimes the 200 free and 200 back.
SW: What is your favorite event and why do you like it above all the rest?
I think my favorite event is the 50 free because it is too short to think too much about. You just dive in and give it everything you have.
SW: What do you like most about swimming?
My favorite thing about swimming is pushing yourself, whether in a workout or a race, to the uncomfortable point and choosing to push past the pain and finding out what you are truly capable of.
SW: What is your fondest swimming memory?
My fondest swimming memory was getting my first Trials cut in the 200 back at the 2012 Austin Grand Prix. I was 14 and was scratched into the C final and was so excited to get the second chance to swim. I can remember touching the wall and looking up at my time that was just under the cut and knowing that I was going to be able to swim with the best of the best at Trials that summer.
SW: What has swimming taught you in the long run?
Swimming has taught me the importance of determination and perseverance through the hard things in life. Things aren't always going to go the way you want them to go, but figuring out how to overcome these obstacles is something swimming has taught me and that has translated into my life outside of the sport.
SW: When was a time that you had to overcome the greatest adversity in the sport and what did you take away from it?
This summer I had multiple stress fractures in my legs and I was very restricted on what I could do in the water. It is so frustrating not being able to do something as simple as a flip turn or even just pushing off the wall. There were so many times when I just wanted to quit because I felt so upset that i couldn't be doing the things I wanted to be doing, but my family, teammates, and coaches were there to lift me up. I learned that no matter how frustrating or large an obstacle is if you just take it day by day instead of all at once you can manage whatever is thrown your way.
SW: What is your favorite quote?

"No pressure, no diamonds."
SW: Favorite pump up song?
***Flawless – Beyonce
SW: What is your favorite food?
Bagels