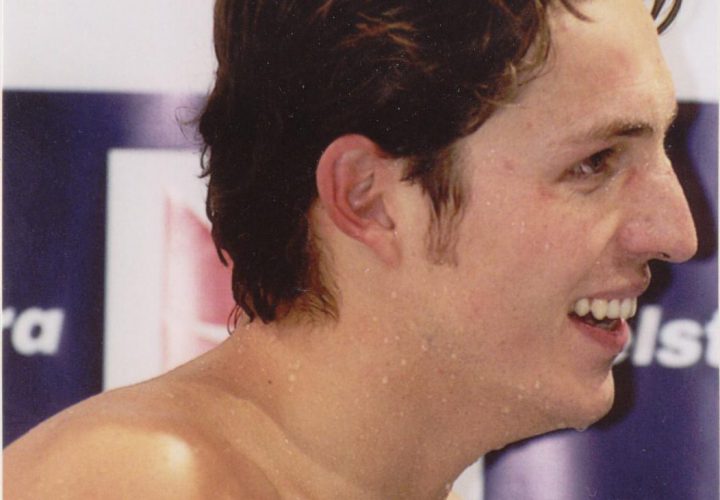 Photo Courtesy: Bill Collins
The official seventeenth anniversary of the 200 free at the 2000 Sydney Olympics won't occur until September 18, but the Dutchman Pieter van den Hoogenband made a return to the Sydney pool where he won two gold medals for a Dutch documentary project. Van den Hoogenband spent most of the day on Thursday with old rival Ian Thorpe in Sydney.
"The last time was in Eindhoven when I retired after the Beijing Olympics (in 2008),'' the Flying Dutchman told The Australian.
"Ian flew in as a surprise special guest and we had a couple of days together, which was very very special. It's hard to believe that the Sydney Olympics was 17 years ago. We were so young and so passionate about swimming. I think what people saw when we raced each other that we really respected each other. I respected him as a swimmer and we needed each other for the competition. It made us both better.
"Ian said to me yesterday that the 200m freestyle race in Sydney helped him to train hard for another four years."
Van den Hoogenband still has a special bond with the country of Australia. He proposed to his wife Marie Jose-Crooijmans on Hamilton Island and he still tries to visit his old coach Jacco Verhaeren on the Gold Coast once a year. Verhaeren is now the Australia national head coach.
Van den Hoogenband and Thorpe have long been retired but both of them have gone into commentary in retirement. Van den Hoogenband expects the Australian duo of Kyle Chalmers and Cameron McEvoy as well as American Caeleb Dressel to be among the contenders of taking down the world record in the 100 free held by Cesar Cielo.
"I hope that world record will be gone by Tokyo (the 2020 Olympics) because when we watch swimming and we see the world record is still there, I have mixed feelings. It's not right that the record is still there. The world record in the 100m freestyle is very important and I am not happy that it's from the (polyurethane) suit era. I want the best swimmer in the world to be the world record-holder."
"I think it's about time someone broke the world record and we closed the whole page on the shiny suits,'' van den Hoogenband said. "With Dressel swimming so fast I hope it will motivate Chalmers and McEvoy to perform well and train hard and get there.''
Read the original report from The Australian, here.
Watch the race on YouTube courtesy of Australian Swimming, here.