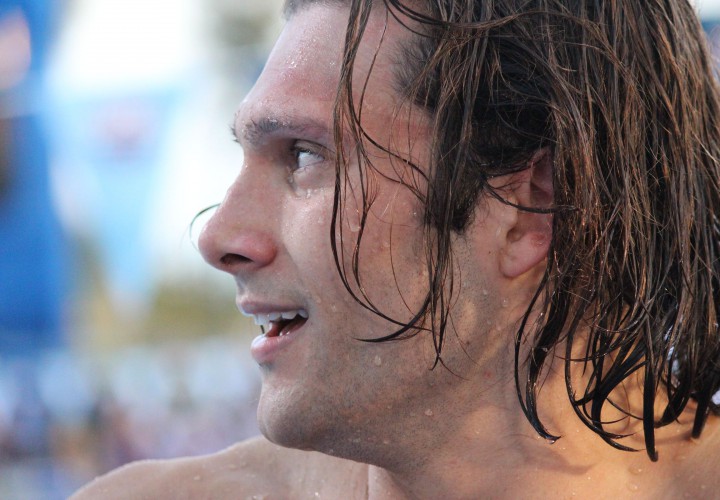 Photo Courtesy: Griffin Scott
TUCSON – This was a week of spectacular performances across all levels of the sport, and it was not easy to pick the Performance of the Week from the plethora of record-breaking swims and jaw-dropping performances.
Cody Miller has been progressing at an alarming rate since he began the postgraduate chapter of his swimming career last spring. He won the 100 breast at the USA Swimming long course nationals (his first national title) and earned a spot on the world championship team in that event.
It's a shame he won't get the opportunity to race the 200 breast in Russia this summer, after winning the event last weekend at the Arena Pro Swim Series in Orlando. Miller's 2:10.28 was the fastest time in the world – for about a day. Marco Koch went a bit faster than Miller at a meet in France, but that doesn't dilute Miller's superb swim.
Cody Miller 200 breast in Orlando
That's a lifetime best for Miller, and puts him deeper into the mix for a spot on the Olympic roster in the event in 2016. The 200 breast is a strong field in the United States, with Kevin Cordes, Nic Fink, Josh Prenot and more in the mix, but Miller's swim appears to give him a bit of a boost in what could be believed to be his best event. Miller was best in the 200-yard breast while representing Indiana in his college years, and that is starting to manifest in the long course pool.
It should also be noted that Miller nearly set a personal best in the 100 breast in Orlando with a 59.92, missing his PR by one hundredth of a second. Though he's been a well-known name on the breaststroke scene for a few years, it looks like Cody Miller is having a breakthrough, and at the right time.
Congratulations to Cody Miller on winning the Performance of the Week!